With news reports breaking almost every hour internationally regarding the Ebola virus, hip-hop artist Chris Brown took to his Twitter account to explain the disease in the most conspiratorial terms: as a means of population control.
Needless to say, the Ebola Truther tweet -- which received over 30,000 retweets and over 21,000 "favorites" as of Tuesday morning, was met with some virtual head-scratching and condemnation from most but with others believing Brown might have a point.
Brown later added two additional tweets regarding the subject while also including a link to a Vine post of young girl with some coarse words for all the haters out there.
The Toronto Sun reports that charity workers are outraged, with Action Aid spokeswoman Jane Moyo telling WENN: "He has obviously ignored Twitter's key rule: Think before you tweet. This is a global emergency about three countries struggling with a deadly disease, countries whose health systems are under immense strain.
"This is obviously nothing to do with population control but is a serious, deadly situation. At the moment we do not need thoughtless phrases which reach out to Chris Brown's many followers and do not add understanding to the cause... It was unfortunate that he said it in the first place. What would be fantastic is if Chris Brown could donate to a charity working on Ebola and encourage his followers to do the same."
WENN also reports that Red Cross spokesman Henry Makiwa accused Brown of putting further lives in danger. "Now is a critical time to scale up the response to the crisis and such comments are an unhelpful distraction from life-saving work."
Thus far the current outbreak of Ebola has resulted in over 4,000 deaths according to data from the World Health Organization.
Brown was recently nominated seven times for the upcoming BET Awards including for Best Song for "Loyal" and for Best R&B/Soul Male Artist. The musician released his latest album "X" earlier this year.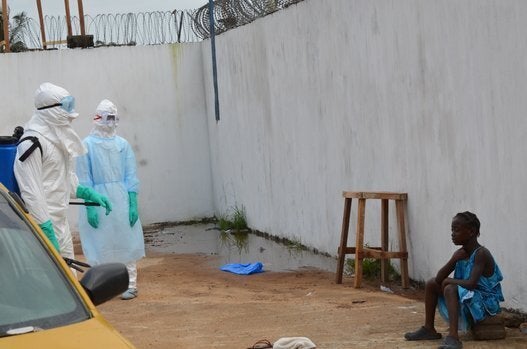 GRAPHIC WARNING - Ebola in Liberia
Popular in the Community