VANCOUVER — Conservative delegates are headed for a divisive and heated debate Saturday that will determine whether the party still believes marriage is the union of one man and one woman or whether it supports same-sex marriage.
At a policy workshop Friday, while debating whether to put the issue to the convention floor, Saskatchewan MP Brad Trost said he had been threatened for the first time by activists in favour of same-sex marriage.
"I was told that the purpose of this resolution was to get people like me out of the party and that they were coming for my nomination later on," he said. "This [motion] is very divisive. It will drive people out of our party."
He was joined by other delegates at the microphone who urged the party not to abandon social conservatives and warned that if same-sex marriage became Conservative party policy, a large block of volunteers and donors would vanish.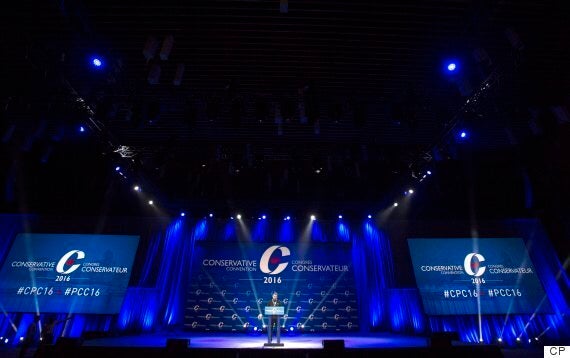 A worker sets up the stage at the Conservative party convention in Vancouver on Thursday. (Photo: The Canadian Press)
Newfoundland delegate Patrick Hanlon said the party would be handing the Liberals and the NDP a clear path to power if it could not longer reach out to many new immigrants who hold more social conservative values.
"This motion will, if it is passed, kill our party and any chance of being elected," he said.
A delegate from Ottawa Centre said the Conservatives were not discriminating against "gay people" by defining marriage as the union of a man and a woman.
"You can run as a gay or lesbian. You can become a cabinet minister," she said. "My concern is that we will have more instances in Canada where people who hold [the belief in traditional marriage] will be discriminated against."
"We are the party of equality and freedom, and it's about time we passed this resolution."

— Calgary MP Michelle Rempel
Calgary MP Michelle Rempel urged members to vote in favour of the resolution.
"My cousin is a beautiful smart woman, she challenges me every day. She is brilliant, she contributes to our country, and she's gay," she said, her voice cracking. "Our party is the party of equal rights. We are the party of equality and freedom, and it's about time we passed this resolution."
Joseph Heap, riding association president for Fort McMurray—Cold Lake, said the party fundamentally believes in efficient government that stays out of people's personal lives.
"Individuals know what is best for them, not the government," he said.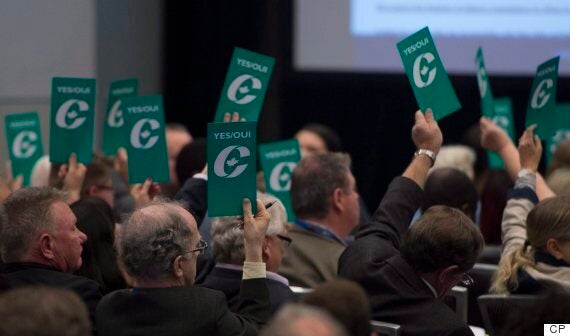 Delegates hold up vote cards as they decide on whether or not to debate changing the current wording of the party's same-sex marriage policy. (Photo: Jonathan Hayward/Canadian Press)
Another delegate from the Ontario riding of Hastings—Lennox and Addington, who described himself as a gay conservative, said he found it troubling that the party he's belonged to for 40 years has a policy that "sends a message that my relationship with my partner is not valued, my civil legal rights are of no concern…
"Most Canadians and young Canadians, in particular, will not accept this from a major political party," he noted, adding that same-sex marriage has been legal since 2005.
Leadership candidates Maxime Bernier and Kellie Leitch lined up to speak in favour of the motion, as did Ontario Progressive Conservative Leader Patrick Brown, though they didn't get the chance because of a limit on the number of speakers.
'Do we want to get with the times?'
Natalie Pon, one of the resolution's sponsors from Edmonton West, urged delegates to adopt the proposal so the party could be electable.
"Do we want to define the future of the party based on one social policy which is based on an outdated law? Or do we want to get with the times?" she asked.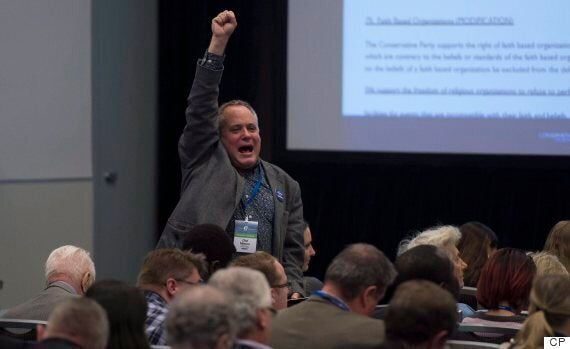 A delegate celebrates winning the vote to change the current wording of the party's same-sex marriage policy at the Conservative party convention in Vancouver on May 27, 2016.
There were loud cheers when the resolution passed 279-143, although one Conservative griped that the result should be thrown out because some voters weren't completely in the room.
Other resolutions heading to the Conservatives' plenary session for a vote by the wider membership include:
Recognizing gun ownership as a "Canadian heritage"
Conscience rights for doctors, nurses, and others to refuse to participate in, or refer their patients for abortion, assisted suicide, or euthanasia
A motion that adds to the party's constitution "a belief in the value and dignity of all human life."
A motion that called for the decriminalization of marijuana passed the workshop session but didn't pass the threshold to make it to the convention floor.
A proposal to support physician assisted dying, strongly supported by former MP Steven Fletcher, was roundly defeated in that same workshop.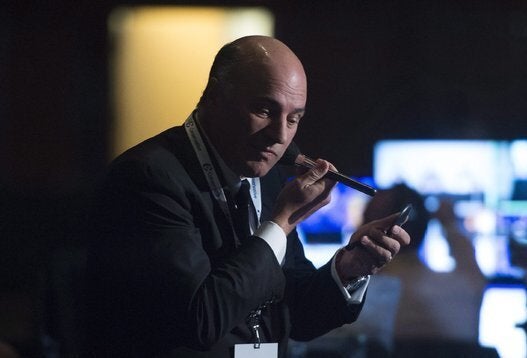 Conservative Convention 2016
Popular in the Community