A Bloc Quebecois MP has criticized the federal government after two Liberals wore head coverings to greet a holy Ahmadiyya Muslim leader outside Parliament earlier this week.
"In Quebec, the separation of the state and church is a consensus. But not here," Marilène Gill said in question period on Friday.
She made a reference to Liberal MPs Deb Schulte and Judy Sgro's welcome of Ahmadiyya Muslim community leader Caliph Hazrat Mirza Masroor Ahmad in Ottawa on Monday.
"The Caliph Ahmad came in and the non-Muslim Liberals wore the veil," Gill said. She brought up how there was also an Islamic call to prayer in Centre Block that day.
The Manicouagan MP pressed the government to affirm "once and for all" secularism in institutions, including the Canadian Parliament.
"In Quebec, it is a secular place, not here," she repeated.
The Caliph is the religious leader to approximately 10 million Ahmadiyya Muslims around the world.
Randy Boissonnault, parliamentary secretary to the minister of Canadian heritage, responded to Gill's charge, saying it's the government's intention to defend tenets in the Charter of Rights and Freedoms.
"We respect the rights of people. The rights to their faith," he said, without making specific mention to Schulte and Sgro. "And we support multiculturalism in in our country."
Sgro did not wear the covering over her head when she presented the Caliph with a framed copy of the Charter of Rights and Freedoms at an evening reception.
Schulte and Sgro's officed did not respond to The Huffington Post's requests for comment before publication.
Durocher: 'They were not in a mosque!'
The veteran journalist asked why the two women chose to where the coverings on Parliament Hill "where religion has no place."
Durocher continued, writing, "They were not in a mosque! They were not visiting a foreign country where the law forces them to hide!" She ended her blog by asking if they were forced to do so.
According to a statement Sgro's spokesman Greg McClinchey sent to the newspaper, the Caliph's delegation did not request women wear head coverings at the welcome ceremony.
Ms. Sgro opted to wear the said head-covering as a voluntary sign of respect during the formative portions of the day. As you will know, many Muslims believe that covering the head engenders a certain spiritual state of receptivity and centeredness. For Ahmadiyya Muslims in particular, this custom is observed by both men and women and it is in this context that Ms. Sgro made the voluntary decision to demonstrate an understand and respect for the customs of our guests.
In a meeting with Prime Minister Justin Trudeau, the Caliph said he predicted the Liberals' election win as early as four years ago when the pair were first introduced.
"When I first met you in 2012 I prayed for you and said that I believed that one day you will be prime minister," he said.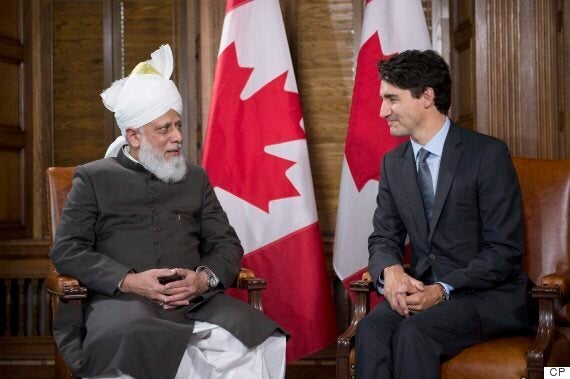 Regarded as the Khalifa of Islam, he stressed the importance of religious freedom during their meeting.
"All people should be granted true religious freedom and all people should have the right to peacefully practice their faiths and beliefs. Governments should not seek to interfere or legislate against peacefully held religious beliefs."
After the meeting, he delivered a keynote address that covered topics including radicalization, climate change and the "lack of peace and increasing resentment between nations."
It is the Caliph's fourth time visiting Canada. His arrival this week kicked off a six-week tour that will bring him to Muslim communities across the country.
CORRECTION: An earlier version misidentified Durocher with an actress of the same name. This version has been updated.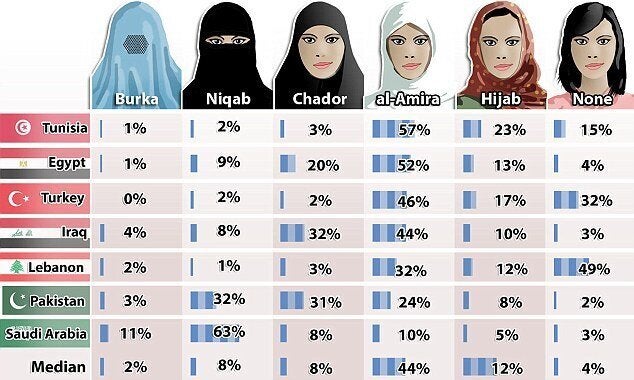 Hijab, Burka And Niqab Use Around The World