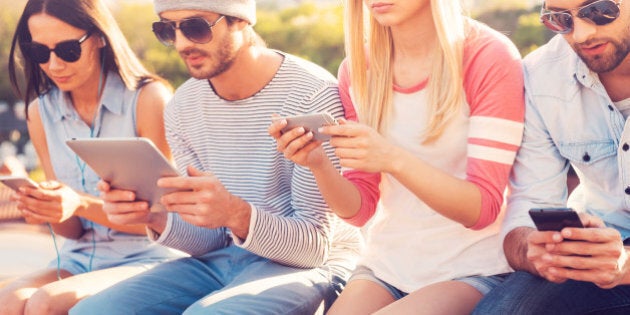 Criss-crossing the world in recent months has made me worried, very worried.
It is not just the seemingly intractable problems that we are grappling with as a society -- climate change, the migrant crisis, terrorist attacks, to name a few. It's how today's younger generation seem to be increasingly glued to their screens and becoming more withdrawn. The lack of active face-to-face engagement.
The increasing availability of cheaper smart phones and tablets, as well as the spread of online commerce, could mean that we are headed towards less collaboration as a society and more isolation. There's a cool new term out there called 'deviceolation' and the implication is that as young folks spend more and more time glued to their screens they lose the crucial skills of interacting with people.
Many successful couples I've spoken to in the past weeks have expressed genuine concern at how their children are losing the ability to introduce themselves to strangers and conduct a productive conversation. They blame, in part, the increasing amount of time kids spend on their devices.
It's too much chatter, and too little real-life conversations.
There's some research out there already that's worth serious contemplation: the Wall Street Journal recently published findings showing that the number of children as young as two using devices has doubled in the past five years. What is more is that this cohort is having trouble expressing empathy or reading facial expressions. They are also having problems concentrating.
It seems grown ups don't measure up that well either. The average adult now spends six hours-a-day online, and some 30 percent of iPhone users check their Twitter feed before even getting out of bed.
On the road, we tend to be geeks. Thirty-five percent of travellers use their smartphones more often while travelling than in their daily lives.
In fact, it's become such a concern in some quarters that one of the world's largest airlines - Cathay Pacific Airways of Hong Kong - teamed up with the good people at Mashable to kickstart a campaign called #OneDayOffline. The idea is simple -- encourage people to log off their devices for one day and enjoy life, especially when travelling. They call it achieving a #lifewelltravelled.
The ongoing campaign encourages people to write in and declare how they will spend one day offline. My favourite is: 'I'd rather stroll rather than scroll.'
They then went one step further and handpicked some of those who wrote in to spend one day offline -- in upstate New York. They then turned in their devices (one said it was like losing a limb) and spent a blissful day getting to know each other, picking apples, cleaning horse stalls. Eloquently simple, isn't it?
I'm not quite sure where Cathay plans to go with this or how it adds to their bottom line. But I applaud them for launching this undertaking! Let's see if it goes viral.
(For their part, Cathay says mobile technologies and social media platforms can be dangerously addictive. "This virtual world behaviour might get in the way of some very special real world moments.")
I love the idea of staying offline while travelling. How many times have I sat next to someone on a long-haul flight as many as 14 hours on some journeys -- and not traded a single word? It's become even worse now with the multi-channel universe being beamed up to the skies, and new distractions such as in-flight wifi.
Yet there have been times that when I've made the effort -- reached out and introduced myself to the person next to me. That simple act has rewarded me handsomely. Sometimes even with lifetime friendships. I've met tycoons, senior corporate executives, entrepreneurs -- and on one flight even an Afghan-born flight attendant who offered to read my palms and my soul. And believe me, when travel delays hit, you're always one step ahead by knowing someone on that flight or in that queue in order to collaborate on quick solutions.
I've even encouraged people to suppress their fears in approaching the mighty and wealthy. If you spot a Bill Gates or Mark Zuckerberg at a conference or in an airport, go up to them and introduce yourself -- maybe even ask what their biggest problem is. Why? Because even the most successful tycoons or billionaires have problems their teams haven't been able to solve -- maybe you can!
One last thought: the next time you hit the road, try switching off and tucking away your devices. You'll be amazed at how much more of the world you take in -- and appreciate!