"It specifically targets a gender and all members of that gender as perpetrators of rape," said Men's Rights Edmonton in a statement.
Both rape and false accusations of rape are "abhorrent means of manipulation and power.
"As for our campaign, not once did it advocate or apologize for rape," the statement says.
The controversial posters were a modification to the original "Don't Be That Guy" campaign, whose posters read, "Just because you regret a one night stand doesn't mean it wasn't consensual."
"Reliable statistics on rape and false claims of rape are hard to find. Some studies, bolstered by low conviction rates, suggest that false claims of rape are on a par with actual rape reports," the statement states.
About two to four per cent of crime reports are false, meaning 96 to 98 per cent of reports are true, and women rarely make false reports about sexual assault, the report adds.
"It is important to note that the number of sexual assaults reported by police is likely an undercount of the actual number of sexual assaults that occur," the crime statistics report by Statistics Canada says.
Story continues after poster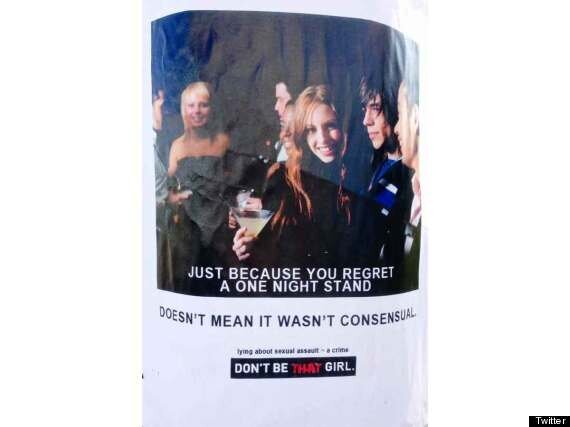 "Self-reported victimization data from the General Social Survey have consistently shown that most sexual assaults are not brought to the attention of police," the report adds.
"Reducing the false reporting of rape can only work to increase the conviction rates for actual rapists," the Don't Be That Girl campaign statement claims.
Some people who commented on the group's online statement were fiercely supportive.
"Any attempt to deflect a message that 'men are evil' or 'men are stupid' will be met by grave resistance," said another adding, "It is utterly pathetic that a Edmonton Police officer dismisses your cause with such flippant disregard – and absolutely demonstrates how important your message is."
"Thank you Men's Right to show the truth,' said a third commenter.

Don't Be That Girl