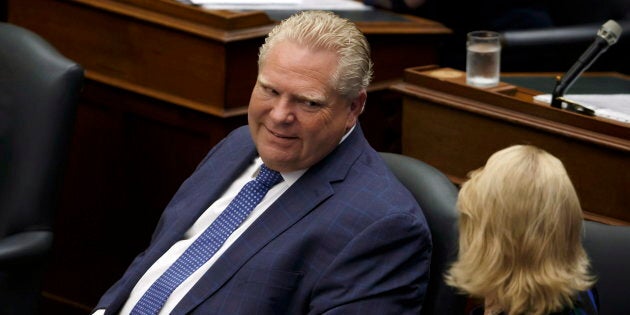 Daniel "killed himself" juggling two jobs at both the local school board and a shoe store this summer, trying to save as much money as possible before classes started in September. The 18-year-old feared that Doug Ford's election as Ontario premier meant the minimum wage would go down.
The previous Liberal government, booted from power in this summer, had increased the minimum wage to $14 an hour in January and planned another hike to $15 in 2019.
"It's only $1 to the government. But it's a lot of money when it comes down to it," he told HuffPost Canada in an interview.
The Grade 12 student is doing a fifth year of high school to graduate. He said he was too exhausted from working 30 hours a week at McDonald's last year to stay on top of studying, and ended up failing a class.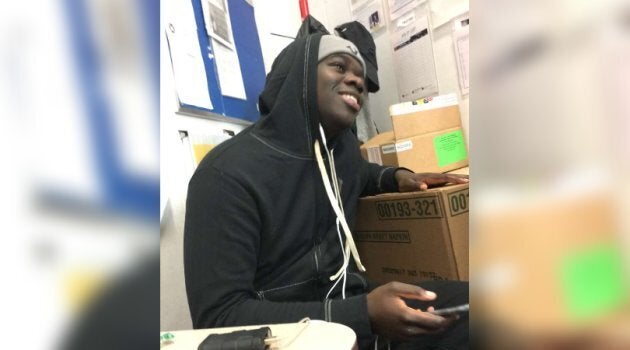 "If I didn't get the 30 hours, it's the difference between being homeless on the street and having an apartment," said Daniel, who asked to be identified only by his first name.
Daniel helps pays the rent and bills for himself and his mom, who can't work because she has severe arthritis. She's had multiple surgeries that haven't helped, Daniel said, and she's in so much pain that she can't walk down the stairs of their apartment building to go outside.
"She can't provide for me the way she wants to," he said. "I have to take it upon myself."
Daniel was looking forward to another pay raise. But Ford announced Tuesday that his government would do away with the increase.
If I didn't get the 30 hours, it's the difference between being homeless on the street and having an apartment.Daniel, Grade 12 student
"We're going to make sure we're competitive around the world," the premier said. "We're getting rid of Bill 148."
The Liberal bill made significant changes to Ontario's labour laws, on top of boosting pay for low-wage workers. It guaranteed employees two paid days and eight unpaid days off for illness and emergencies every year, as well as paid leave for people experiencing domestic violence or sexual violence.
A teacher at Daniel's school, George Harvey Collegiate, organized a protest of Ford's stance Thursday.
Melanie Wilson, who teaches high school students at Bloor Collegiate Institute, is one of the other organizers. She said low wages and lack of sick days are a huge problem for educators.
"I don't want to paint a stereotype and say all students who live below the poverty line are failing, because that's not true. But we see the patterns," Wilson told HuffPost Canada. "We see the barriers that low wages, precarious work and lack of sick days have on our students."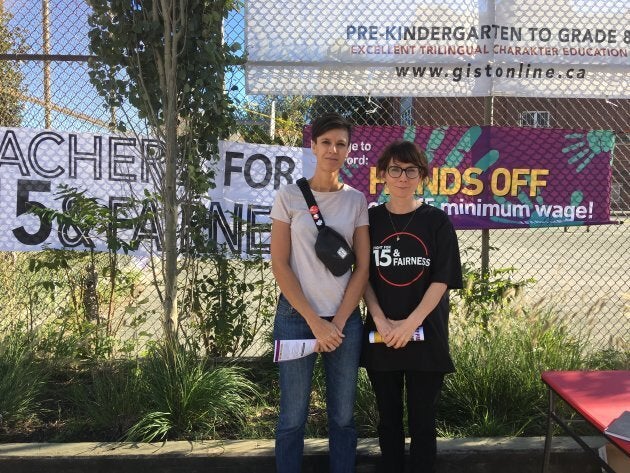 Another teacher told her about students who travel downtown every night to work cleaning offices until midnight, she said. She's had students move to Brampton or Mississauga in the middle of a semester and have to commute for hours to get to school, because their families can't afford the rent in Toronto anymore. Other students come to school with the flu because their parents can't take a day off to care for them, Wilson said.
"Our job is to help students learn as much as possible, to reach their potential," she said. "We just can't do that to the best of our ability when students are so stressed, and so exhausted, when they're coming to school hungry."
1/4 of Toronto children live in poverty
The scope of the problem varies across the city and province, Wilson said. But she pointed to a recent study that found 26 per cent of all children in Toronto live in families with low incomes.
The statistics are starkly different for children who are white and those who are racialized, the study from Social Planning Toronto found. The child poverty rate is 15 per cent for white children in Toronto, but 84 per cent for children from Indigenous families, 60 per cent for West Asian children, 59 per cent for Arab kids, 44 per cent for Black children and 36 per cent for children of Latin American families.
Poverty creates an "achievement gap" between kids who have time to study and money for tutors, and those who work just to put food on the table, Wilson said.
It's a barrier to students getting into post-secondary institutions, which has really long-term consequences for the jobs that they're able to get in their future.Melanie Wilson
"It has an impact on grades. It's a barrier to graduation. It's a barrier to students getting into post-secondary institutions, which has really long-term consequences for the jobs that they're able to get in their future."
A spokesman for Ford's office called the minimum wage hike "reckless."
"We heard from countless job-creators that it was too much, too soon. TD Bank forecasted that the rapid hike could cost Ontario 90,000 jobs," Simon Jefferies told HuffPost Canada by email.
Families will find relief in lower gas prices, frozen driver's licence fees and cheaper hydro bills, he said. The Progressive Conservatives will also provide a tax credit to families earning under $30,000 a year so that they don't pay any provincial income tax, Jefferies said.
While the PCs cite a 2017 prediction about the minimum wage hike's effect on jobs, the actual numbers paint a different picture. Ontario added about 60,000 jobs in July 2018, though many of those were in the public sector, and its unemployment rate fell to 5.4 per cent, according to Statistics Canada data — the lowest rate in 18 years.
The government is cherry-picking statistics to overstate the negative impact on the economy, Wilson said.
She said she'll ask commuters to lobby their MPPs to keep Bill 148 at the protest Thursday, and collect signatures for a petition calling on the government to honour the planned hike to $15.
"It's not a done deal," she said.
As for Daniel, he can't make it to the after-school protest on Thursday. He has to work.
With a file from Daniel Tencer