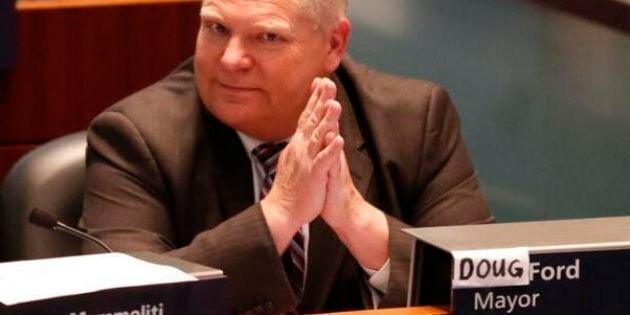 Tomorrow is the first appearance at a debate of mayoral candidate Doug Ford, not to be confused with councillor Doug Ford, or Rob Ford's campaign manager Doug Ford. This is a whole new ballgame. By now, the other leading candidates have taken part in 9000 debates, I may be a little off on that number, truth be told I lost count at three, but this is the first one for Doug Ford.
At this point, we all know that John Tory is leading the field by a very wide margin. Polls show him leading by 15-22 points with Olivia Chow a distant second and Doug Ford a close third, or perhaps the other way around.
After just a day as the candidate, Doug Ford propelled the fortunes of Ford Nation from a distant third, to within striking distance of the leader. Polls showed him at levels no Ford has been at in over a year outside of Etobicoke. No doubt polls released as I write this will show those fortunes have waned after a week of dawn till dusk media coverage and sympathy over the illness that made his brother withdraw from the mayoral race.
Is there a chance that this debate, or the entrance of Doug Ford into the mayoral race, will have an impact on the outcome? The answer is of course a resounding "no." Don't take my word for it, the headlines on Wednesday will tell us so, and it shall be thus.
For the few people still following this race, here are my thoughts on the five things to watch for in this first Doug Ford debate.
At this stage in the game, any new policy is going to cost the candidates as many, if not more votes than it can win them. John Tory has a robust platform that doesn't have many holes so he doesn't need to take any risks. Doug Ford has no policies, only what he inherited from his brother's campaign, but could still have a few new tricks up his sleeve and what better venue than his first debate to unleash them. (normally, policy is released, but unleash seems more appropriate for Doug Ford)
Olivia Chow, on the other hand, can afford to take some risks at this point. After a stagnant few months in the polls, and with only five weeks to go, she can go on the policy offensive.
I would look to all three candidates to continue or establish a clear personality. Chow and Tory are both well established, it will be most interesting to see which Doug Ford shows up.
2) Doug Ford: To Bully or Not to Bully
This one is the most interesting of the points to watch, who is Doug Ford? We know he is a councillor and older brother to Rob, maybe he dealt hash in high-school and he appears to believe kids with special needs disrupt a neighborhood. He is also a tenacious business man who has made a fortune for the Ford family business.
We have all seen the worst of Doug Ford, and perhaps this past week the best of Doug Ford. Will we see the same bullying that highlighted his tenure as Rob Ford's campaign manager and right hand to the mayor, or will he break out with this new found role of front man for Ford Nation.
If this were any other campaign, I would expect John Tory to get attacked by the other two leading candidates -- but that may not be the case. If this were any other campaign, the second likeliest scenario would be to expect Chow and Tory to attack Doug Ford as a key player in the last four years at City Hall, but that may also not be the case given his brothers illness.
Whoever does get attacked by the other two candidates will tell us who the other campaigns see as their main competition for undecided and swing votes.
Will the three candidates hold hands and sing Kumbaya? Will Doug Ford come out swinging? Does Olivia Chow ride in on a white horse sporting newly hatched dreadlocks? Your guess is as good as mine.
4) Will Olivia Chow Shine?
Olivia Chow must take chances to make gains. With the commanding lead held by John Tory, he will not be likely to take any risks on policy and is unlikely to be too aggressive with Doug Ford, the risk being legitimizing Ford's challenger status. Doug Ford is smarter than Rob Ford, but he is not used to the spotlight at this level and will likely be tentative and nervous. This may be Olivia Chow's first opportunity to shine since her launch event those many months ago. I would expect to see an aggressive and animated Olivia Chow.
5) Will John Tory Attack Ford?
The last point to watch in this first debate is whether John Tory will attacks Doug Ford. Pollsters last week had Doug Ford pegged at 34 per cent on the eve of his candidacy, just 7 per cent behind frontrunner John Tory. As I write, released results remain the same with both Tory and Ford down 3 per cent to 38 per cent and 31 per cent respectively.
If, in fact, Doug Ford is a credible challenger, within 7 per cent of the juggernaut Tory campaign, surely John Tory will attack Doug Ford at his first debate, not to give Ford any chance to build momentum and traction with Toronto voters. It would surprise me greatly to see such an attack, but maybe I am wrong.