More than two dozen dead whales have washed up on B.C. and Alaska shores since May, and scientists are suggesting toxic algae is at fault.
There is a 1,600 km-wide patch of warmer-than-usual water in the Pacific Ocean, which has created a large toxic algae bloom.
Andrew Trites, a University of British Columbia professor studying the whale deaths, says the algae contains a neurotoxin has been contaminating the krill and sardines many whales eat. If it gets passed on to mammals or birds in large quantities, it can cause brain damage, seizures, and death, according to CTV News.
"Each krill body was essentially a gel capsule full of poison," he said.
"We can rule a few things out by having inspected their bodies to rule out things such as starvation, any signs of disease, any signs of having been hit by ships or caught by fishing gear," Trites told CTV News.
Trites said a similar situation is also happening in California, where other creatures like sea lions, seals and seabirds have been dying since the algae bloom began.
Although scientists haven't been able to confirm the algae bloom is at fault, researchers at Ocean Networks Canada say that since a whale is at the top of the food chain, they are "an accumulator of toxins."
"We would expect the larger species to have the highest concentration of these toxins," said ONC associate director for science Richard Dewey.
The Department of Fisheries and Oceans told CTV News that any cause of death given so far is just speculation.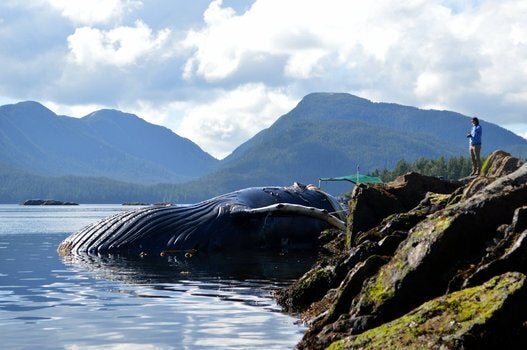 Dead Humpback Whale Off B.C. Coast
Popular in the Community