Given the fragile nature of our planet's environment, there are lots of things to think about this Earth Day, perhaps most notably, what we can do to limit the effects of climate change. That's certainly on my mind. But this year I'm thinking bigger: specifically, I'm thinking about how climate change -- and the droughts that are becoming more frequent and more severe as a result -- is affecting some of the most vulnerable communities in the world.
The scale of the East Africa drought is immense. Across the region, farmers have been left waiting for rains that haven't come, in some areas for many seasons in a row. As a result, crops are failing and livestock populations are dwindling, meaning that residents are not only facing dehydration and malnutrition, but also significant economic shortfalls. Famine has already been declared in parts of South Sudan, with 100,000 people facing starvation and a further one million on the brink of famine. According to the UN, nearly 1.4 million children face imminent risk of death from severe malnutrition as famine grows across East Africa.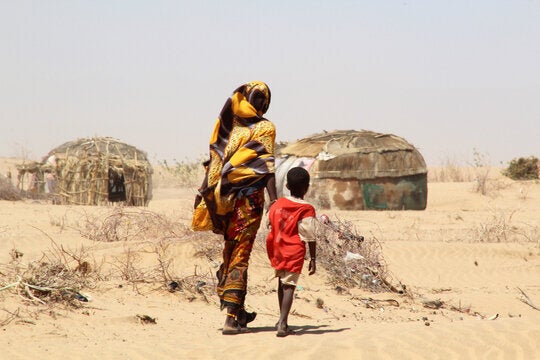 A woman and her son walk towards their traditional nomadic home in drought-stricken northern Kenya. (Photo credit: Plan International)
Children who are not at immediate risk of starvation may face the consequences of this drought long after it's passed. In Kenya, for example, nearly 200,000 students in drought-affected areas have stopped attending school, while in Ethiopia, close to 600 schools have already closed. It is estimated that about five million children could soon have their education disrupted because of drought.
Even students who are still able to attend school are struggling. In eastern Kenya, a teacher at an elementary school noted that "at around 10am, we notice our children are falling asleep at their desks. After speaking to them, we realized that the majority miss breakfast." And the exhaustion worsens throughout the day: "Many times we see children come back from lunch with less energy. Most families have been affected by this drought, making it difficult for them to provide adequate meals for their children."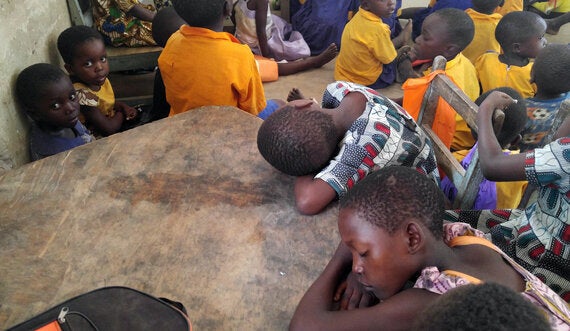 Children fall asleep in class and struggle to concentrate on their studies in areas where food and water are scarce. (Photo credit: Plan International)
The drought is also having an acute impact on girls. Many girls in Kenya are responsible for fetching water in the afternoon before they go back to school. Longer and longer walks to the nearest water source in midday heat saps their energy. Nisha, a Plan International youth activist from a drought-affected community in eastern Kenya explains that despite the longer walks for water, "girls are expected to remain alert during the afternoon classes."
Students dropping out of school may seem like a short-term issue -- they'll just go back to school once the drought is over, right? But that's not necessarily the case. Not only can an extended absence make it difficult to reintegrate into classes weeks, months, or years later, it can also have a huge impact on a child's participation in their community. Not attending school often means being cut off from their social network and community resources.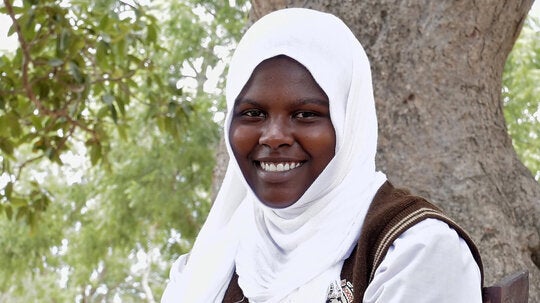 Kenyan youth activist Nisha speaks out about the drought's impact on girls. (Photo credit: Plan International)
These issues can be compounded for girls, whose risk of child marriage and early pregnancy increase in times of crisis. In many communities, older men will try to lure girls with gifts as they fetch water. Youth activist Nisha explains that "it is common to be approached by older men seeking sexual favours in exchange for money" -- a resource that many families are desperately lacking right now as a result of poor or non-existent harvests. We know that the longer a girl stays in school, the less likely it is that she'll be married early. But without access to education, she can quickly become isolated, and her risk of child marriage and early pregnancy rises.
So what can be done to address an issue so immense as widespread drought, or climate change more broadly? In the short term, millions of people need immediate humanitarian assistance to cope with the lack of food and water, and urgent medical help. Plan International Canada is helping by distributing Jerry cans and water purification tablets to ensure that any available water is collected and safe to drink. We're also supporting a new school feeding program in eastern Kenya to prevent malnutrition, improve school attendance rates, reduce financial and emotional stresses on parents and secure a better future for children.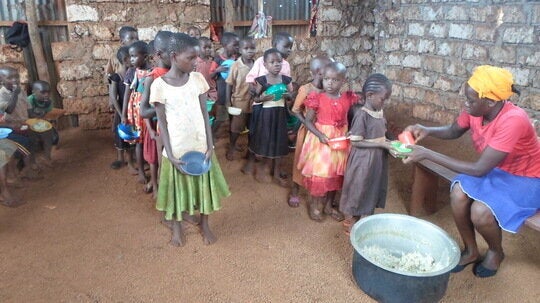 Children queue for their school lunch, part of a new school feeding program in
eastern Kenya. (Photo credit: Plan International/Ndokolani Ndundi)
We must also prioritize reversing the effects of climate change. For people living in countries like Canada, that means reducing our dependence on fossil fuels, cutting our greenhouse gas emissions and making other greener choices in our daily lives. That's not only good for us, it's also an investment in a stronger, healthier world.
Of course, these lifestyle changes will take time to impact the environment, so Plan and other development agencies now factor climate change into our planning and assistance programs as another risk facing vulnerable communities. A key part of that is helping to improve the resilience of communities to deal with disasters when they strike. From direct experience, we know that programs that address women's and children's rights are particularly effective in improving resilience, because they are the populations most at-risk when disaster strikes.
We've come a long way since the first Earth Day was held in 1970, and we've learned a lot more about how interconnected our world is. So on Earth Day 2017, join me in thinking about what we can do in Canada to help make the planet healthier and more liveable for us all.
Follow HuffPost Canada Blogs on Facebook