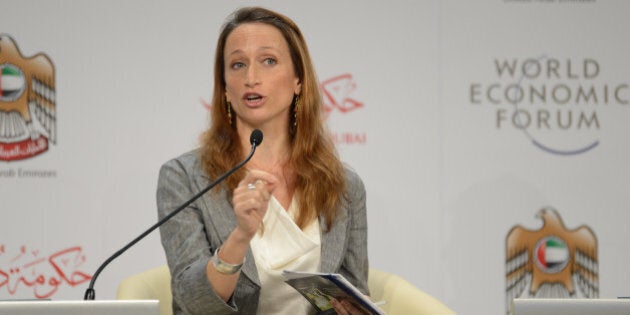 World Economic Forum (www.weforum.org)/Photo by Norbert Schiller" data-caption="DUBAI, UNITED ARAB EMIRATES, 14 November 2012 - Céline Cousteau, Founder and Chief Executive Officer, CauseCentric Productions, USA; Global Agenda Council on Oceans, speaks during a plenary session on 21st century challenges at the World Economic Forum's Summit on the Global Agenda 2012 held in Dubai from 12-14 November 2012. Copyright World Economic Forum (www.weforum.org)/Photo by Norbert Schiller" data-credit="World Economic Forum/Flickr">
I'm interviewing "Oceanaut" Céline Cousteau and I have to admit I'm finding it hard to imagine this elegant adventurer with oxygen tanks on her back courageously warding off ferocious sharks, or hanging on for her life on a flimsy rope bridge over a rocky canyon teeming with piranha deep in a South American jungle.
If you recognized that last name, then it probably isn't that hard to imagine her doing any of these things (though it may be a bit of an exaggeration to suggest she's ever had to ward off sharks or bloodthirsty piranha, I honestly wouldn't be surprised if it was true).
Chances are you recognize the name. Céline Cousteau is the daughter of ocean explorer and filmmaker Jean-Michel Cousteau and grand-daughter of the legendary Jacques Yves Cousteau, a French undersea explorer, researcher, photographer and documentary host who invented diving and scuba devices, including the Aqua-Lung. By the 1980s, Cousteau was producing television specials and had become a leading environmental voice.
Growing up, there was no shortage of children's books, cartoons and stories about the legendary undersea explorer and it's quite an honour to be able to speak with Céline, a woman who has carried on the family tradition of bringing awareness to the state of the world's oceans.
"My grandfather was known by a lot of people, so I love it when people say 'I grew up with your grandfather,' because I say, 'Me, too!'" says Céline Cousteau during her trip to Toronto. She says she respects Canada because there is much education and intelligence to access here, adding that Canada is a country that values its education system. It is her hope that environmental issues will be addressed more in Canadian schools.
"My whole family was involved in my grandfather's work," says Cousteau. "It influenced me because I saw just how interconnected we really are to so many places around the world through the stories that we share."
Céline Cousteau Is the Perfect Ambassador
Cousteau isn't kidding -- this is a family that literally has seaweed growing in their veins and it shows. Founder and executive director of the non-profit organization CauseCentric Productions, Cousteau has hosted ocean documentaries for PBS and The Discovery Channel, and has been interviewed for countless news organizations. Her frequent global travels have seen her embarking on expeditions to the Peruvian Amazon, following the grey whale migration from Baja, California to Alaska and researching shark species on the Great Barrier Reef in Australia.
So it seems only reasonable that Cousteau would be viewed as the perfect person to be an ambassador for the TreadRight Foundation. According to the organization's website, TreadRight supports environmental projects and works to conserve ecosystems and benefit communities. To date the foundation has supported more than 35 sustainable tourism projects worldwide.
"I'm working with the TreadRight Foundation as their ambassador and it's a role that we've just created because I've been working with Contiki Holidays as their sustainability partner for the past three years," says Cousteau. "So the path to that started with me working with the steering committee for the TreadRight Foundation to look at what the initiatives of the foundation are going to be focused on. I'm already a voice in my industry, environmental advocacy and spokesperson for a lot of different causes, this was a fantastic match for both of us."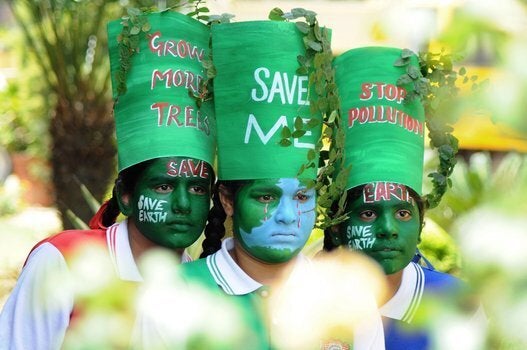 Earth Day