Edmonton police issued an Amber Alert on Friday afternoon for a missing 14-year-old girl, who had allegedly been forcibly abducted.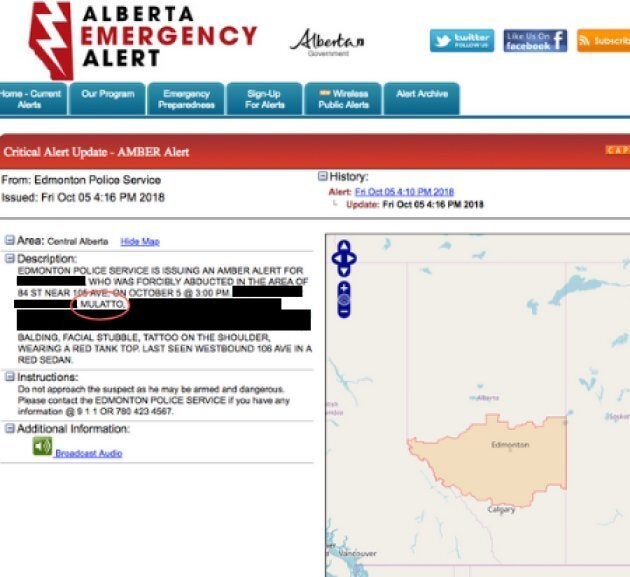 The alert said the alleged victim was "mulatto," an outdated term for a child with one white and one black parent.
The origin of the word is unclear, but some sources suggest it derives from "mula," the Galician-Portuguese word for "mule," the offspring of a horse and a donkey. Others link it to the Arabic word "muwallad" which refers to "a person of mixed ancestry." The term is commonly used for people who are not Arab but are raised among them.
"Mulatto" is now viewed as offensive, and the vast majority of biracial people do not identify themselves as such, something that online commenters did not hesitate to flag on social media as the alert circulated.
"I was taught that [mulatto] was a 'derogatory term that came into use during slavery when referring to the bi-racial offspring of African slaves and most often, their white European slave masters.' I was raised believing that mulatto was just as bad as the n word," Parlour Magazine writer Espana Fly explained in a piece where she described the shock of seeing the word in an advertisement in Latin America.
Edmonton's poet laureate, Ahmed "Knowmadic" Ali, who has spoken out about racism in the city in the past, said the person who worded the alert likely had no idea of the word's connotations.
"I'd like to believe that it was a mistake and we should allow whoever wrote it to learn from it. Moments like this are a perfect opportunity for educating one another. Words and actions are the tools used to convey intention, therefore we have to consider if the intention associated with the words were meant to degrade or offend," he said in a statement to HuffPost Canada.
Ali added that because the reasoning behind the decision was unclear, it's better to give the person the benefit of the doubt.
The Edmonton Police Service (EPS) told HuffPost Canada that the Amber Alert was sent out as quickly as possible.
"Upon review of the wording post incident, the EPS regrets that it has offended anyone in the community and it wasn't our intent in any way to be culturally insensitive or disrespectful," media relations supervisor Patrycja Mokrzan wrote in an email.
"We would like to reassure everyone that we have reviewed our unfiltered message through our Equity Diversity & Human Rights Section and moving forward, the EPS will ensure that emergency messaging will reflect what we foster — respect and dignity for all."
Ali also pointed out it's important that whoever wrote the alert be educated as to why it was inappropriate.
Popular in the Community