Eugenie Bouchard can now add "Sports Illustrated model" to her considerable list of achievements.
Photographed by Emmanuelle Hauguel in Turks and Caicos, the 22-year-old excitedly took to Twitter on Wednesday to give her fans a sneak peek of what to expect inside the magazine.
Lighting up the tennis world from a young age, Bouchard has been a crowd favourite ever since stepping on the court. On some occasions, the focus on her charisma and bombshell looks have overshadowed her strong, determined game.
At the Australian Open in 2015, Genie was asked to give the crowd a twirl and talk about her outfit after crushing her opponent, an awkward moment which saw the Canadian get uncomfortably and hesitant.
Immediately, many had questions about sexism in the world of tennis.
And in 2014, at the Australian Open again, in her post-game interview after taking home the victory, Bouchard was asked her pick for "ultimate date," because her "male fans" needed to know.
(For the record, she answered with Justin Bieber and the crowd wasn't impressed.)
Speaking of dates, Genie, from Westmount, Que., went on one Wednesday night.
The lucky guy was not Justin Bieber, but instead, New England Patriots fan John Goehrke.
Who is this guy, you're asking? He's the dude from Twitter who bet Bouchard that if the Patriots came back to defeat the Atlanta Falcons in Super Bowl 51, after being down 21-0, she'd have to go on a date with him.
And like a fairytale ending, somehow the Patriots came back to defeat the Falcons 34-28 in overtime.
Like the good Twitter user she is, Eugenie wasn't going to let this bet slide. She was going to make the date happen.
The two met on Wednesday night and attended a Brooklyn Nets game in New York.
For all the photos from Bouchard's Sports Illustrated Swimsuit Edition photo shoot, check out the slideshow below: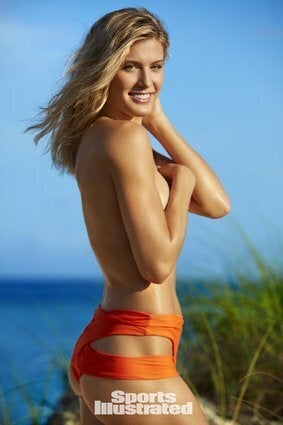 Eugenie Bouchard for Sports Illustrated Swimsuit Edition 2017