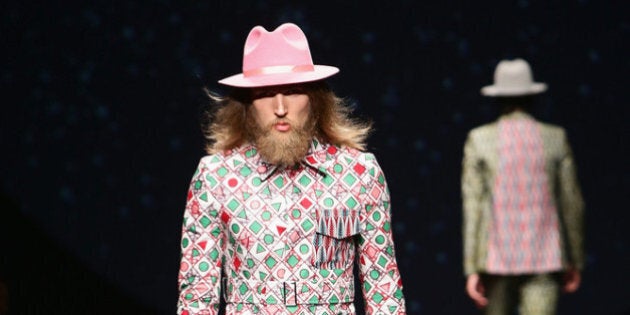 Remember when "metrosexual" was what people called well-dressed straight men?
In hindsight, the label was slightly cringe-worthy. As men everywhere have begun to openly embrace their sartorial sides, that word has become obsolete. The proof is in the numbers: the global menswear market reached $440 billion in 2014, growing 4.5% over 2013, according to Euromonitor. This also solidly outpaces the women's clothing market, which only expanded by 3.7% last year.
Instead of metrosexual, the social media generation has instead adopted the terms "Henry" (high earner, not rich yet) and "Yummy" (young, urban male) to describe the growing "tribe of digitally savvy, unmarried and international millennials entering the global workforce," according to the Financial Times.
July 13 marks the launch of the inaugural New York Fashion Week: Men's. Running three days, the event is a true sign of the times; even a decade ago menswear was barely a cargo-shorts-clad afterthought. However, while all eyes are on the Big Apple, respect must be paid to the OGs of the modern men's fashion week renaissance: Pitti Uomo and Milan Fashion Week, Paris Fashion Week and London Collections: Men.
London's show has become a breakout star since its launch in 2012. With the British capital's historic menswear scene largely centred around the globally acclaimed suiting of Savile Row, the city has uncharacteristically thrown tradition to the wind and is birthing a new generation of fashion's edgiest talents including Craig Green, JW Anderson, and Agi and Sam.
While many would immediately associate menswear with a three-piece suit, men's fashion weeks in London, Milan and Paris are celebrating innovation and experimentation in ways that are breaking down the barriers of global culture, gender and identity. Overarching trends this season included global and Asian-inspired designs, including looser cuts, silks and Oriental-styled patterns, androgyny and the 1970s.
We rounded up the wins and most... interesting highlights from Europe's men's fashion weeks to help whet your appetite before NYFW: Men's this July.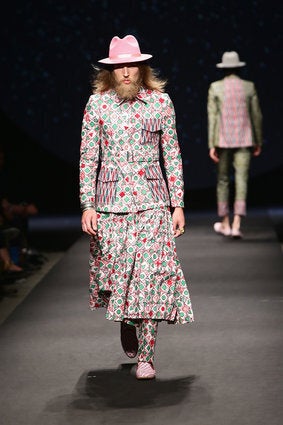 Highlights From Europe's Men's Fashion Week