Exercise isn't just good for your body, it's great for your mental health and overall well-being too — just ask Andrea Ross, a Calgary native who turned to exercise to help her manage post-traumatic stress (PTSD) stemming from childhood abuse.
As a young adult, Ross, struggled with bouts of anxiety that gave her the urge to lash out violently. Instead of giving in to the urge, she would lock herself in a washroom and perform squats. Now in her late 30s, Ross maintains a regular workout schedule with a personal trainer to help her manage her mental state.
"Talk therapy alone wasn't working," she told HuffPost Canada.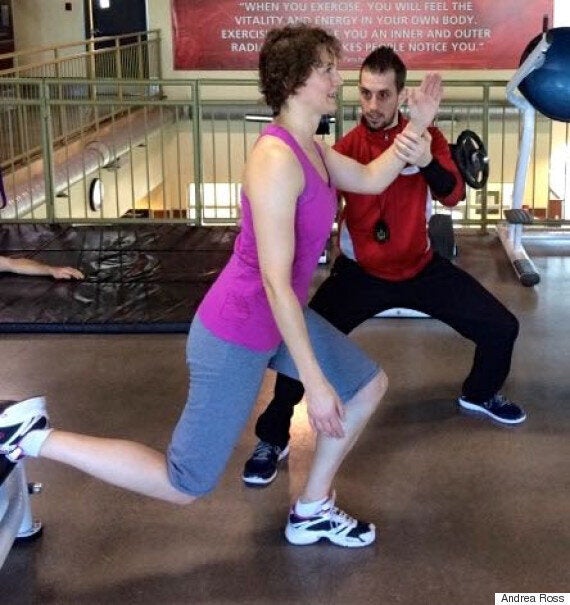 Another thing that worked was putting in some 'energy work.'
"A personal trainer told me a bit about 'energy work.' It was a different way of looking at the symptoms of flashbacks, panic attacks, or my stress levels rising to the danger zone." Ross said. "From there, we worked out effective fitness coping tools like 2-minute, 5-minute exercise routines and different exercises for different symptoms. For example, panic equals running stairs; rage equals squats and wall pushups."
Exercise has long been linked to decreased stress and increased happiness. "Even five minutes of aerobic exercise, like a spin class, a jog or a brisk walk boosts production of 'feel good' endorphins and reduces the amount of cortisol (stress hormone) your body produces," says Dr. Joti Samra, a Vancouver-based registered psychologist. "Short bursts of exercise can also make you happier in the moment by interrupting negative trains of thought."
In Ross' case, exercise has helped her tackle those issues head on. "When I started therapy and the initial violent memories were addressed, it wasn't going as the professionals liked," she explained. "At GoodLife Fitness, I approached a personal trainer with a background in boxing and mixed martial arts to work through flashbacks and panic attacks in sessions with him. It worked wonders."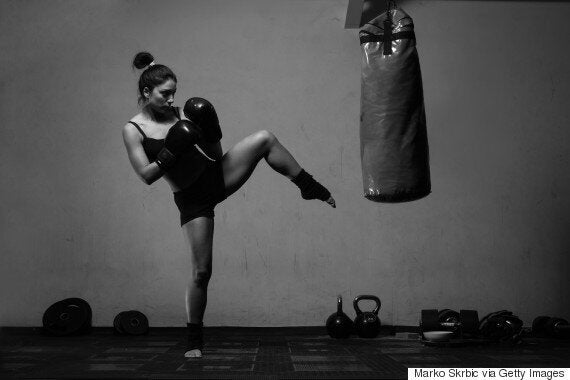 Not only does 'exercise therapy' help her feel great, Ross says it's also helped her avoid medication.
"The professionals wanted to put me on prescription drugs to manage the undesirable symptoms of being a split personality (disassociative identity disorder is the new name). Knowing how hard it is to get off addictive drugs as a former heroin addict, my answer was 'No!' Personal research ensued, followed by exercise as my first choice," she revealed.
That conversation happened nearly 20 years ago, and exercise is still her go-to therapy.
"After a workout, there's this awesome delayed reaction of goodness. Right off the bat, I'm pleased I pushed myself to do something positive and I'm energized," she said. "About 30 minutes later, I'm satiated with happy endorphins and super calm. I can generally make the super calm happiness last for 6-8 hours (except when the deadlines at work got too tight) before I get so tired I conk out when my head hits the pillow."
While boxing and mixed martial arts are Ross' preferred workouts, others may benefit from group workouts, which motivate participants to push a little harder. For those just starting a fitness routine, easing into it with breathing techniques, low-impact exercises and stretches may be a better prescription.