Out with the old and in with the new — at least for a while, anyway.
Nearly two months after Gastown's famous steam clock was removed for repairs, the corner of Water and Cambie streets in Vancouver is complete once again, revitalized with a 27-foot tall piece of public art.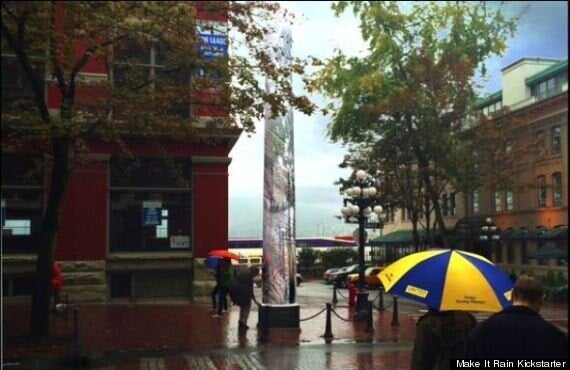 The "Make it Rain" tower, designed by local architects Jennifer Newsom Carruthers and Tom Carruthers, is a snazzy addition to the Gastown aesthetic. The creation is covered entirely in a mirror-like material that reflects cars whizzing by on one side and the flurry of pedestrians on the other.
It also makes good use of the original base, spitting out steam periodically just as the clock did.
The massive tower was designed to fill the void left by the clock until its return — but the couple needed a little financial boost to bring the project to life.
They started a Kickstarter campaign in November, reaching their $19,530 goal in just eight days. The couple was able to move forward quickly, and the tower was up within the next 10 days.
It's the second time this year that Vancouver's public art scene has benefitted from crowdfunding. Over the summer the Vancouver Biennale used an Indiegogo campaign to help fund a huge painted mural on Granville Island by Brazilian duo OSGEMEOS.
The Gastown steam clock is expected to return by mid-January. When that happens, the couple would like to re-locate the tower to another part of the neighbourhood.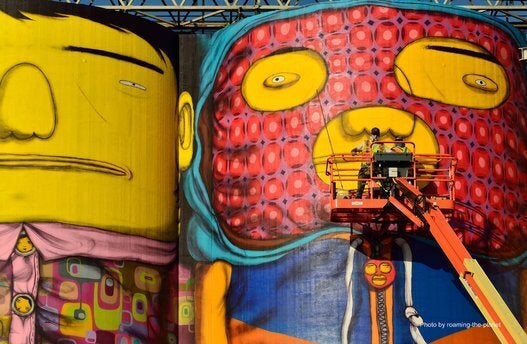 OSGEMEOS At Vancouver Biennale