OTTAWA — A bill that outlaws genetic discrimination and is staunchly opposed by the insurance industry is one of the first pieces of legislation up for debate as the Commons returns to work this week.
Bill S-201, an act to prohibit and prevent genetic discrimination, passed unanimously in the Senate and is Liberal senator James Cowan's third attempt at protecting from repercussions by employers or insurance companies any Canadians who want to be genetically tested.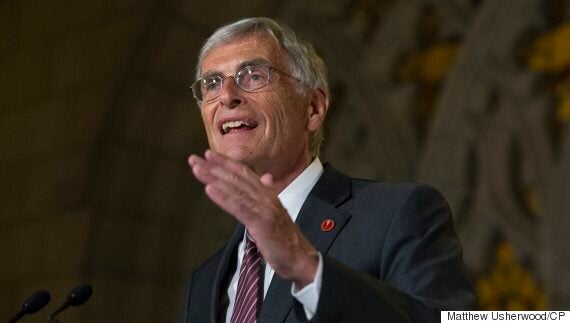 Leader of the Opposition in the Senate Sen. James Cowan speaks at a news conference in the Senate foyer on Parliament Hill on June 9, 2015. (Photo: Matthew Usherwood/CP)
People of all ages, including young children whose parents are concerned they'll be discriminated against, are refusing to get tested or to take part in medical research out of fear that employers or insurance companies will ask for their records or demand tests, then fire them or decline coverage if they don't like what they see, Cowan told The Huffington Post Canada.
"The fact that there is no protection in our law for the results of those tests, I find astounding," the former leader of the Senate Liberals said. "We are out of sync with all the countries that we normally like to compare ourselves to; almost every other country has some form of protection for genetic test results."
In the Senate, Cowan told the story of a 24-year-old young man who was tested for the gene responsible for Huntington's disease. He tested positive. One Friday, his employer asked about his result and the man answered honestly. On Monday, Cowan said, he was fired.
"Fear of genetic discrimination is stopping many Canadians from having genetic testing that their doctors believe would benefit them," he said.
"We are out of sync with all the countries that we normally like to compare ourselves to; almost every other country has some form of protection for genetic test results."

— Sen. James Cowan
Bev Heim-Myers, chair of the Canadian Coalition for Genetic Fairness and CEO of the Huntington Society of Canada, told senators at committee that the young man Cowan described wouldn't develop Huntington's disease for another 20 years.
He could have fought the case through the Ontario Human Rights Tribunal, she said, but doing so would out his siblings. It would also be up to him, and his family, to pay his legal fees. "The whole thing was prohibitive, not only from a fear perspective, but from a cost perspective. He couldn't go forward."
Cowan's bill prohibits anyone from requiring an individual to undergo a genetic test or to disclose the results of a genetic test. It amends the Canada Labour Code and the Canadian Human Rights Act to prohibit discrimination based on genetic characteristics, although exceptions allow questions from health-care practitioners to improve treatment and from researchers to gather data.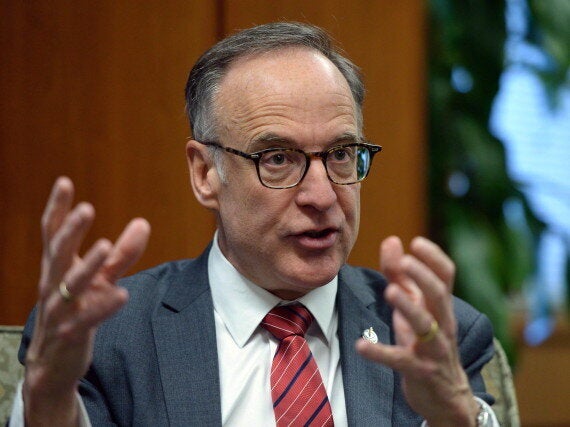 Liberal MP Rob Oliphant takes part in an interview on Parliament Hill on Feb. 26, 2016. (Photo: Sean Kilpatrick/CP)
Unlike most private members' bills, which are "frankly, kind of weak and are kind of a idiosyncratic," Liberal MP Rob Oliphant said: "This is a real piece of legislation."
He will be shepherding the bill through the Commons.
"Canada has a human rights regime that is rigorous on so many levels … and as a gay person I benefited from human rights legislation," he told HuffPost. "So if I can do something to help other people on human rights legislation — [and] this is the next wave of human rights legislation, of where we need to go on human rights – I should do it."
As the former president and CEO of the Asthma Society of Canada, Oliphant was aware of the bill and the concerns from researchers that their work would be inhibited if Canada didn't have protection against genetic discrimination, he said.
'The next wave of human rights legislation'
"Thirty-five per cent of kids, parents of children at Sick Kids Hospital in Toronto are now not having genetic tests on their kids because they are worried about the potential genetic discrimination."
Millions of Canadians could be affected by this bill, Oliphant added, pointing to Huntington's disease, Parkinson's disease, cystic fibrosis, ovarian cancer and breast cancer. Actress Angelina Jolie famously highlighted the breast cancer issue when she underwent a double mastectomy after discovering that she carried the BRCA1 genetic mutation, which can increase a woman's chance of developing breast cancer by as much as 87 per cent.
When Cowan first introduced his genetic nondiscrimination bill three years ago, he noted there were 2,000 genetic tests available. Now, there are 48,612 tests.
Genetic testing is good health policy that will lead to better health decisions, Oliphant said. Armed with the information that one has a genetic predisposition to develop a particular disease or condition, a person can take steps to reduce the chance of developing that disease or condition.
"In the long run, it will reduce health costs. People will be healthier and better," he said.
The insurance industry responds
Frank Swedlove, president and CEO of the Canadian Life and Health Insurance Association, believes S-201 is unfair to the insurance industry because it allows applicants to know more about their health risks than the insurer does when they assess risk. "This is directly contrary to the principle of equal information, which is the foundation of our insurance system," he told senators at a committee hearing.
The insurance industry self-regulates, he added, and prevents would-be insurers from demanding a genetic test before issuing a policy. But if someone gets a genetic test, he said, the insurer should have the right to know the result.
Jacques Boudreau, a fellow with the Canadian Institute of Actuaries, warned that insurance premiums for everybody would spike if the bill passed.
"Receiving a bad result from a genetic test would be a strong motivator to acquire more life insurance," he said. Under the bill, someone would be able to acquire insurance at the same price as the general public and well below its true cost, he noted, saying that would provide a strong incentive to purchase as much as possible.
G7 quip 'very misleading'
"We are deeply concerned that the vast majority of the public will have to pay more for insurance because of the increase in premiums to fund the cost of anti-selection," Boudreau said.
Swedlove told senators that the characterization that Canada as the only G7 country not to provide protection against genetic discrimination is "very misleading."
In Europe, he said, the insurance industry sells almost exclusively short-term insurance. And in the United States, federal non-discrimination legislation does not include life insurance, disability insurance and long-term care insurance.
Helm-Myers, noted, however, that several states — including California, which covers life insurance — have adopted more comprehensive protection.
MP understands concerns of insurance industry
"They are worried. I get it," Oliphant said about the insurance industry. "Their principle concern is that someone will go, find out they carry a gene and increase their life insurance. Our primary concern is someone is going to not find out they have that gene, and not do proactive medical care, and, more likely, die quickly and not pay their premiums...
"We actually think this is not negative towards the insurance industry but can be positive."
Cowan agrees. "There is a good reason why insurance companies should get the factual information about your health now and your past health, but not be entitled to receive information about something that may never happen in the future," the senator said.
"This [bill] is not about insurance," he added. "It just seems to be the place where most of this discrimination takes place. The biggest abuses are in the insurance field. But there are cases of people failing to get employment or feeling uncomfortable in the workplace, failing to get an advancement or something like that because people know that they carry a certain gene and might develop some condition in the future."
Debate in the Commons begins on Tuesday.
So far, the Liberal government hasn't said whether it will support the legislation. Justice Minister Jody Wilson-Raybould has expressed concern that the bill intrudes on provincial jurisdictions — the provinces regulate the insurance industry and most employment sectors.
Joanne Ghiz, Wilson-Raybould's press secretary, said the government would announce its position this week.
Eight provinces — Newfoundland and Labrador, Nova Scotia, New Brunswick, Prince Edward Island, Manitoba, Alberta, and B.C. — have told Cowan they're following the discussions on S-201, but none has expressed fervent opposition.
The senator, who will be forced to retire in January after reaching the mandatory retirement age of 75, believes federal protection is necessary.
'This is really exploding'
"We can't leave it to a patchwork of provincial jurisdictions to do this, because Canadians obviously move from one part of the country to another, and you can't be protected in one province but not in another."
Genetic testing is "the way of the future," Cowan added. "Every time you turn around, there are more and more tests being developed for more of our genes and more and more conditions. This is really exploding. Canadians need this protection now."
In October, Cowan will receive an advocacy award from the American Society for Human Genetics for his work on S-201.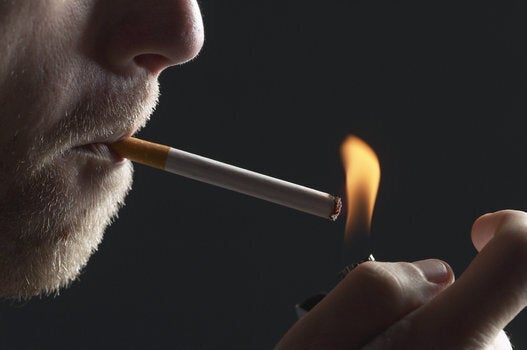 Lifestyle Risk Factors For Cancer