Eating ice cream brings back a host of fond childhood memories. I particularly remember our neighbourhood ice cream truck. England's legacy of soft-serve ice cream with a flake bar adorning the top trumped. Even today ice cream is one of the most delicious treats to serve your family and guests.
On a recent trip to the Deerhurst Resort in Muskoka, a group of us were treated to a visit to the Belly Ice Cream Company's kitchen. Founded by Shelly Westgarth, a former chef in the resort's kitchens and now purveyor and maker of gourmet ice cream.
Shelly, once head chef of Eclipse restaurant at Deerhurst, started her ice cream venture in 2009. With twin children about to start school, Shelley realized she had to adjust her working hours to accommodate her growing family. As a regular visitor to the Muskoka farmer's markets in summer, she identified an opportunity to make and sell gourmet Ice cream. The rest is history.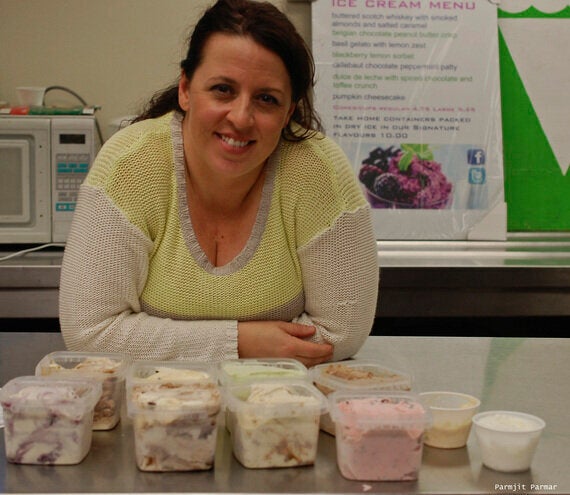 Belly keeps no stock; each order is made fresh for buyers. Ingredients are purchased locally from producers of Honey (Poppa Jim's), Maple, Berries, Stone fruits, Coffee, and even Beer! She makes small batches of hand packed pints with an obsessive attention to detail
Ice Cream Fit for Movie Stars
What's next for this enterprising chef? Ice cream fit for the stars at The Oscars -- a new batch of flavours (raspberry-chocolate truffle and champagne with gold flakes) is in the works for the lucky celebrities attending the awards night in Los Angeles. Stay tuned for more.
Pumpkin cheesecake with maple swirls and candied pecans
We started our ice cream making adventure by tasting some of her most popular flavours: 16 Vanilla bean Saigon Cinnamon, Wild blueberry cheesecake, Dulce de Leche, Muskoka Maple Mocha, Peppermint patty, Basil gelato, Obscene brownie and Salted caramel.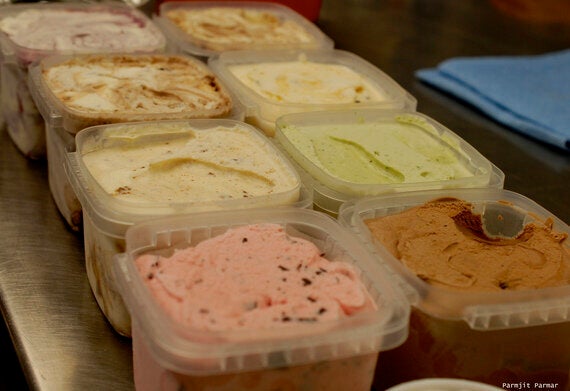 Shelly had the cheesecake-base ready to go for our lesson (the mixture included: cream cheese, sour cream, lemon zest, sugar, cream, milk, egg yolks, sea salt and vanilla). To this mixture we added the pumpkin mix, which included the pumpkin pie spices and sweetened condensed milk.
The pumpkin cheesecake mixture was then added to the Carpigiani gelato machine. Shelley explained the machine freezes at a very fast rate so that ice crystals are very fine. While freezing it (the machine) churns at a fairly slow pace so that the product is not very aerated. Generally 35 per cent air in comparison to commercial ice cream that can go as high as 120 per cent air.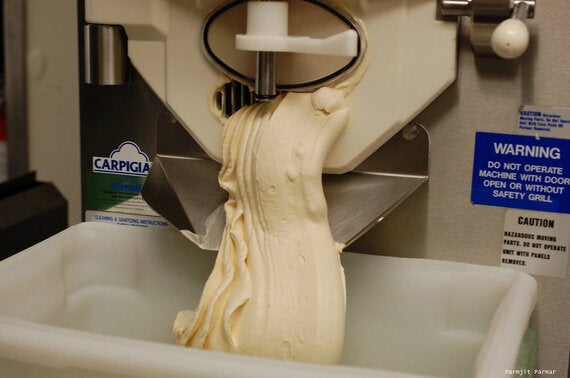 We added pecans and feulletine (crispy wafer flakes) as well as maple syrup and maple flavouring into a separate bowl.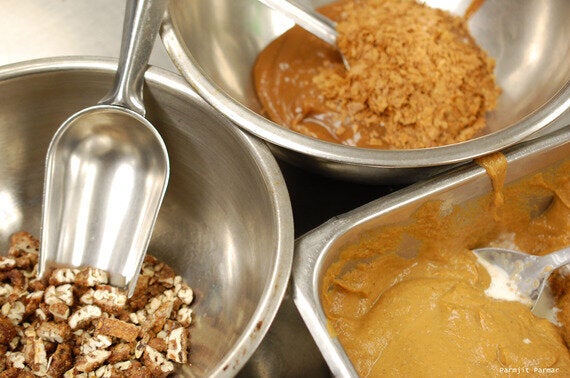 Once mixed, we gently stirred this into the churned ice cream to create the marble texture.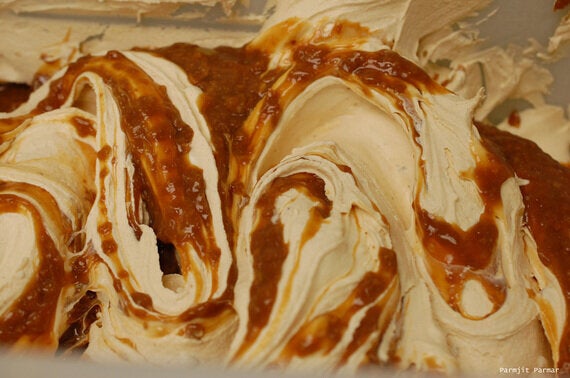 The finished product was scooped into containers, sealed and placed in the freezer. The next day our precious "cargo" was collected for return trip home.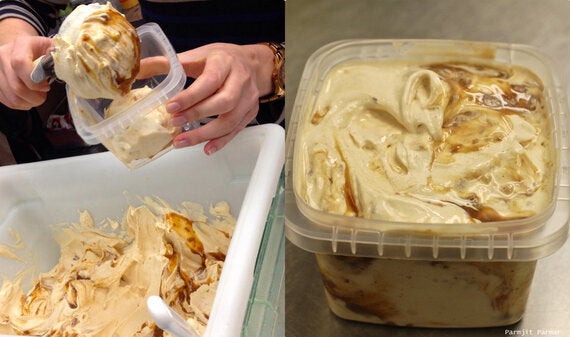 Here's the recipe to make your own Pumpkin Cheesecake Ice Cream:
1/2 cup sweetened condensed milk
1/2 tsp pumpkin pie spice
Blend together first four ingredients in a blender. In a small saucepan cook remaining ingredients until mixture looses its bright orange colour to resemble pumpkin pie colour.
Allow to cool and then mix into cheesecake base. Gently pour the ice cream mix into a container and chill in the refrigerator or in an ice bath until completely cool. Then place in the freezer overnight. Enjoy!
Yields Approximately 750 ml.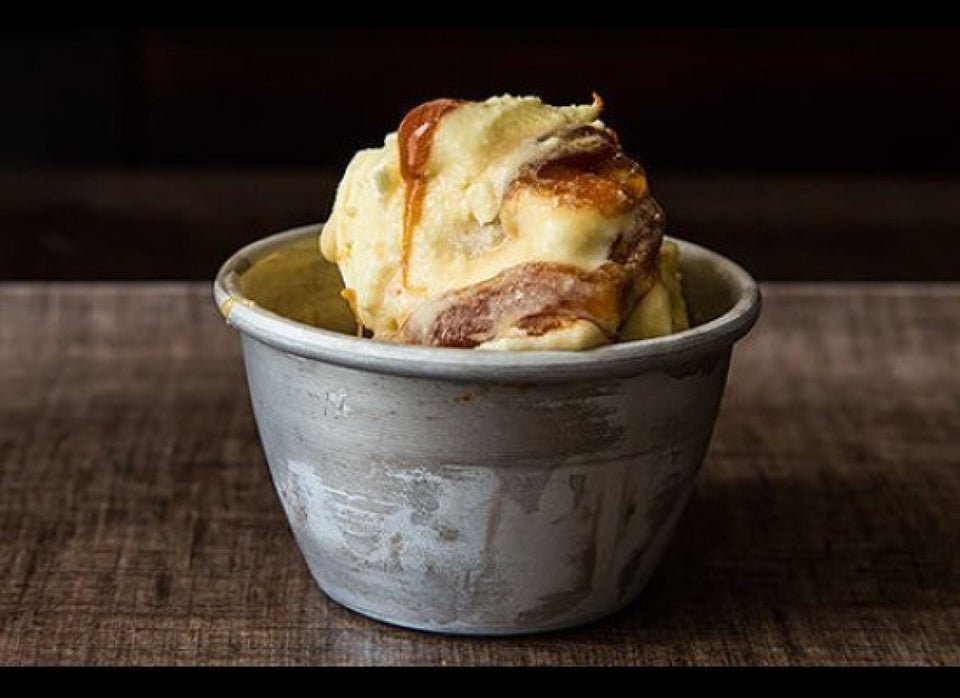 10 Wacky and Wonderful Ice Cream Flavors