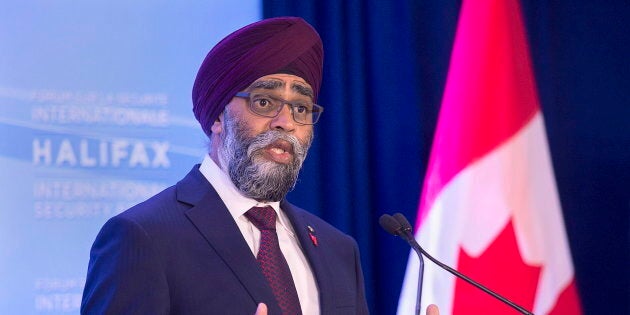 Canada's defence minister says he was "heartened" to see Conservative MPs denounce a racist Facebook post claiming he got his job because of "affirmative action."
Speaking to reporters at the Halifax International Security Forum on Friday, Harjit Sajjan addressed the deleted post from the "Okanagan Conservatives" group in British Columbia, which highlighted a story critical of his handling of a raucous 2017 trip of VIP passengers to Latvia.
"This is what happens when you have a cabinet based on affirmative action," the post read.
Sajjan, a retired lieutenant-colonel in the Canadian Armed Forces who has served as defence minister since 2015, said he was "surprised and equally disappointed" to see the remark surface on social media the night before.
"This type of language has no place in Canada," he said, before acknowledging his rivals for stepping up to address the matter.
"I was heartened, also, at the same time to see Conservative MPs have stepped forward, apologized and denounced this type of wording and discussion. At the end of the day this is not about me or the cabinet, it's about what type of message are we sending young Canadians."
Earlier: Defence Minister Harjit Sajjan says every MP supports the military
Tory MP Dan Albas, who represents Central Okanagan-Similkameen-Nicola, tweeted Thursday that while the post came from another riding association's account, he asked that it be taken down.
"Political debate and discussions should always be about policy and not personal attacks," Albas wrote. "Minister Sajjan has served our country honourably in many capacities and was undeserving of the comments that were posted."
James Bezan, the Conservative defence critic who often squares off with Sajjan in the House of Commons, tweeted that he was "disgusted" by the intolerant comment.
Sajjan, he wrote, is a respected veteran who "deserves nothing less than our gratitude for his service as a soldier, as well as defence minister."
Sajjan completed three tours of duty in Afghanistan and one is Bosnia. He also holds the distinction of being the first Sikh-Canadian to command an army regiment.
Sajjan was born in India and came to Canada at the age of five. He has opened up in the past about the racism he has faced and the reluctance of some to see him as fully Canadian despite his military career, years as a Vancouver police officer, and service as a senior minister in Prime Minister Justin Trudeau's cabinet.
Canada, he told reporters Friday, is a place where newcomers can "reach the highest office of any profession," if they work hard enough. He noted that there will be a reception later on Pier 21, where people from around the world were welcomed to this country and home to the Canadian Museum of Immigration.
'We are all immigrants'
"At the end of the day we are all immigrants in this country," he said. "It's only the First Nations, Indigenous peoples in Canada who rightfully can say that this was their homeland. Rest of us, whether you came 10 years ago or over 100 years ago, we were all immigrants."
When asked if he felt Conservative Leader Andrew Scheer should say something on the matter, Sajjan said every leader should do their part to promote diversity and inclusiveness.
Late Thursday, the Okanagan Conservatives Facebook group posted an apology to Sajjan.
"We've deleted an earlier post that was clearly inappropriate and that simply does not reflect the views of the party or any of the EDA's (sic) in the Okanagan. We apologize to Minister Sajjan and all those we've offended," they stated.
Watch Sajjan's full remarks below: