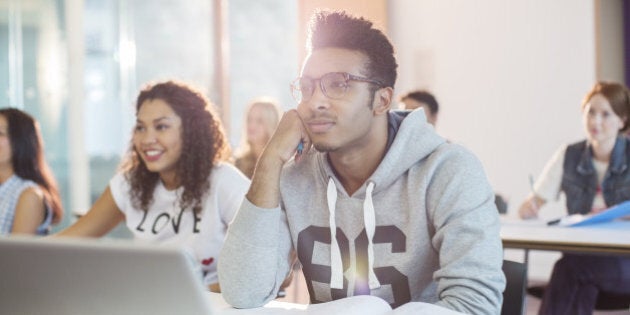 As we reflect on current events, sociopolitical uncertainty throughout the world seems to have only risen from where it sat at the beginning of the year. Nearly every day brings news of yet another racist, bigotry, or sexist comment from south of the border. Diversity, equity, and inclusion are under serious threat.
Meanwhile, in Canada, Prime Minister Trudeau began the month of February by issuing a statement on behalf of the Government commemorating the start of Black History Month. His message read, "diversity is our greatest strength, and we must always continue to build a country that affords equality and opportunity for all."
The key word in the Prime Minister's message is 'build'--we still have a lot of work to do to create a society where everyone is given equal opportunity. We live in a time where there remains a lot of social exclusion, often on account of a lack of financial resources or education (or both). Unfortunately, access to post-secondary education for underrepresented and marginalized populations is constantly challenged.
Recently, I had the pleasure of seeing the film Hidden Figures with my daughter. The message of the film resonated with me--three remarkable women defied institutionalized exclusion to make invaluable contributions to what is considered one of the greatest achievements of mankind.
An important fact about Katherine G. Johnson, Dorothy Vaughan, and Mary Jackson are that they were women of colour--a group that was highly racialized and essentially treated as second-class citizens at the time. Their story is an encouraging representation of the barriers and cycles of oppression and exclusion that can be transcended with resilience and perseverance.
The Spanning the Gaps program at Ryerson University recently performed a research study entitled Rethinking Access: Reengaging Learners. The goal of the study was to determine the effectiveness of bridging programs in Canada and to assess the unique attributes of their students in order to better serve them and their communities.
There was an overarching theme of the study: we need to break cycles of inter-generational poverty and social exclusion in order to help members of underrepresented groups reach their learning goals. Students from these groups often come from environments that are unsupportive of their academic aspirations; 45% of students reported that their parents did not have any post-secondary education. Consequently, a majority of Spanning the Gaps students reported having not even considered post-secondary education as an option before entering the program.
Access to education is a right for everyone, irrespective of race, sex, class, disability or age. Consider if Mary Jackson had not petitioned the City of Hampton to attend evening classes at the University of Virginia, enabling her to take the required classes that led her to become NASA's first black engineer. Arguably, technology may not be as advanced as it is today without her contributions. And NASA's space program perhaps would not have won the "Space Race".
While our neighbours to the south of us may be divided over viewpoints, Canadians should indeed be proud of the diversity of our country. In 2018, Viola Desmond will not only be the first Canadian woman of colour to appear on a banknote, she will be the first woman. I find this to be a highly inspired act by our Government, and a hopeful message for inclusion. In small acts like these, we can slowly see the barriers of equality and inclusion coming down, brick-by-brick. Together, let us 'build' a society where post-secondary education is within reach for all Ontarians. We do not want to miss out on the contributions of our own extraordinary hidden figures.
Follow HuffPost Canada Blogs on Facebook