As a little girl growing up in Niagara Falls, I was awed by the power of water. My dad is an engineer, and his jobs often took him to the hydroelectric generating stations on the Niagara River. He sometimes asked me to drive along.
From the safety of my perch, I watched generators channel the churning water on its wild descent from Lake Erie to Lake Ontario. My dad said that the resulting power could light up a million houses. I imagined all the kids who could read by lamplight, thanks to water, gravity and some pretty gigantic turbines.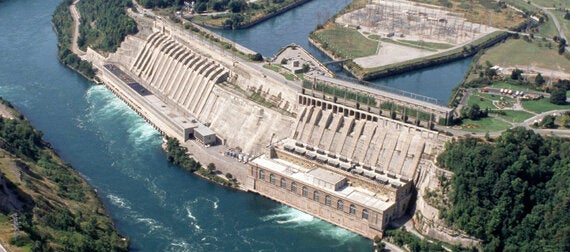 Photo/Ontario Power Generation
We are lucky in Canada. In many parts of the world, children have never seen this much moving water, unless it contains salt and stays flat in the ocean. For billions of people, the largest source of water is the local stream or pond--both of which shrink in the summer months.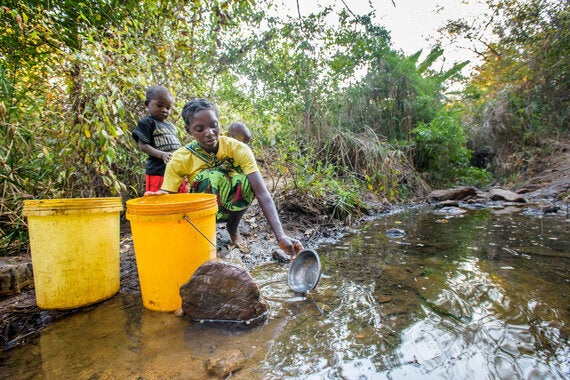 I've travelled to communities in Africa where everyone, including the livestock, has to share what little water is available. Cows, pigs and goats see no problem with defecating in the water as they drink. Water, the source of life, becomes a carrier of sickness and even death.
The power of a borehole and pump
I grew up with a sense that water was power. It was there to meet our needs. But in much of the world, a desperate lack of water keeps people on their knees.
I've also witnessed the power that water can bring to a community -- not hydroelectricity, but human empowerment. It happens when a single borehole is drilled deep into the ground, and a pump installed. Clean water becomes a source of hydration, refreshment and strength, freeing people up to do great things.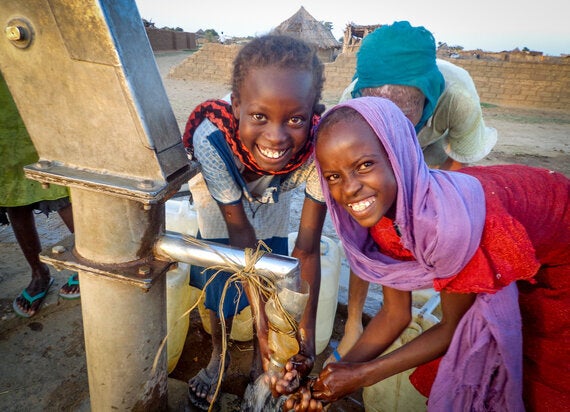 Two little girls in war-wracked South Sudan have little power to control events around them. But having clean water nearby frees them from water-borne illness, and half-day treks to the river. Photo/World Vision
The power of time and energy
In Mozambique, Helen's schooling was a patchwork of missed days and poor performance, says her mother. And no wonder. By the time Helen arrived at school each day, the teenager had already completed a half-day's labour, trekking three k.m. to fill the family's bucket at the nearest stream.
"I often got to school late and dozed in the classroom," Helen remembers. "I first had to fetch water. By the time I came back home to go to school it was late. I was already tired."
World Vision drilled a borehole in Helen's village, reducing her water walk to just seven minutes. Her health has improved, and she's more alert in the classroom. Her school performance has moved from "unsatisfactory" to excellent.
It's just a simple machine, not a giant turbine. But Helen (right) can now pump clean, safe water from the ground just seven minutes' walk from her home.
Helen is no longer on the verge of failing in school. She has her mornings back, and isn't constantly battling illness from dirty water. She and the other children in her village have a fair shot at doing well in their classes.
It's like fifty light bulbs all switching on at once.
The power of a water committee
Helen's fellow villagers can now channel their energy into learning, problem-solving, and community building. As happens through World Vision programs whenever a borehole is installed, they have formed a Water Committee.
A Water Committee's jobs are to maintain, repair and protect the borehole and pump. The entire community plays a role in keeping the life-source flowing freely. Best of all, people are equipped to keep this happening long after World Vision has left the area.
Most committees have a clearly defined structure, with each member -- chairperson, secretary, and treasurer -- playing a role. Every family in the community contributes to a small fund for ensuring the maintenance of the hand pump, and buying spare parts when needed.
There's also trouble-shooting to manage, thanks to four-legged visitors.
"Right after the borehole was drilled, pigs and cattle invaded the borehole area and dirtied it," says Dólica, one of the women in Helen's village. "But now, the borehole is protected. The committee built a wall around the borehole. Those animals no longer get close enough to dirty it."
I love that means everyone in the community can get involved in a large and important project. In Helen's village, for instance, teachers and even children play a critical role.
Teachers use their talents for making new things easier to understand, showing community members how to correctly use the borehole. Children are responsible for teaching other kids the proper steps to take.
"Many people, especially children, don't know how to handle the large hand pump," explains one teacher. But she and the children show them. I enjoy thinking of the pride that children must feel, as they teach first-time users the ropes.
Imagine the helplessness a mother must experience, when her children are continuously sick from dirty water. Or failing in school because they spend hours each day fetching water.
Now, imagine the feeling as a mother helps drill the very well that her children will drink from. It's something more and more women are experiencing, as World Vision trains them to be members of well-drilling teams.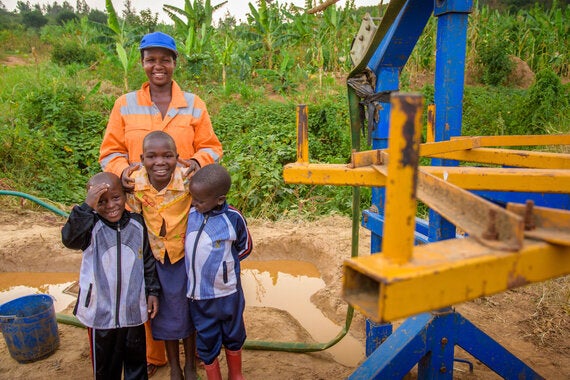 Angelique is one of four "women drillers" in her region, just outside Kigali, Rwanda. Her children are healthy -- and very proud. Photo/World Vision
Becoming a driller empowered Angelique to change her family's life, she says. She could buy iron sheets to put a roof on their home, and even add a room for more privacy. And with a new job came the money to throw the very special party.
"We had dancing and singing. The kids were very excited," she says. "Now they know mommy is bringing something home. It gives them confidence that even ladies can make it in life."
"My children look beautiful and good," with the clean water, she says. "And I look beautiful too."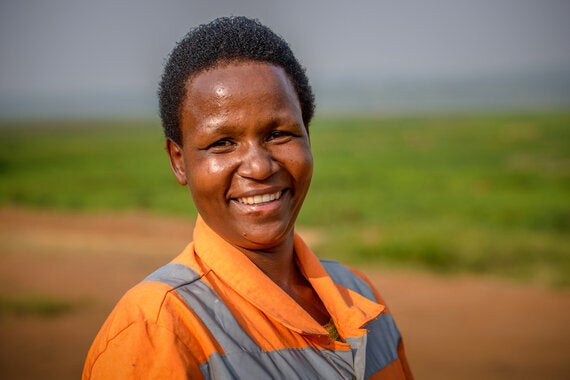 Manual driller Angelique Hakurinka, next to a pump she helped install near Kigali, Rwanda. Photo/World Vision
Follow HuffPost Canada Blogs on Facebook