There is way too much pressure surrounding the holiday season. We are encouraged to go into debt buying lots of presents, throwing big parties, getting together with our extended family, and indulging ourselves in joy and laughter. Well, that isn't the reality for everyone, and the idea of a jolly holiday is like rubbing salt in the wound when our loved one isn't there. Do not pressure yourself to live up to a holiday card's cheerful musings or a holiday movie special!
There are a few ways you can approach the Thanksgiving, Christmas or Hanukkah, and New Year's holidays: you can either try to make them like they were before your loss, try something entirely different, or combine old traditions along with creating new ones. If you try too hard to make holidays, birthdays, or anniversaries exactly like they were before your loved one died, you're likely setting yourself up for a rough time, emotionally. Things aren't like they were before, and no amount of effort will change that.
There are many women in my support groups, for instance, who have completely changed their holiday plans and traditions since their loved one died. One replaced the huge family Thanksgiving dinner with a quiet meal with a couple of friends. Rather than have the traditional family Christmas gathering, one took off on a cruise with her friends. Another chose to dispense with her elaborate Christmas decorations and let her neighbours put up a simple Christmas tree for her. Such changes give you more room to grieve in the way that you need to if you don't get too set on one way of doing things. If you're the type of person who likes to always be busy, you might even find comfort in planning something elaborate because it provides you with a distraction.
There are also many incredible ways you can bring your loved one's presence into the day's activities. You may wish to include them in a prayer at the table, light a candle for them, or tell warm, affectionate stories about a time you shared together when they were alive. You might also feel compelled to make a donation in their name to celebrate an occasion. Some of my family members donate to a children's hospital every year in my son's name for my birthday, at Christmas, or on the anniversary of his death. There is no right or wrong way to move through the holidays. It's about what works for you. Honour your grief. You may find a completely new way of handling celebratory occasions by starting new traditions, or you may feel more comfortable sticking to old ones. Either way, you will know what feels right.
Here are some tips for surviving the holidays and other special occasions throughout the year:
Volunteer to work with a charity.
Take a trip.
Go out to eat with friends on the holiday.
Get together with someone who is without family or friends on the holiday.
Attend a holiday concert; music lifts the spirit.
Try not to sit home alone -- at least not all the time.
Make some comfort food with a friend or loved one.
Look up some ideas for new traditions or rituals and try them.
Make a donation to a cause in honour of your loved one.
"Even though holidays and special occasions can be difficult, they can also be used to remember the good. Honor your loved one by including their memory. Make their favorite dish; continue to do what made them love the holiday. Keep their memory alive." --Diane S.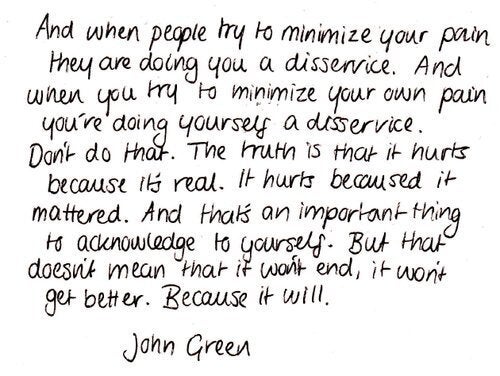 Inspirational Quotes To Get You Through