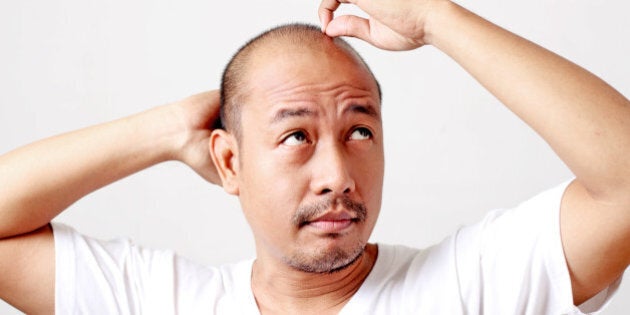 When the weather turns cold, my hair falls out; I think a third of it is gone by now. My hair is long and it's everywhere: under every sleeve of every garment, laced into every towel, caught on every textured surface, and sometimes found on my plate.
This isn't just annoying, it causes a certain amount of stress in me because every time I wash and comb out my hair, I pull out what feels like a fistful of strands from my head and from my comb, and it's something of a shock. Fortunately for me, I know that when the spring comes, the hair will grow back like it always does. That's for me, a woman, but this isn't necessarily the case for men.
While women tend to lose their hair from all over their head, men lose their hair in a pattern. According to the American Osteopathic Association, male pattern baldness affects two in three men. "Despite the fact that male pattern baldness is very common, many men who are faced with hair loss feel embarrassment and have low self-esteem."
If the AOA is correct and 66 per cenr of men experience hair loss, one might think that a brotherhood would form to support other men who lost hair. Instead, I see sad statistics: "60 per cent of all bald men are teased at some point in their lives." Hair loss can be a self-esteem issue to the man in question and a demeaning point of ridicule. eMed Expert lists 16 ways balding can affect people -- all negative and some terrible, except for one: bald men are perceived as more intelligent than haired men. However, one positive point out of 16 is not encouraging.
Hair loss usually has a genetic origin, but there are many other factors that contribute to it. Male pattern hair loss happens when hair follicles become smaller and smaller and produce shorter, finer strands, until eventually, no hair grows from the follicles at all. Dr. Philip Ginsberg, a Philadelphia osteopath says that while genetics play a role in male pattern hair loss, the gene can come from either parent (not just the mother, as the myth goes), and that men with hair loss "usually have a high presence of endocrine hormones." Male pattern hair loss comes in several forms: thinning hair, a receding hairline, hair loss at the crown of the head, and loss in an "M" shape.
"The average person loses 80-100 hair strands a day," says Jason Kearns of Kearns & Co. hair design in Toronto. He says that besides genetics, there are many factors that affect hair loss: diet, health, hair care routine, and hair tools.
Kearns' Colour Director, Aaron O'Bryan, says that everything comes from the inside, and stresses the importance of diet. In his hair blog, he lists some beneficial foods to encourage hair retention:
Salmon: Rich in protein and vitamin D which are key in promoting stronger healthier hair;
Walnuts: Contain Biotin,vitamin E, and omega-3 fatty acids-all three help to save your locks;
Eggs: Are full of protein and have key minerals like zinc, sulphur, and iron. Iron plays a major role in hair retention as it helps cells carry the oxygen to the hair follicles;
Spinach: This has iron, beta carotene, folate, and vitamin C which helps keep hair healthy and scalp oils circulating.
Other dietary suggestions:
Gelatin strengthens hair and nails and can be found at drug stores or health food shops. Gelatin is made of boiled animal parts like bones and hooves. Gelatin rhymes with skeleton, says People for the Ethical Treatment of Animals (PETA), and if this doesn't sit well with you, alternatives to animal gelatin are kosher gelatin (which may or may not contain fish as I just learned), agar, and carrageenan (a seaweed);
Essential fatty acids support healthy hair and are found in walnuts, flax seeds, fish, and avocado;
Biotin encourages hair and scalp health and is found in nuts, brown rice, and oats;
Silica is a natural compound that contains biotin and helps maintain and repair connective tissue, collagen, and promotes bone and wound healing. It is recommended for clear skin and healthy hair. Silica is found in leafy greens, cucumbers, whole grains, beets, and root vegetables, and can be taken in capsule form.
The right tools for the job
Gentlemen, be honest about your hair type -- its condition has nothing to do with virility. Whatever state your hair is in, treat it right. If it's fragile (i.e. brittle or thin), be gentle with it and use the right tools for it (i.e. shampoos for fine, thin hair, and a suitable brush for your hair type), if it's oily, use shampoo for oily hair, if it's dry, use a shampoo for dry hair, etc.
Kearns suggests to speak to your stylist about the type of brush to use for your type of hair, and keep it clean. Cleaning your brush may seem daunting, but Kearns offers a tip: use dishwashing soap on the brush and rub another brush into it; the hair, dried styling product, and dandruff will come right out.
Brushes with too-close bristles will pull at the hair and pull more strands out. Like a wide-toothed comb, a wide bristle brush is best for wet hair because it won't snag the weakened strands.
O'Bryan recommends sulphate-free shampoos because sulphates can dry out the hair and scalp. One of his favourites is Bain Stimuliste in the Kerastase range for thinning hair "to make it look more fabulous and full". For the more naturally minded, he recommends shampoos that contain biotin like Mill Creek Biotin Shampoo that gives thicker, fuller hair.
He says that regular cleansing is important to keep pores and follicles clean and open for hair growth. In the shower, massage the shampoo into the scalp to increase blood circulation and encourage hair growth. Scalp massages aren't only for the shower-you can do it yourself while you watch TV or listen to music. A rush of blood to the scalp feels great-dig your fingers right in.
Blow-drying your hair can really damage the hair and scalp. Stylists recommend to keep blow-drying to a minimum and air-dry hair if possible. If you do blow dry, keep the heat on medium so as not to damage the hair.
O'Bryan recommends Rogaine for men (there is also a Rogaine for women, so buy the right one), a foam to be used on hair twice a day. However, as Kearns says, it can be "a very expensive addiction" (i.e. over $100 each month), and if a man stops using Rogaine, whatever hair he gained during the time he used it will fall out once he stops.
Like Rogaine, O'Bryan suggests Finasteride/Proscar for genetically-inherited hair loss. This drug is taken orally and the treatment provides about a 30 per cent improvement after six months of use. Like Rogaine, Finasteride only works as long as the drug is taken.
If this option for you, gents, learn from O'Bryan's experience: "I absolutely noticed a major difference with this tablet which was way more affordable than other options, but I was one of those unlucky ones who lost his sex drive -- definitely not worth the risk in my book -- but only a small percentage of men suffer from this."
For those of you who can afford it and want to do something permanent about your hair loss, there are options like hair plugs and transplants, but these are expensive (i.e. several thousand dollars) and may not be feasible for everyone.
Wigs and hair pieces are not popular with the stylists (nor image consultants like me). Hair pieces are not frivolous accessories like a bright pair of socks or a cool man bag to go with different outfits; when people see you, they assume your hair is real, so if you have a full head of hair one day and a bare pate the next, this is quite a shock to people. Some may even consider it dishonest.
Jason Kearns isn't so hung up on proactive hair loss measures. As a man who has lost most of his hair by now, he stands by the idea of aging gracefully and owning the fact that your hair is gone. "The consolation for men who lose their hair," he says, "is that he'll never have to go through it again."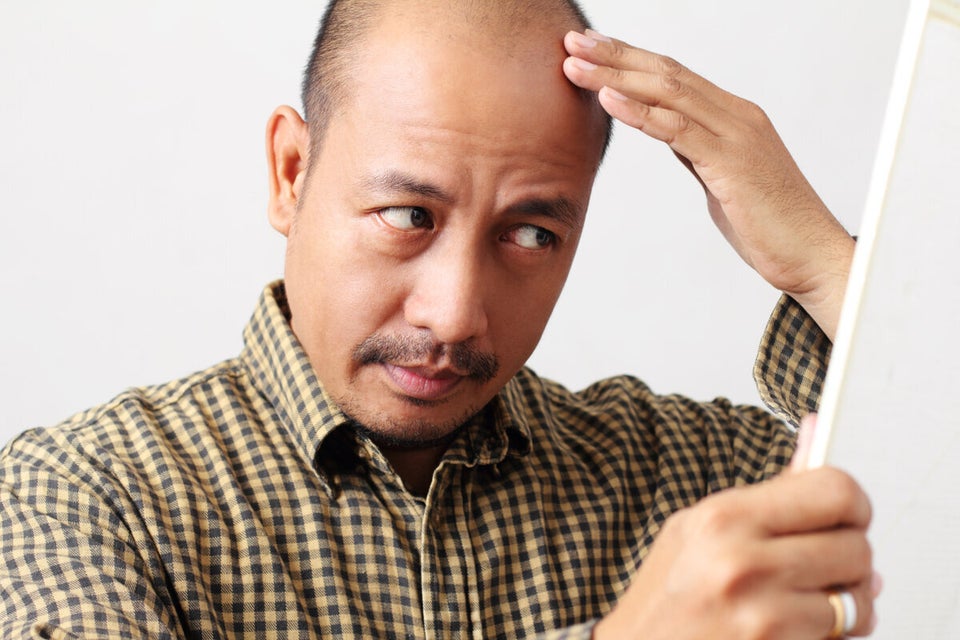 Why Men Go Bald