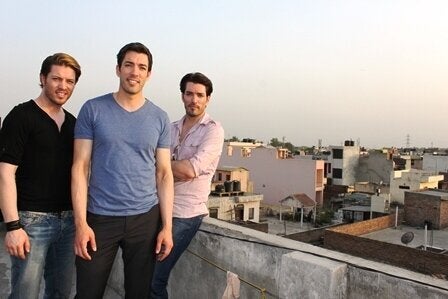 JD, Drew and Jonathan Scott on a World Vision trip to India.
They're known on television as the Property Brothers. Drew scouts neglected houses and negotiates the purchases, while twin brother Jonathan works magic through renovation. But there's a lot you may not know about Drew and Jonathan Scott and their older brother, JD, including their passion for helping the world's poorest children. Here is Joan Kelley's conversation with the trio.
Joan: What's it like to be an identical twin? I've always thought that would be so cool!
Drew: Some may think we share a brain as identical twins....and it's true! Actually, it is fun being a twin. As kids we would switch places on people and mess with their minds. Even our parents had a hard time telling us apart.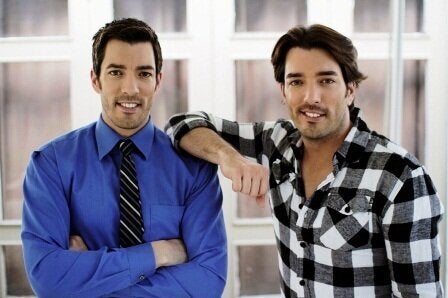 Drew and Jonathan Scott of the Property Brothers are now seen in more than 100 countries.
Joan: Your show is seen all over the world. Did you expect this kind of success?
Jonathan: It's wild seeing that we reach people in over 100 countries. The funniest is hearing myself dubbed into all these other languages like Spanish...I have a deep sexy voice. When we started Property Brothers we knew we had something special. But I didn't imagine it would explode into the global brand it is today.
Joan: It's stressful enough purchasing a home, never mind doing it on a TV show. Why do home buyers feel so comfortable with you?
Drew: Buying and selling is always stressful for clients and part of my job is to take that stress off their shoulders. People always say to me "How can you put up with the high maintenance clients on your shows?" Well, most clients are great. But you need to keep in mind that what you see on our show is months of process cut down to one hour. So you see the extreme highs and lows of the process. This is bound to bring out some emotion in buyers and sellers.
Joan: Jonathan, you are a licensed contractor. How do you know if the house is conducive to the transformation you plan to do?
Jonathan: Any home can be transformed. The real question should be: is it a smart financial decision to do it? You never want to put way more into a home than it would be worth if you had to sell. I typically look for houses that don't need additions or major structural work. Opening up some walls is easy, and so is anything on the cosmetic side. If the numbers work, there's no holding me back.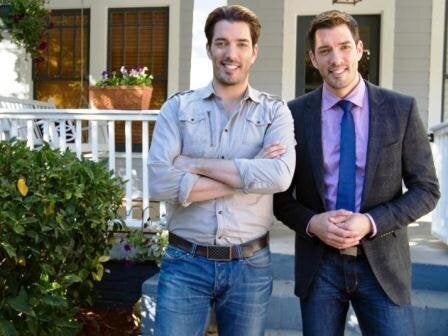 Jonathan and Drew on location, shooting their hit show.
Joan: Property Brothers is a show that works on a very tight timeline, dealing with other people's money and tight budgets. Can it be stressful?
Drew: We have been doing this for a very long time, since the mid to late '90s. We have learned to identify how to stretch budgets, think outside the box and maximize any opportunity for clients. We are also not the stressful types. If we come across a roadblock we take a step back, assess the situation and move forward. There's always a solution if you leave yourself open to seeing it.
Joan: Somehow you've managed to find the time to act as World Vision Celebrity Ambassadors. Why is it important for you to do that?
Drew: I strongly believe that we are put on earth to help others. Success just gives us a bigger platform and voice to help those in need. Organizations like World Vision have been a blessing to work with. In the coming months we are also launching Scott Giving, a selection of branded products where a portion of all proceeds goes to charities we work with.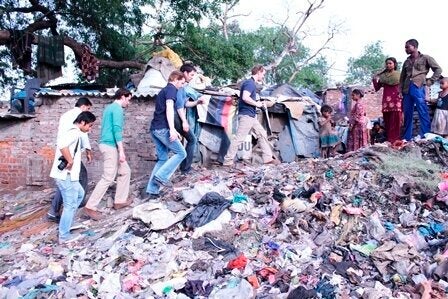 The brothers visit a garbage dump in India, to talk with children scrounging for scraps to sell.
JD: I believe that above all else in life, the most important thing is making the world a better place. World Vision has given us a global platform to make that a reality. They are so good at what they do that it makes our stepping into that role much easier than attempting this sort of work on our own.
Joan: You have recently been on a trip to India to see first-hand the challenges faced by children living and working on the streets of Delhi. What were your expectations on this trip? Were you nervous?
Drew: I wouldn't say nervous, more excited to explore new cultures. It was shocking to see the conditions these children and families live in. But meeting the kids was such a heart-warming experience and something everyone needs to do. I can't even explain how eye-opening this trip was for me.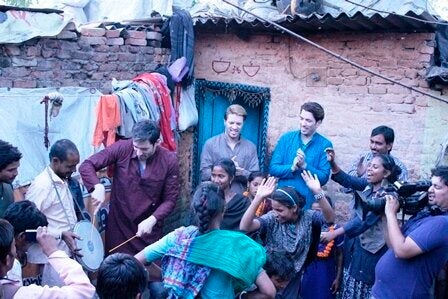 Drew, JD and Jonathan receive a warm welcome from a community in India.
Jonathan: I honestly had no idea what to expect and sure enough, once we got there, we definitely experienced a culture shock. There are so many people. But even where we were in the slums we were welcomed with open arms. These people who had nothing invited us in and made us gifts out of flowers and trinkets. It warmed my heart and validated why we were there. I will travel back to India again to continue the work with World Vision. It makes a difference to be on the ground there.
Joan: Do you think it is possible for us here in North Americans to make a difference to stop the horrific problem of the worst forms of child labour and trafficking?
JD: I think the day we stop trying to make a difference is the day that we truly fail as the human race. It is our open hearts and willingness to find a better way of life for these children that keeps hope alive. And everyone is able to have a role in that, regardless of where they live or how much money they make. Knowledge is power and spreading the truth about these terrible situations is the key to lasting change.
Jonathan: Education is the key. Nobody will be able to come in, throw money at the problem and fix it. It's going to take a long term commitment, but it is definitely sparking change for the better.
Drew: Everyone can make a difference. Even if it's just a difference in the life if one person it's made a world of difference for them.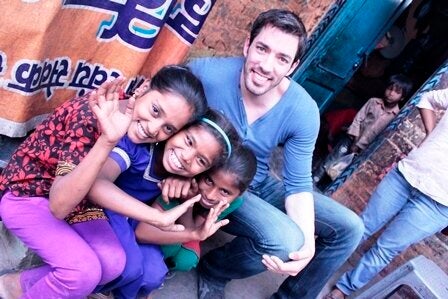 Drew shares a smile with some of the children the brothers met in India.
Popular in the Community