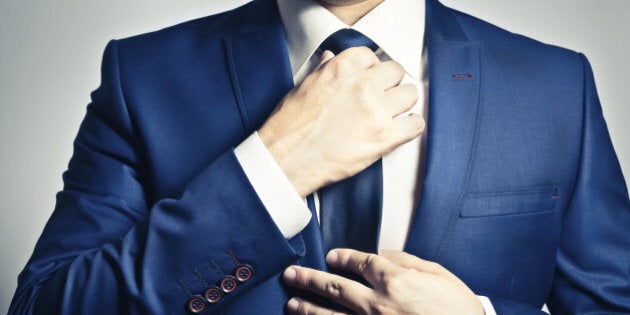 Although I've never had to buy a man's suit myself -- because, you know, I'm not a man -- I've spent enough time around the suit-buying process with my husband to know that there's a big difference between a good suit and a bad suit.
Make no mistake: You can buy a great-quality suit that will later be categorized as a "bad suit" because it's too ill-fitting to be comfortable or make you look like the slick dude you are. And you can almost get away with a lesser-quality suit if the fit is dead on.
Wearing a great suit -- and knowing you look sharp in it -- doesn't have to cost a fortune. Depending on your budget and timeline, you can choose one of three ways to buy a new suit:
1. Off the rack. This is the fastest and easiest way to buy a suit because you can walk into any shopping mall and find a few options. These are simply retail stores that sell suits. Should you need to hit up a big and tall specialty shop, you may have to look a bit harder, but it's still a retailer.
If you need a suit for that wedding you forgot about this weekend (which hopefully isn't yours), off the rack is really your only choice. Depending on the store, you might even manage to squeeze in some quick tailoring -- to, say, hem your new pants or take in the waist-- within a day or two, either onsite or at your local tailor.
Expect prices to vary wildly. At the lower end, you can find suit separates starting at $39.99 at the likes of H&M, while a classic two-piece suit at good ol' Tip Top Tailors will run you an average of $250. These are never going to fit like a suit built with your measurements in mind, so if you're starting to reach into the $500 to $800 range at retail and you have time on your hands, move on to made-to-measure.
2. Made-to-measure. This is where retail meets bespoke half way. And it's a beautiful thing. Because for about the same price as a higher-end off-the-rack suit, you can get a suit tailored for your measurements and style specifications.
Made-to-measure is growing in Canada, though it's been around in Asia and Europe for decades. Often retail environments, made-to-measure shops may also be studio spaces. Trained salespeople -- and more rarely, actual tailors -- take detailed measurements of each client, and those measurements are shared with the manufacturing team in a local or overseas factory who tweak pre-existing patterns to match those measurements.
In most cases, you'll get to personalize your suit quite a bit during the made-to-measure process -- choosing the kind of lapel shape and stitching you want, whether it's single- or double-breasted, and other details like jacket vents and monogramming. If the factory is local, an interim fitting may be offered; if overseas, you won't likely have another fitting until your garments arrive in Canada.
Sam's Tailor, based in Hong Kong and famous for suiting up politicians and celebrities, has a decidedly bespoke studio feel, but is in fact a made-to-measure operation. The factory is local, so when my husband had his suit made during a trip to Hong Kong, he had two fittings within 36 hours and then his suit was shipped directly to our home a few weeks later. But choosing fabrics for future suits has to be done online, losing the ability to touch and feel fabrics before placing an order. And God forbid he gains or loses a bunch of weight.
If you aren't heading to Hong Kong any time soon, or prefer the idea of selecting fabrics in person, Indochino offers a more homegrown alternative. With showrooms in Ottawa, Toronto and Vancouver, you get a made-to-measure suit that looks and fits great and won't leave your wallet screaming for help.
You'll have one fitting before your measurements are sent offshore and a promise that if the fit isn't perfect when your suit lands on your doorstep a month or so later, it'll be fixed by a local tailor or be completely re-made. And if your body shape changes over time, you won't be too far from a new set of measurements.
Made-to-measure's greatest downside is time. It'll take a good four to six weeks for your suit to be made, and then some if it still needs more nipping and tucking. But with suits starting around $500, it's great bang for your buck in the tailored space.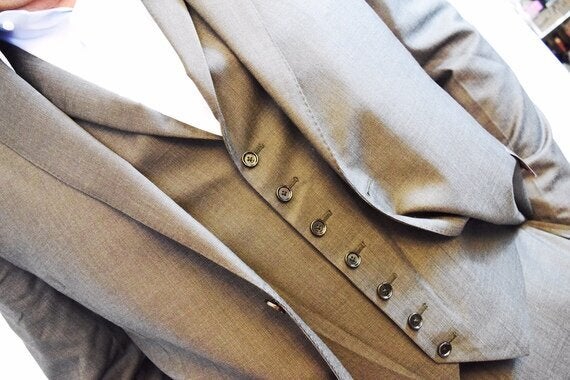 3. Bespoke. This is an often-overused term when it comes to the men's suit category. You know you're getting a truly bespoke experience a few different ways. There's usually a studio but no retail store. Here, you'll work 1:1 with a skilled tailor who measures every nook and cranny on your body; from these ultra-precise measurements, the tailor creates your individual pattern. There are no stock patterns here -- each one is new. Just for you.
There's so much that goes into a bespoke suit -- from the subtleties of a man's posture to the numerous fittings before the suit is even finished -- that it inevitably comes with a much higher price tag; you'd be hard-pressed to find a proper bespoke suit for less than $2,000. They're also made by the tailor (or within his small team) and not shipped off to a factory or overseas, adding to the premium pricing.
Give a bespoke suit a minimum of three weeks to be hand-crafted, and plan for anywhere from three to five interim fittings. My husband's suit from Don Lee at Trend Custom Tailors is more than a decade old and still looks and wears like it was made yesterday. So bespoke will give you good ROI if you have the investment capital.
If I can leave you with one tip, it's forget the word "custom" in your suit search. The term is so ambiguous that it's not going to lead you anywhere concrete. Even an off-the-rack suit can be customized by an after-market tailor.
Start with what price range your budget can afford. Figure out how much time you have. Get the fit as spot-on as you can. And then work it.
Photo credit: Andrea Traynor
Follow HuffPost Canada Blogs on Facebook
Popular in the Community