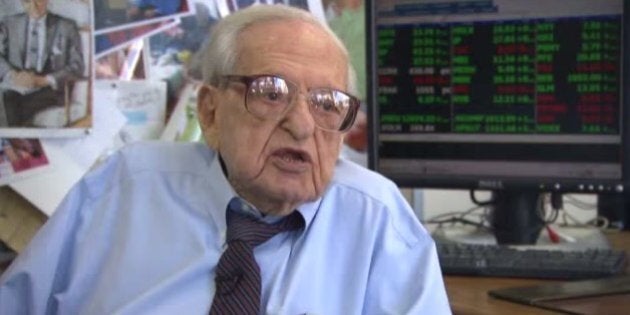 Irving Kahn, a renowned New York investor who turned a profit shorting the stock market crash of 1929, has died at 109.
Kahn, who came from a family so famed for its longevity that it was the subject of scientific research, was active in the markets until his passing, working as chairman of Kahn Brothers Group, an investment house he co-founded that has US$1 billion under management. He passed away in his apartment in Manhattan on Tuesday.
Kahn was still making the one-mile commute from his Manhattan apartment to his office three days a week until last year, Bloomberg reports.
"I borrowed money from an in-law who was certain I would lose it, but was still kind enough to lend it," Kahn recalled. "He said only a fool would bet against the bull market."
Kahn bet $300 (about US$4,000 in today's dollars) that Magma Copper shares would fall in value, and ended up tripling his money.
"This is a good example of how great enthusiasm in a company or industry is usually a sign of great risk," Kahn said.
First, you need a nutritious diet, with a lot of vegetables and salads. Second, get plenty of fresh air. Third, don't drink, don't smoke. I drink at most one glass of wine every three months.

Fourth, you have to always stay in motion, be open, get to know people from all over the world. And, fifth, have a lot of interests and learn things that you can't do yet -- that keeps you young!
Kahn practiced an investment philosophy known as "value investing" with his teacher and business partner, Columbia Business School's Benjamin Graham, who counted Warren Buffett as one of his disciples.
Value investing, to put it simply, teaches that you should buy companies for the long run, and target companies that are undervalued relative to earnings for your investments.
Kahn was one of the few people still active in the market during the 2008-2009 financial collapse who had been working during the crash of '29, and in interviews, he said things were much worse in '29.
"There were ... no legal protections. We had no securities laws. While everyone knows the system was flawed before the recent crash, at least there were some protections in place. In the Twenties we had nothing. And when the Depression hit, there were bread lines and families homeless in Central Park with nowhere to go."
But Kahn seemed alarmed that reasonable investing philosophies were being drowned out by low-quality information floating around during the recent crisis.
"I've seen a lot of recoveries," he told Bloomberg Businessweek. "I saw crash, recovery, World War II, a lot of economic decline and recovery. What's different about this time is the huge amount of quote-unquote information. So many people watch financial TV at bars, in the barber shop. This superfluity of information, all this static in the air."
Kahn is survived by sons Thomas (president of Kahn Brothers Group) and Alan, and by grandson Andrew, a vice-president at the firm, as well as six other grandchildren and eight great-grandchildren.