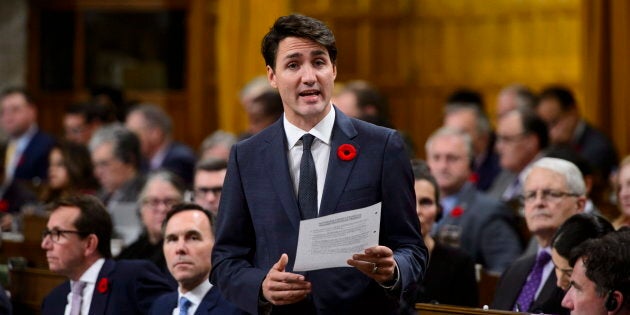 OTTAWA — The prime minister rebuffed NDP accusations in question period Monday that he's manipulating voters by failing to call a byelection in a riding where federal leader Jagmeet Singh is a candidate.
Singh has been federal leader of the NDP for more than a year and does not have a seat in Parliament. He declared himself a candidate in Burnaby South this summer — a B.C. riding left vacant after Kennedy Stewart stepped down to pursue a successful mayoral bid in Vancouver.
"What political calculus has led the prime minister to deprive over 300,000 people of representation in this House?" asked NDP parliamentary leader Guy Caron of constituents in three ridings with no current MP.
The sanctimony from the NDP on this is, as always, amusing.Prime Minsiter Justin Trudeau
Prime Minister Justin Trudeau responded by saying byelections for "more recent departures" will be announced "in accordance to the Elections Canada Act," which states votes must be called within six months of the seat becoming vacant.
B.C. NDP MP Peter Julian wasn't moved by Trudeau's answer.
"What a weak and insipid response," Julian said. "We're living through the worst housing, environmental, and family debt crisis in our nation's history. And the people of these ridings have the right to judge the government in all these cases." He claimed the prime minister is "scared" of possible reactions from voters.
Trudeau repeated his assertion that it's been "mere weeks" since seats in three federal ridings have been made vacant. He suggested voters were slighted because the NDP and Tory MPs they chose to represent them in Parliament didn't serve out their full four-year terms. He hedged those former MPs' decisions were due to "various reasons, which is their choice."
"But the sanctimony from the NDP on this is, as always, amusing," said the prime minister, adding the vacancies "will be filled under elections law in due course through byelections."
Watch: Scheer says 2019 campaign will be 'tough fight'
The increased scrutiny comes after Trudeau announced Sunday that a byelection would be held Dec. 3 in the Ontario riding of Leeds–Grenville–Thousand Islands and Rideau Lakes. The seat was left vacant after the sudden death of Conservative MP Gord Brown in May.
Byelection dates in three ridings including Burnaby South have yet to be announced. People in the riding of Outremont currently have no representation in Parliament after former NDP leader Thomas Mulcair left federal politics in early August. Veteran Tory MP Peter Van Loan retired last month, leaving his York-Simcoe seat empty.
Singh told reporters Monday that Trudeau is showing a "lack of respect" for the 300,000 people who live in the three ridings with no current representation in Parliament.