Justin Trudeau has won the leadership of the Liberal Party of Canada in commanding fashion.
The charismatic, 41-year-old son of former prime minister Pierre Trudeau won on the first ballot, easily topping his nearest rivals Joyce Murray and Martha Hall Findlay.
Trudeau took 80 per cent of the vote. Murray finished a distant second with just more than 10 per cent of the vote. Hall Findlay finished with 5.7 per cent, Martin Cauchon finished with 2.6 per cent, and Deborah Coyne and Karen McCrimmon both finished with 0.7 per cent.
Trudeau got 24,668 points, well surpassing the 15,401 needed to secure the victory. His total compared with 3,130 for Murray, his closest competitor. Hall Findlay garnered 1,760 while Cauchon (815), Coyne (214) and McCrimmon (210) were far behind.
Conservatives immediately issued a press release congratulating Trudeau on his win and slamming his lack of political experience.
"Justin Trudeau may have a famous last name, but in a time of global economic uncertainty, he doesn't have the judgment or experience to be prime minister," Conservative spokesman Fred DeLorey said.
About 1,000 Liberals gathered at a special event in Ottawa to learn the results. The turnout for the vote was 82 per cent after 104,552 people cast a ballot by the time polls closed at 3 p.m. on Sunday out of a total of 127,264 registered voters.
Trudeau, a father of two young children with wife Sophie Grégoire, was first elected in the Montreal riding of Papineau in 2008.
STORY CONTINUES AFTER SLIDESHOW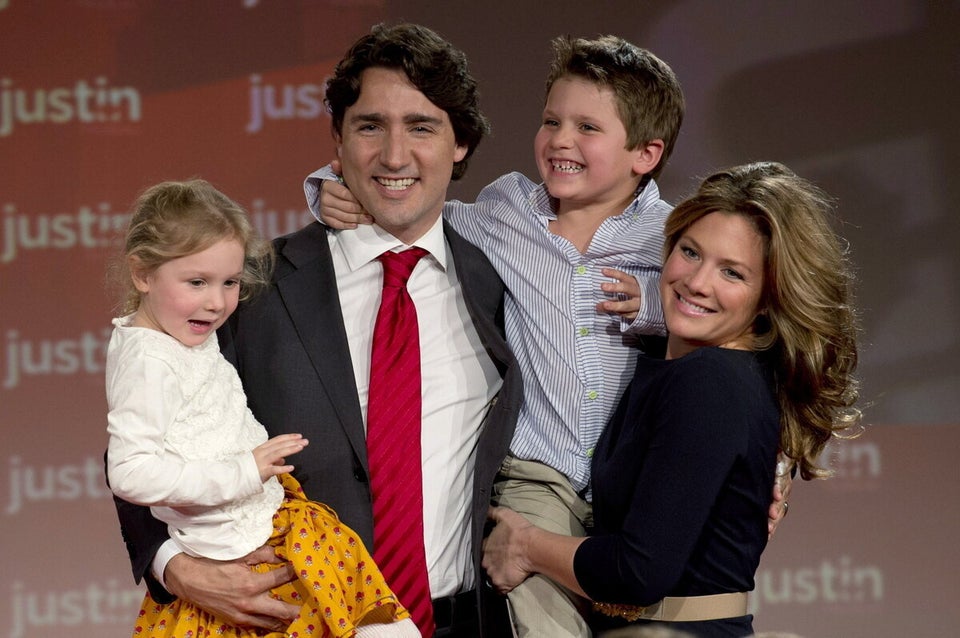 Liberal Leadership Announcement
More from the Canadian Press..
OTTAWA -- Justin Trudeau is vowing to usher in a generational shift in Canadian politics -- younger, more hopeful, less negative -- after winning the federal Liberal leadership by a landslide Sunday.

And he signalled that putting an end to negativity starts with the Liberal party itself, whose spiral into a third-party rump can be traced to the perpetual internecine leadership wars triggered by his father's ascension to the Liberal helm 45 years ago.

"Canadians turned away from us because we turned away from them, because Liberals became more focused on fighting with each other than fighting for Canadians," Trudeau told hundreds of rambunctious Liberals who jammed into an Ottawa hotel ballroom for the coronation.

"Well, I don't care if you thought my father was great or arrogant. It doesn't matter to me if you were a Chretien-Liberal, a Turner-Liberal, a Martin-Liberal or any other kind of Liberal.

"The era of hyphenated Liberals ends right here, tonight."

The need for party unity was inadvertently driven home earlier Sunday when former prime minister Jean Chretien delivered a warm-up speech glorifying past Liberal accomplishments without once mentioning his arch-rival and successor, Paul Martin, who was sitting in the audience.

Trudeau, eldest son of former prime minister Pierre Trudeau and the Liberals' undisputed star, swept more than 80 per cent of the available points in a final field of six candidates.

His closest competitor, Vancouver MP Joyce Murray, scored 10 per cent.

The sheer magnitude of Trudeau's victory leaves him beholden to no particular faction or region of the party.

Murray, who campaigned on a one-time plan for electoral co-operation among progressive parties to ensure defeat of the Conservatives in 2015, said it's now up to Canadians to promote that idea. But she signalled that for her, at least, that crusade is over.

"There's many Canadians that felt that would be the way forward. Clearly, we have a leader that has a different strategy and I'm going to be supporting Justin as part of his team," she said after the results were announced.

As he did throughout the five-month leadership campaign, Trudeau cast himself as a leader with "sunny ways" -- an upbeat, optimistic brand of politics of the kind practised by Sir Wilfrid Laurier.

By contrast, the 41-year-old Montreal MP characterized Prime Minister Stephen Harper as the master of "negative, divisive politics" and NDP Leader Tom Mulcair as someone cast in the same mould.

He predicted he'll face a "steady barrage" of Conservative attack ads, which the ruling party deployed effectively to trash the past two Liberal leaders, Stephane Dion and Michael Ignatieff.

"Never before in this country have the forces of negativity, cynicism and fear been so united in their hostility toward one candidate," Trudeau quipped, adapting a famous quote by U.S. President Franklin Roosevelt.

Indeed, before Trudeau had even taken the stage to deliver his acceptance speech, the Conservative party sent out an email blast zeroing in on what Tories believe are Trudeau's greatest weaknesses.

"Justin Trudeau may have a famous last name, but in a time of global economic uncertainty, he doesn't have the judgment or experience to be prime minister," Conservative spokesman Fred DeLorey said.

But Tory attack ads are perhaps the least of the daunting challenges facing Trudeau. The biggest will be the monumental task of rebuilding a party that was reduced to just 34 seats in the 2011 election.

Trudeau signalled his belief that the party's path to revival runs through his home province, taking time to deliver a special, direct message to his fellow Quebecers. He implored them to set aside the decades-old unity wars and re-engage in building the country.

"The time has come for us to write a new chapter in the history of our country," he exhorted.

"Let's leave to others the old quarrels and old debates that lead nowhere. Let's leave to others the ultra-partisan rhetoric and the old ways of doing politics.

The excitement generated by Trudeau's leadership candidacy has already lifted Liberals off the mat. Polls suggest the party is running even with or ahead of the ruling Conservatives while the NDP has been relegated to its traditional third place slot after vaulting into official Opposition status in 2011.

Whether he can maintain that momentum remains to be seen. But Trudeau has so far defied his detractors who predicted, six months ago when he launched his leadership bid, that his celebrity-driven popularity would prove to be fleeting.

Among Liberals, Trudeau's youthful energy, good looks and famous pedigree made him unbeatable.

Of the 104,552 Liberals who cast ballots -- the most ever in a Canadian leadership race -- Trudeau captured 81,389 votes or 78 per cent.

None of his rivals came close. Murray won 12,148 votes, former Toronto MP Martha Hall Findlay took 6,585, former cabinet minister Martin Cauchon 1,630, Toronto lawyer Deborah Coyne 833 and retired military officer Karen McCrimmon 757.

The results were weighted to give each of the country's 308 ridings equal clout. Each riding was assigned 100 points, which were allotted proportional to each contenders' share of the vote in each riding.

Trudeau scored 24,668 of the available 30,800 points, a whopping 80 per cent.

The contest was an experiment for Liberals, who decided to allow a new class of supporters -- not just dues-paying, card-carrying members -- to vote for the next leader.

Almost 300,000 supporters signed up to participate in the contest. But just over 40 per cent of them registered to vote and, in the end, only one third of them actually cast ballots.

The Liberal party nevertheless believes it has gained valuable contact information from the supporter sign-ups, which it hopes will help build the kind of modern data base required for political fundraising and voter identification in election campaigns.