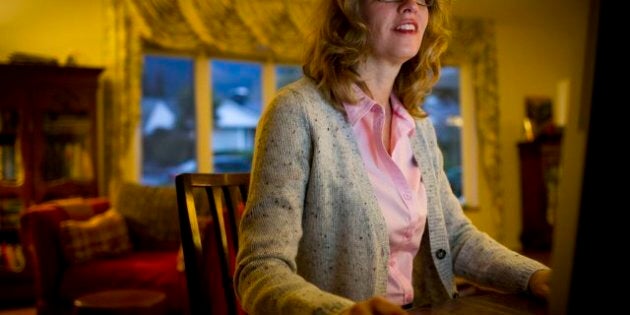 Ottawa – U.S. foundations are using Canadian environmental groups to further American financial interests, Vancouver blogger Vivian Krause alleged at a Senate committee Wednesday.
Krause told the Senate's national finance committee that foreign economic and trade interests are the driving forces behind the U.S. cash flow to environmental groups. She is often cited by Conservative MPs and senators in their campaign against the foreign funding of Canadian charities.
"The campaign against Alberta oil is being funded as part of a massive campaign to foster the renewable energy industry in the United States," Krause told senators.
Campaigns against salmon farming in B.C. are also funded by parties interested in propping up demand for wild fish from commercial fisheries located in Alaska, Krause said.
American philanthropists are giving money to environmental groups north of their border to help ensure U.S. domestic energy security and to create American jobs rather than Canadian ones, she said. Krause singled out the Rockefeller Brothers Fund, The William And Flora Hewlett Foundation and Tides Foundation as key troublemakers.
Pointing to Rockefeller power-point presentations from 2008 that outline plans for a multi-million-dollar campaign to stop and limit pipeline and refinery developments, Krause said such groups aim to "choke" one of Canada's most important national industries.
"I can see how a campaign to prop up Alaskan fisheries and a campaign to bolster American energy security provides a tangible benefit to the American people, but I do not see how it benefits Canada," she said.
Tides Canada vice president Sarah Goodman told The Huffington Post Canada that issues such as climate change know no borders.
"We are a Canadian organization, run by Canadians, on behalf of Canadians and we are absolutely working on behalf of Canadians. We don't respond to outside foreign agendas," Goodman said in a phone interview from Vancouver. "I don't believe that (foreign foundations have other interests at play). I think it's a conspiracy theory and I think it's a red herring," she said.
The foreign cash coming into Canada's charitable sector is massively dwarfed by the billions in investments from resource companies, Goodman added.
The Foundation told HuffPost that just like other philanthropic institutions concerned with the environment, it makes grants in Canada and around the world to stimulate sustainable economic development and protect the environment.
"We pay particular attention to local organizations and communities that have asked for support," wrote Jack Fischer, a communications officer, in an email. "For generations, Canadians have welcomed support from U.S.-based foundations for their arts, universities, hospitals, as well as to help Canadians decide how best to protect their environment."
During nearly two-hours of questioning, Krause repeatedly told senators Canadians should fund their own environmental movement.
Liberal Senator Grant Mitchell accused her of stifling freedom of speech saying she simply wanted to hush environmental groups that spend their money on projects she disproves of.
A teary-eyed Krause told committee members that she cared so deeply about bringing American funding of environmental groups to light that she had sold her house to continue her research. She insisted she was working on no one's behalf but her own.
Liberal Senator Larry Campbell said the charities he works with were feeling a chill because of the government's recent attacks.
"The rhetoric has overtaken the common sense," he told his colleagues. The hearing itself had turned into a farce, he suggested, describing it as more of an "editorial meeting with the National Enquirer."
Marcel Lauzière, the president of the charities umbrella group Imagine Canada, said his real concern was the language used by "some ministers and some senators." It created uncertainty in the charitable sector about what type of political activity was not appropriate, he said.
Environment Minister Peter Kent accused charities of laundering money and said U.S. political action committee funds were at work in Canada. Conservative Senator Don Plett mused that charities might accept money from Al Qaeda.
"Many (charities) have told us, in fact, that they are worried that they shouldn't at all engage in public policy, and this goes well beyond the environmental charities, I'm talking about charities involved in social services, poverty alleviation, in the arts, in health, in education, service with people with disabilities," Lauzière said.
The federal government has yet to reveal how it will change reporting requirements or whether it will limit the amount of political activity charities may participate in, but it has said it has its eye on the sector and is beefing up the Canada Revenue Agency to pay closer attention.
Krause wants to see stiffer rules that would force Canadian charities to disclose all foreign donors and to provide details about their specific grants. She also wants greater financial disclosure on the money spent by charities for staff salaries and consultant contracts.
Lauzière said he supports the suggestions as long as the government takes a "balanced" approach that is not overly onerous. He noted, however, that charities already disclose top salaries and the total amount of money obtained from abroad.
Lauzière warned that what was crucial, in his view, was that charities be allowed to continue to engage politically.
Together charities and governments have achieved great things, he said, noting among others, smoke-free workplaces, measures to fight drinking and driving, the national child benefit and the Canada-U.S. acid rain treaty.
"None of them would have been possible without the leadership of so many charities and the millions of people that support them in one way or another," Lauzière said.
Like Huffington Post Canada's Ottawa Bureau Chief Althia Raj's reporter page on Facebook and follow her on Twitter for all the latest news from Parliament Hill.
althia.raj@huffingtonpost.com