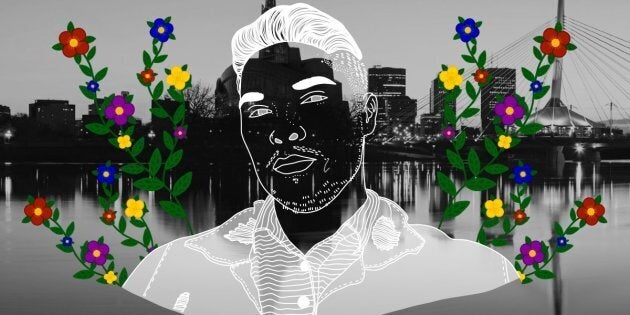 Quinton Delorme is a busy guy. He's a community organizer with Aboriginal Youth Opportunities, a youth movement in Winnipeg's North End. He's also part of Canadian Roots Exchange Youth Reconciliation Initiative, a community of Indigenous and non-Indigenous youth committed to building relationships.
Quinton knows what he needs to do to feed his soul, and he's working hard to do that for other youth in the North End. He has a unique outlook on the urban Indigenous community and is confident in understanding what's necessary to uplift his peers.

Quinton has spent his entire life living in Winnipeg's North End. The city has Canada's largest urban Indigenous population, and is a hub for Cree, Anishinaabe, Métis and many other Indigenous people. Despite these different backgrounds, the Indigenous community is close-knit.
Something that I hold really close to my heart that someone told me once: "No matter how much cream you put in a coffee, it's still coffee right?" So, although the urban Indigenous community in Winnipeg is so diverse, I try not to look so much at labels. For me, if you're Indigenous, you're Indigenous: we're all "neechie [friend]."
Language revitalization is trending among Indigenous people. Youth are at the forefront of the movement, but they rely on the knowledge of traditional language speakers. Quinton took his first Cree course in university, but didn't find the setting conducive to learning.
Revitalization of our Indigenous languages is something I'm super-passionate about, and I know a lot of young people in my community are as well. With Aboriginal Youth Opportunities (AYO!), they've helped me create my own Cree language program that I facilitate every week. It's called "Speak Cree?" It's for any age, any fluency level. And we just get together and speak.
In my first year of university, I took an introductory Cree course, and before that, I had no knowledge of my language whatsoever. Growing up, I always knew that I was Cree and we always talked about that, but we never spoke our language.
I knew from a young age that the reason why my family never spoke Cree was because the residential school system left such an impact on my grandparents and my family that it never got passed down to my generation.
It's been so important for me to learn outside of a colonial classroom setting. I found learning Cree in the classroom setting was toxic for me. It put on too much pressure, and it wasn't a healthy or motivational place.
"Speak Cree?" has become so close to my heart; it's created a little community of Cree speakers in the North End. When we first started, we probably had about 30 people; it's dwindled down now to about 10 people each week. But it's usually the same people every single week, and it's very familiar faces, and that's what makes it special to me.
I hope to hear it spoken on the streets of Winnipeg as much as I hear English, or French.
I started learning about a year ago, and I would say I'm just moving from beginner to intermediate ... actually I don't know if I should even say that, 'cause I don't want to jinx anything. But it's going pretty good and I just feel so much more motivated and ready to learn being in that communal space.
AYO! was started by Indigenous youth in the North End. The group works to empower its members and has inspired Quinton to get involved and better himself, and his community.
I feel like I've found my second family. We take ideas from youth in our community, and we make them a reality. We just want to give Indigenous youth as many opportunities as we can.
AYO! really does so much for the community, and has done so much for me.
There's an initiative called "100 Soccer Balls," providing inner city kids with balls and equipment. "Meet Me @ the Bell Tower" started as a Stop the Violence rally back in 2010, but has transformed into a weekly community building event. Then there's "AYO Politix Brain Storms," where we talk about different things going on in Winnipeg, and how Indigenous youth can get involved.
I was still in high school when I first started coming around AYO! events, and all of the dots were connecting. I found a group of people who share the same interest as me in my community.
We as Indigenous youth ... it's so tiring getting involved and getting caught up in politics; it's almost draining keeping up with it. But it's important to have that community of people who understand the position you're coming from. You're able to talk about things from a perspective you don't have to explain.
It's almost a nice refresher from my harsh reality.
Some of the responses in this piece have been edited for clarity and brevity.
This story is part of Not My Territory*, a HuffPost Canada series about urban Indigenous perspectives driven by the people who are part of the country's fastest growing populations.
*Some Indigenous people live in cities that don't overlap with their community's traditional territory, and many feel burdened by being regularly called on to represent cultures and backgrounds that aren't their own.
Popular in the Community