For those of us who are a certain vintage, Lego was coloured bricks of 2, 4 and 8 dimples that one could use to build square things like houses. If you were lucky, you had some wheels to build a rectangular car. Fast forward to 2014 and it's actually difficult to find the "basic" Lego. Sets from popular movies like Star Wars and Pirates of the Caribbean fill store shelves, complete with custom pieces to build Pirate ships and x wing fighters. Also popular now are the characters complete with helmet's, hats, guns and swords.
Lego started manufacturing these colourful toy bricks in 1949 in Denmark by the privately held Lego group. Since then and over 560 billion Lego parts have been produced and sold worldwide. Lego revenue's in 2012 were $4.35 Billion Cdn. and show no signs of slowing down. They now have their own stores in major centres all over the world, six themed amusement parks and a website where you can buy any piece you can imagine. This creative toy has stood the test of time. Lego made in the seventies that I played with is still usable in 2014 and beyond.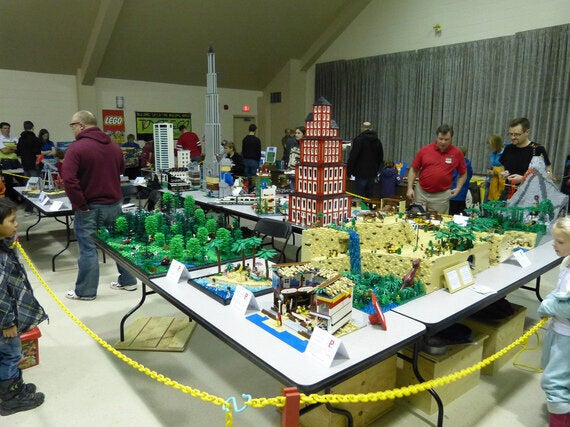 One of the more exciting events are local Lego competitions. In Calgary, many community associations hold annual brick building events for ages 4-40 plus. They break the competitors into ages and categories and charge between $2 and $5 per entry. These events sell out quickly. Some of the adult entries are simply breathtaking. Complex builds of entire downtown Calgary complete with the tower and C train and portraits dot the table entries at many of these events. Ribbons and pride are up for grabs, as well entries into the door prizes which normally include a few Lego sets. All of these competitions have a simple rule, that your entry be original, not from a purchased boxed set.
These events are not only exciting to participate in, but a fantastic spectator sport. Every one I have attended has been elbow to elbow during the viewing time. With a little inspiration after attending one, you are sure to come up with a creative entry for the next event. The adult entries will challenge your creativity and the amount of time you are willing to spend on your creation but what a wonder to see all the creativity.
Here is a listing of events in Calgary in 2014. Feel free to add competitions in your city or any Calgary events I may have missed in the comments section:
Scenic Acres and Silver Springs Lego Building Contest
Saturday, January 18, 2014 at 12:00pm
Silver Springs Community Centre: 5720 Silver Ridge Dr NW
Wildwood Lego Building Contest
Sunday February 9, 2014 at 1:00pm
Wildwood Community Centre, 4411 Spruce Drive SW
Acadia Recreation Complex, 240 90 Ave SE
Marlborough Park Lego Building Contest (run by the local Scouting group)
Westgate Community's Tenth Annual Lego Building Contest
Westgate Community Hall: 4943 8 Ave SW
LEGO Kidsfest (A Canadian first)
BMO Centre, Stampede Grounds.