Though the "national showcase" will lack the excitement of a typical convention, as the leader will not be announced until next Sunday, the day does offer candidates a chance to make their mark before a week of voting.
From the Canadian Press..
TORONTO - Justin Trudeau used his final sales pitch of the Liberal leadership race Saturday to pre-empt some of the Conservative attacks he knows are coming should he win.
The front-runner tackled head-on those who sneer that he's inexperienced, that his resume is light and that his popularity is fleeting, based on nostalgia for his late father, former prime minister Pierre Trudeau.
"There are those who ask me: 'What makes you think you can take this on?'" Trudeau told cheering supporters the Liberal party's "national showcase" event.
"To them, I say this. I have lived and breathed every square kilometre of this country from the day I was born ... I have been open to Canadians my entire life and, because of that, I have a strong sense of this country — where it has been, where it is and where Canadians want it to go."
The Montreal MP noted that Saturday marked the 45th anniversary of his father being chosen to lead the Liberal party.
"I know there are those who say this movement we're building is all about nostalgia, that it's not really about me, or you, or Canada. Let's face it, they say that it's about my father," Trudeau acknowledged.
"Well, to them I say this: It is. It is about my dad ... It's about all our parents and the legacy they left us, the country they built for us."
More importantly, he added: "It's more about the future than the past, it is always, in every instance, about our children more than our parents' legacy."
Trudeau's critics — including some of his leadership rivals — have suggested his background as a school teacher, snowboard instructor and public speaker before entering politics in 2008 has left him ill-prepared to lead the party, much less govern the country.
STORY CONTINUES AFTER SLIDESHOW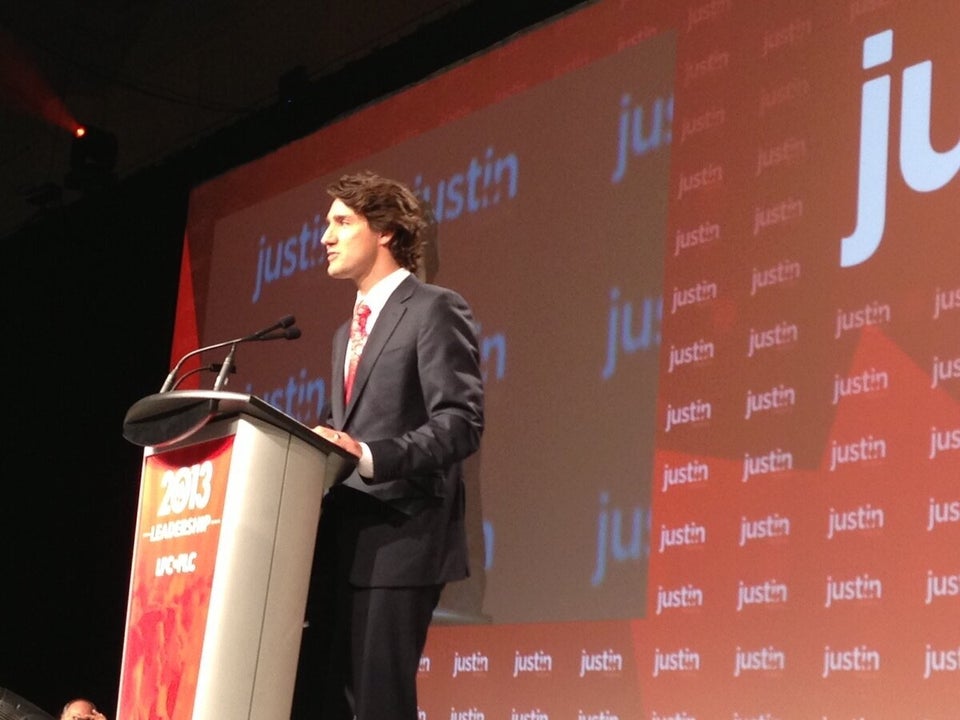 Liberal Leadership Showcase Sights & Sounds
But the Montreal MP scoffed at what he termed "Conservative attacks on teachers."
"I am fiercely proud to be one of the hundreds of thousands of Canadians who belong to the teaching profession. And let me tell you this, my friends, this teacher fully intends to fight back."
The showcase gave the six leadership contenders a chance to make their final sales pitches to federal Liberals as they prepare to choose the leader they hope will lead the once-mighty party out of the political wilderness.
The event was replete with chanting supporters, thunder sticks, placards and all the usual paraphernalia of a political convention, although some of the long-shot contenders had a tough time garnering more than a smattering of cheers in a cavernous hall at the Metro Toronto convention centre.
The hall, which seated 1,500, was not quite filled to capacity.
Apart from the four-hour series of speeches and demonstrations, the contest features none of the excitement and suspense of a traditional delegated leadership convention.
Rather, after Saturday's brief show of hoopla, Liberals will spend the next week casting preferential ballots in the privacy of their own homes — online or by phone — with the results to be announced April 14 in Ottawa.
Toronto lawyer Deborah Coyne, who has already conceded she can't win, kicked off the showcase.
Revealing what may have been the real motivation behind her long-shot leadership bid, Coyne said she intends to seek a nomination to run in the next election and looks forward to being part of the Liberal team.
"Several new ridings are being created in the Toronto area and I think you will agree with me that we should have strong women candidates contest these ridings," she told the slightly less-than-capacity crowd in a cavernous 1,500-seat hall at the Metro Toronto Convention Centre.
Coyne has run unsuccessfully for the Liberals in the past, a sacrificial lamb who went up against late NDP leader Jack Layton.
Retired military officer Karen McCrimmon, another failed election candidate who may be hoping to raise her profile before trying again to win a seat in the House of Commons, was next up.
Much like a motivational speaker, McCrimmon strode back and forth across the stage as she urged Liberals to follow their hearts.
Speaking without notes, McCrimmon acknowledged she often wondered if she was "crazy" to have launched her leadership bid. But she said she followed her heart and urged Liberals to follow her example.
"The Liberal party has to stop listening to the naysayers," she said.
Some 127,000 party members and supporters are eligible to vote.
Since he launched his campaign last October, there has been little doubt Trudeau would win.
The only question that remains is how big his margin of victory will be.
The final answer will depend on the ability of each camp to get their supporters out to vote and on the geographic distribution of their voters.
Since the results will be weighted to give each riding equal clout, a candidate who wins 90 per cent of the vote in a riding with 100 Liberals will get 90 points — the same as a candidate who wins 90 per cent of the vote in a riding with 1,000 voters.
Dark horse contenders Joyce Murray, Martha Hall Findlay and Martin Cauchon are counting on that wrinkle — and the hope their supporters are more committed, and therefore more likely to vote, than Trudeau's — to boost them into contention.
In the race for second, Vancouver MP Murray appears to have the most traction heading down the home stretch, boosted by grassroots and online advocacy groups who back her strong environmental stance and her plan for one-time electoral co-operation among progressive parties in the next election to ensure defeat of Stephen Harper's Conservatives.
In terms of fundraising prowess — the only concrete measure so far of how the contenders are faring —Murray solidified her hold on second place over the past week.
The latest financial reports filed with Elections Canada show Murray has raised $225,000 from almost 2,000 donors over the course of the five-month campaign.
Hall Findlay, a former Toronto MP who has positioned herself as a champion of business Liberals, has raised almost $193,000 from slightly more than 1,100 donors while Cauchon, a former Chretien-era cabinet minister, has raised $149,000 from just 245 donors.
McCrimmon has raised $36,000 from 244 contributors and Coyne has raised just $31,000 from 333 donors.
But the combined take of the five long-shot contenders pales in comparison to the haul raked in by Trudeau, long the party's biggest fundraising draw. The front-runner has pulled in almost twice as much as all his competitors combined — nearly $1.1 million from 8,420 donors.
Saturday's showcase also featured a tribute to Bob Rae, who has held down the Liberal fort as interim leader since the May 2011 election reduced Canada's so-called natural governing party to third-place rubble.
Despite the lack of drama and the widespread perception that the leadership race is more a coronation than a contest, the Liberals have managed to fight their way back into contention in national opinion polls, overtaking the NDP and now running even or even slightly ahead of the Conservatives.