In a move to rebuild government relations with Canada's indigenous communities, Justin Trudeau's Liberal government is giving the aboriginal affairs department a brand new name.
The ministry formerly referred to as aboriginal affairs and Northern development will now be officially known as Indigenous and Northern Affairs Canada. Trudeau appointed longtime Liberal MP Carolyn Bennett to the post on Wednesday.
Bennett told reporters the departmental name change "came from indigenous people in this country" — and that she's viewing her new role as "Minister of Reconciliation."
When asked about what was she held in her hands as she took the oaths of office, she explained she carried an eagle feather and had collected cedar from her Georgian Bay cottage, sage, and an Inukshuk and bundled the items in a Métis sash.
The Toronto MP added that Quebec Kitigan Zibi Algonquin Nation elder Claudette Commanda had also put sage in her boots to ensure she would "go forward in a good way."
Governor General David Johnston and Prime Minister Justin Trudeau look on as Carolyn Bennett is sworn in as the Minister of Indigenous and Northern Affairs during ceremonies at Rideau Hall. (Adrian Wyld/The Canadian Press)
Bennett replaces unseated Conservative MP Bernard Valcourt as indigenous affairs minister.
The name change to indigenous affairs will restore the department's former acronym, INAC. The Conservative government changed it to Aboriginal Affairs and Northern Development Canada back in 2011.
The Assembly of First Nations applauded the appointment in a press release with a nod to the Ontario MP's "deep experience" in aboriginal issues.
"Her role will be key as we act to give life to First Nations rights and Treaties and ensure Canadian law and policies are consistent with those rights," said national chief Perry Bellegarde.
Prior to her appointment, Bennett served as the Liberal's aboriginal affairs critic, holding numerous vice-chair positions in related committees including one on violence against indigenous women.
The organization also praised the semantic shift in the department's name to the "preferred and accepted" term of indigenous.
'Good day for reconciliation'
Truth and Reconciliation Commission Chair Justice Murray Sinclair shared his own positive sentiments about both Bennett's appointment and the department's new name.
"It's a good day for reconciliation in Canada because I think this will be something high on her agenda," he said.
Bennett, an 18-year MP and former cabinet minister under Paul Martin, will have to hit the ground running in her new role to satisfy election promises Trudeau made to First Nations, Inuit and Métis while on the campaign trail.
As one of its major campaign planks, the Liberals pledged to signify renewed indigenous relations by "immediately" initiating an inquiry into the cases of missing and murdered indigenous women in Canada.
According to a report released by the RCMP last year, the number of women who were reported missing or murdered between 1980 and 2012 edges close to 1,200.
Bennett said the new government can't "just step out and announce an inquiry" and is looking to set up pre-consultations right away.
Stephen Harper dismissed repeated calls for an inquiry last year, calling the issue a crime and not a "sociological phenomenon." Trudeau lambasted the then-prime minister for being "out of touch" with Canadians.
CORRECTION: An earlier version of this article incorrectly cited Stephen Harper's reference to cases of missing and murdered indigenous women as a "sociological phenomenon." This version has been updated.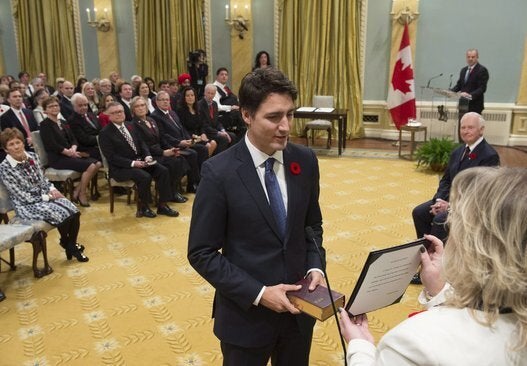 Justin Trudeau Swearing-In Day