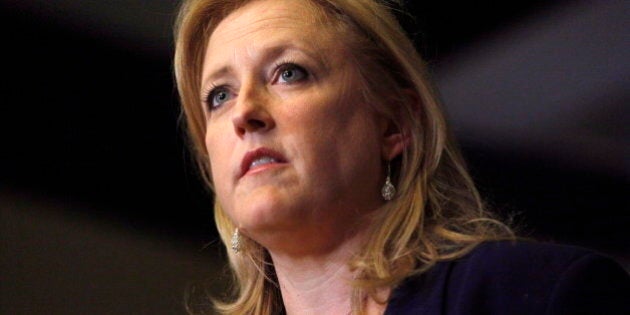 Transport Minister Lisa Raitt says that, for her, the most challenging aspect of being a woman in Canadian politics has nothing to do with the work.
In an interview with CTV's Canada AM, Raitt told host Beverly Thomson that while she has grown thick skin since jumping into federal politics in 2008, comments about the way she looks still frustrate her.
"The toughest part about being a woman in politics… it's not about my policy, it's not about how I feel, it's about my appearance," Raitt said in the segment published online Wednesday.
"That's the part I find the most difficult: people commenting on weight gain, people commenting on what your hair looks like, people commenting on all kinds of things. That's the part that bothers me the most. And I know men get it too, but I think women get it to a greater extent."
Raitt has returned to work after undergoing surgery in November to remove tumours on her ovaries, cervix and uterus. She told Thomson and other journalists this week that she is speaking publicly about her cancer scare to encourage other women to learn more about their own health options.
Her comments on how women politicians are judged on their appearance struck a chord with Mississauga Mayor Bonnie Crombie, a former Liberal MP, who took to Twitter to say she agrees with the minister.
Ontario PC MPP Lisa MacLeod, who is currently running for the leadership of her party, also concurs.
Raitt has addressed some of these issues before. In 2013, after Kathleen Wynne was asked about her clothing choices during her first press conference as Ontario premier, Raitt popped online to call the question ridiculous.
A 46-year-old mother of two who represents the Ontario riding of Halton, Raitt is considered a strong contender to run for the leadership of the Conservative Party one day. She told CTV that while her "undivided attention" is on the job she currently has, she will look at "whatever options are on the table" if Harper steps down.
Raitt was also considered a potential candidate for the Ontario PC leadership but told The National Post's John Ivison this week there was "no way" she could run for that job while dealing with her health issues.
"Her cancer scare stymied her shot at leadership in provincial politics," Ivison wrote. "But one day the federal job will open up and there are many Conservatives who believe a female Toronto-area MP with years of senior Cabinet experience will make a formidable candidate."
This is also not the first time a female MP has opened up about some of the unfair scrutiny they face because of their appearance.
In 2013, Tory cabinet minister Michelle Rempel rose in the House of Commons to address the "sexist vitriol" too often directed at women politicians online. She thanked colleagues for reaching across party lines to deride such language.
"Judge us on our policy and judge us on our performance," Rempel said. "I know that together we will not tolerate those who seek to belittle us based on our gender. We should name it and shame it."
But, months later, Rempel faced backlash online after she criticized a controversial "ladies night" fundraiser for Liberal Leader Justin Trudeau. She received tweets telling her she looked like a "hooker "and comparing her to a "Russian bride" because of a profile photo that showed her leaning on her chair in the House.
"The day people pay less attention to the appearance of women and more to their competency is the day more women will run for office," Rempel wrote on Twitter.