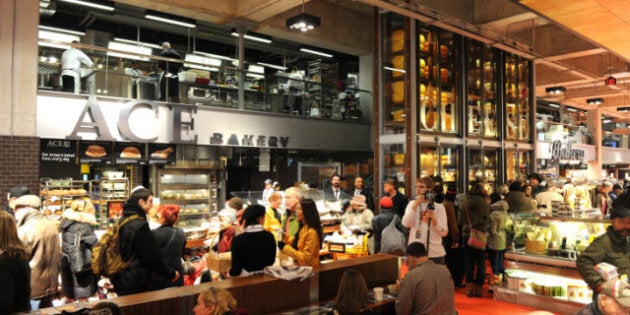 Goodbye goalies, hello groceries.
Today marked the opening of Loblaws at Toronto's iconic Maple Leaf Gardens, the final product of a 16-month renovation that saw the once legendary hockey arena transformed into aisles of groceries and food speciality sections.
"It's a store of speciality markets and differentiated food concepts," said Galen Weston, executive chairman, Loblaw Companies Limited. "We want to inspire without intimidating."
The 85,000-square-foot store has an impressive array of offerings, such as chef-made meals and select counters specifically for tea and cupcakes. If you've thought of it, it's probably there; it's like visiting a food market with one huge cashout area.
The environment includes a 2,000-square-foot kitchen that creates everything for the ready-made counters while overlooking the produce sections below. Ace Bakery, which was purchased by the same parent company as Loblaw Companies last year, has a full factory within the space that will function as a testing ground for new products intended to roll out to other stores.
The 'you gotta see this' factor is undoubtedly the Wall Of Cheese, an 18-foot-tall fridge that showcases 400 varieties, including the champion of the 2011 Canadian Cheese Grand Prix, the Louis D'Or. Runners up for most-impressive include a 250-pound chunk of chocolate that was slowly being chiselled away on opening day, and an entire exotic section of the massive produce area that showed off options like dragonfruit.
Monuments to the Gardens' history can be found throughout the space, including repurposed blue stadium chairs placed in the shape of a maple leaf at the entrance, a circle designating where centre ice once was found, and columns in the midst of the store depicting historic moments.
"We have Gretzky, we have George Armstrong with the Stanley Cup, we have Winston Churchill," says Andre Fortier, senior vice-president at Loblaw Companies Limited. "We have Elvis Presley, the Beatles. We have many things that happened in the building right here in the middle."
As for plans to roll out the concept to the rest of Canada, fans of the Edmonton Coliseum can rest easy for now.
"I don't know where we're going next -- I think we need to learn," says Fortier. "We need to make sure that this thing is nailed at the right place, and after that, we can probably look for something else. But this is where we are right now."
CORRECTION: An earlier version of this story indicated that Ace Bakery was purchased by Loblaw last year. It was purchased by George Weston Ltd., which also owns the Loblaw chain of grocery stores.