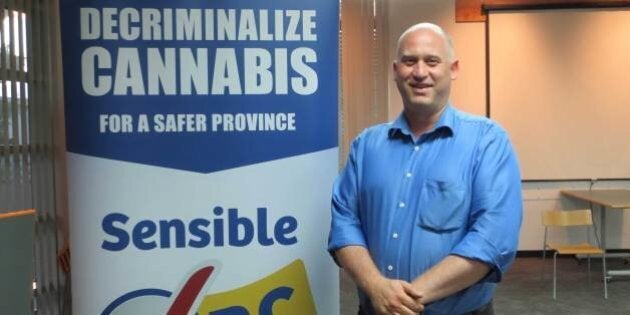 You could hear a penny drop Wednesday night at the Renfrew Community Centre.
There sat Dana Larsen, leader of the Sensible BC petition to decriminalize marijuana, left high and dry in a meeting room with only empty chairs to hear his pro-pot pitch.
And it isn't just the public giving him the cold shoulder: there has been no shortage of prominent B.C. figures lobbying for the legalization of marijuana, including Larry Campbell, Geoff Plant, Kash Heed, Ujjal Dosanjh... So where are they all hiding, now that an actual campaign is underway?
"Decriminalization to me doesn't make any sense," Campbell, a former Vancouver mayor and now a Liberal senator, told The Huffington Post B.C.
"As an ex-police officer, as a coroner, as mayor and as a senator, it doesn't make any sense whatsoever."
The decriminalization campaign is lobbying for the removal of criminal charges for possessing, producing or distributing marijuana. Legalization would mean strict regulation and taxation of the drug, in the manner of tobacco or alcohol.
Sensible BC is proposing the Sensible Policing Act, which would stop police from enforcing marijuana possession laws, while also calling on the federal government to formally end prohibition of cannabis.
The campaign has from Sept. 9 to Dec. 5 to collect signatures for a petition under B.C.'s Recall and Initiative Act that, if successful, would force a referendum on the Act. To get there, Larsen needs 10 per cent of signatures in every electoral district, for a total of over 400,000 people. It's the same principle that Fight HST invoked to force the referendum that toppled the Harmonized Sales Tax.
Geoff Plant, a former B.C. attorney-general, isn't optimistic about Sensible BC's prospects.
"I don't think that this issue, this specific campaign, will strike the populist chord that an anti-tax revolt can do," he argues.
While he applauds the campaign for keeping marijuana in the public eye, he opposes the petition because he doesn't feel that it goes far enough.
"Decriminalization is sort of the halfway step," he says. "I don't think we should decriminalize marijuana possession partially. I think we should decriminalize it completely by creating a scheme that legalizes it, regulates and taxes it."
Campbell puts it more bluntly: "I'd rather have it exactly the way it is than decriminalize."
He argues that decriminalization sends the wrong message to teens, and to gangs that grow weed and sell it on the street.
"It says to [the gangs], this isn't that big a deal," he argues. "It is a big deal.
"I think we should legalize it, we should control it, we should tax the hell out of it, and all the money should go into health care, and I've been saying that for over 20 years."
Heed, the former B.C. solicitor-general and former chief of the West Vancouver Police Department says decriminalization would leave B.C. lagging behind other jurisdictions.
"You've got Washington State, our direct neighbour, and you've got Colorado that are going with regulation and taxation of the adult use of it," he notes.
"The United States is the one that started this war on drugs metaphor and the policies behind it that Canada has actually followed. [And now] it's actually swinging the other way."
Larsen was disappointed to hear about the lack of support he's getting from the big guns.
"Of course, ultimately full legalization is the way to go," he responds. "But I'm disappointed to hear that they don't really understand what our campaign is about."
But beyond the philosophical differences of the marijuana advocates, even Larsen has admitted that Sensible BC is battling a stoner stigma that's making people in general hesitant to join the campaign.
"If I had to stand up with someone who was doing acid or had some questionable history, yes, I think it becomes difficult," former B.C. premier Dosanjh admits.
Larsen, who last week said he had 1,300 canvassers ready to collect signatures, and was hoping for 5,000 in total, shrugged off news of the naysayers, insisting he was never trying to impress them to start with.
"It would be wonderful to have their endorsements, but this campaign is about the people of British Columbia and not about politicians."