WARNING: The video above contains extremely graphic images. Viewer discretion is advised.
The video was aired on Russian TV news channel LifeNews and captures images of scorched debris and burning wreckage of flight MH17 near the village of Grabovo. Boarding passes and passports were also collected from the scene.
The passenger plane was flying from Amsterdam to Kuala Lumpur when it was reportedly shot down. There were 295 passengers on board including crew.
The crash site is in an area of Ukraine that has seen a resurgence of fighting between pro-Russian separatists and government troops in recent days.
Both sides have denied culpability to playing any part in the crash.
"We're working now in extremely high pace around the clock on the case of Malaysian Airlines Boeing 777 shot down in Donetsk region," Ukrainian Foreign Minister Pavlo Klimkin said at a press briefing on Thursday.
Klimkin also made note that flight MH17 was not the first time an aircraft was downed this week.
"It's, indeed, an extremely tragic event, we're all experiencing now. It's the third case in recent days after two Ukrainian planes – Antonoc-26 and SU-25 show down from the Russian territory," he said.
A three-day ceasefire has been called to allow investigators to probe the scene as well as for recovery efforts.
The cause of the crash remains unknown.
With files from The Canadian Press
More photos from the scene of the crash: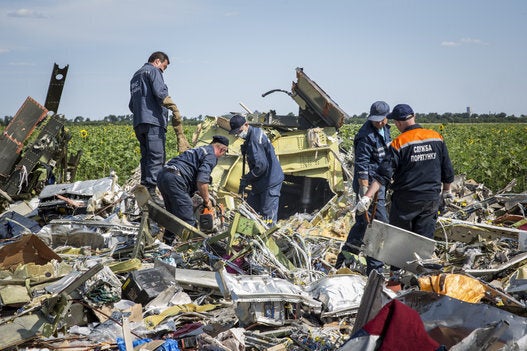 MH17 Malaysia Airline Plane
Popular in the Community