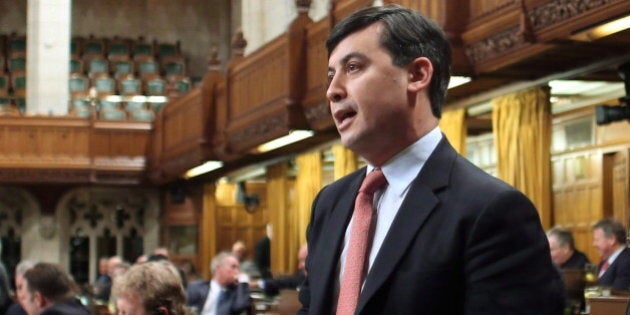 OTTAWA — A Conservative MP who introduced legislation to make it easier to dump party leaders is calling on the Senate to stop ragging the puck and pass his bill before Parliament breaks for the summer.
"Time is running out," Ontario MP Michael Chong told The Huffington Post Canada Monday. "The Senate has a mere six sitting weeks to consider the bill and pass it before the end of June."
If his bill, dubbed the 'Reform Act,' doesn't pass the Senate and become law before MPs head home, Chong warned, his efforts will have been for naught and it will take years before similar reforms can be achieved. MPs are not expected to return to Ottawa this fall, since a federal election call is expected for Oct. 19.
"My view is that the Senate needs to do its job … [and] respect the wishes of the House of Commons and pass the bill before the end of June," he said. His bill won't affect the inner workings of the Senate, he said; it is solely about the way the House of Commons wants to govern itself, and the upper chamber should respect that.
The Reform Act was overwhelmingly adopted by the House of Commons — by a vote of 260 to 17 — in February with support from the vast majority of MPs from all three recognized parties. While Prime Minister Stephen Harper did not vote, Democratic Reform Minister Pierre Poilievre supported it, as did NDP Leader Thomas Mulcair and Liberal Leader Justin Trudeau. Several notable MPs, however, such as Green Party Leader Elizabeth May, NDP deputy leader Libby Davies and former Liberal leader Stéphane Dion voted against it.
Chong's bill empowers MPs by giving them the ability to call into question the leadership of their party. If 20 per cent of the Commons caucus demands a vote, any party leader could face a leadership challenge. A simple majority could see even the prime minister dumped and a new leadership race called.
That has a lot of senators, both Liberals and Conservatives, worried.
Conservative senator David Wells is adamantly opposed. He told HuffPost he would like to see the bill amended and sent to the Commons before the end of June, but that would almost certainly guarantee its death.
It is unlikely the "Reform Act" could be studied and amended by the Commons, and sent back to the upper chamber before MPs head out on the campaign trail.
"I don't know. And maybe you're right, the time has run out," he said. "It's unfortunate that time is what it is, but I imagine that if the bill came to us long before it did [it might have passed]."
Senators already have a large amount of work on their plate, with the spring sitting wrapping up and the election cycle about to begin, he said. "There is a lot of legislation backed up."
Wells believes the "Reform Act" would disenfranchise party members in regions of the county that lack MPs from all parties. Mentioning Newfoundland and Labrador, which has no Tory MPs, and Alberta, which has no Liberals, he suggested that caucus senators should be included for balance across all regions. Under Chong's bill, only MPs could vote to dump the party leader.
Wells, who is from Newfoundland and also sits on the Rules committee that will study the bill, believes the Reform Act would be unfair to the tens of thousands of grassroots members who voted for their party leader.
"The test of 20 per cent of MPs is far too low a test, especially since leaders of parties who become prime minister are put in place by delegated conventions of thousands of grassroots people who have paid to become members and obviously care about this decision, and then by millions of Canadians who used the electoral process to put the prime minister in place," he said.
Story continues after slideshow: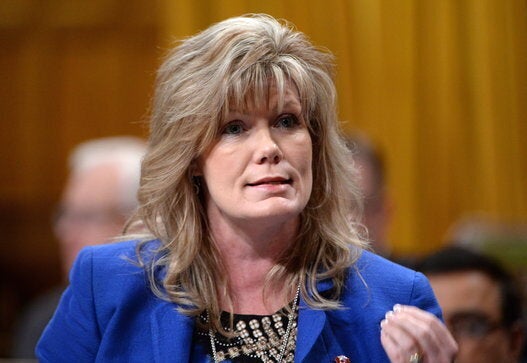 Notable MPs Who Aren't Running Again
Trudeau could have his leadership called into question by eight MPs and could be fired with the vote of 19, Wells noted, because the Liberals have only 36 MPs. Trudeau was elected Grit leader by more than 81,000 party supporters and members two years ago.
"I just don't think this kind of things should be left in the hands of caucus, when our process for electing leaders [is] in the hands of the grassroots," Wells said. He suggested the bill be amended to require a minimum consent of 50 per cent of MPs and senators to call for a leadership review.
"I see flaws in this legislation. Just because it is called the reform act, that doesn't mean that reform is good for Canada, good for Canadians or good for parties," he said.
Senate Liberal Joan Fraser, the party's critic for the bill, echoed Wells' concerns. In a Senate speech last week, she said she shared Chong's worry about the increasing power of the party leader and unelected staffers, and she admired his ability to get the issue on the public agenda, but she thought his solution would ultimately lead to party members being disempowered.
Her solution, she said, is simply for MPs and senators to do their jobs — to carefully consider the public interest when they vote and "not just bend to the will of the leader, or the leader's staff or ministerial staff when we don't agree."
"We have increasingly, in both chambers, been failing in that duty," she told her colleagues. "But what are the people of Canada paying us to do? They are not paying us to be the 'trained seals' that you often hear disparaged…. Our first duty is to the people."
Alberta Conservative Senator Scott Tannas, charged with shepherding Chong's bill through the Senate, said he hopes to get a decision — any decision before the summer break. "That decision can be to pass it, could be to reject it, could be to amend it," he said.
He said it is "theoretically" possible for the "Reform Act" to become law, but he didn't seem optimistic.
"There is by no means any unanimous support for the bill," he said.
Several senators told HuffPost that they felt the Conservative government had dumped a hot potato in the Senate hoping the upper chamber would fix it.
"We can't let this happen," one Tory senator said, requesting anonymity. "Very few people, even those who voted for it, think this is good legislation. [But MPs] didn't want the optics of voting against reform.
"So they tossed it to the Senate for us to put it where it needs to be."