When Avril Lavigne sang "Here's to Never Growing Up" at the 12th annual MMVAs, it felt a little odd coming from a performer who became infamous for mooning the MMVA audience over a decade ago (accidentally in 2002 and then cheekily in 2003). But the focus this year wasn't about her attire or performance, it was mostly about her upcoming marriage to Nickelback's Chad Kroeger.
The same could be said for the MuchMusic's Video Awards Show itself, which has skewed younger and poppier as the years have progressed, but also become an infinitely more mature award show with the literal chaos of the early CityTV years giving way to the Bell Media's well-oiled machinery.
The same goes for the backstage area. The old MMVAs felt like the doling of awards and shutting down of Queen Street was mostly an excuse for what happened off-camera in the building, which Moses Znaimer sold as Toronto's best party. Moses did not lie.
But the old days are gone, as Billy Talent's Ben Kowalewicz made clear in a press room interview when asked about his MuchMusic memories.
"'Power Hour.' Master T. When 'Weird Al' would take over. Narduar, who is still on," he said. "MuchMusic was a huge thing for us -- The Wedge and watching seeing bands like The Pixies. MuchMusic used to play videos all the time, 24 hours, so you were always being exposed to new things, new artists, cool ideas. So Much has been a huge influence on us as people and even helped us as a band, as well."
And the onscreen changes reflected off screen, as well. The bacchanal has more of a cocktail party vibe now, but still a cocktail party where you see Ed Sheeran and the Billy Talent boys smoking on the balcony, Kardinal Offishall chowing down, Karl Wolf wooing the ladies and Vita Chambers singing with the fans.
Not to mention a chance to witness the intricacies of a huge television production from backstage, sneak to the front to watch a giant inflatable Psy get blown up right in front of you or duck into the press room to watch the winners answer questions.
Our fave? It's a toss-up between Psy saying "excuse me" before launching into a Korean-language conversation with a journalist, Classified defending selling "Inner Ninja" to Tim Horton's by saying "I've been eating apple fritters since I was three-years-old," Marianas Trench responding to a question with faux-outrage: "how many MMVAs have YOU won?" and Avil Lavigne's description of her new song "Hello Kitty." "I love Hello Kitty, it's like an obsession. [The song] is about a slumber party and loving the kitty." (Who are we kidding, Avril wins this hand's down.)
Here are our behind-the-scenes photos from the MMVAs. And while yes, it looks like fun, you definitely had a better view of the show.
MuchMusic Video Awards 2013 Behind-The-Scenes Look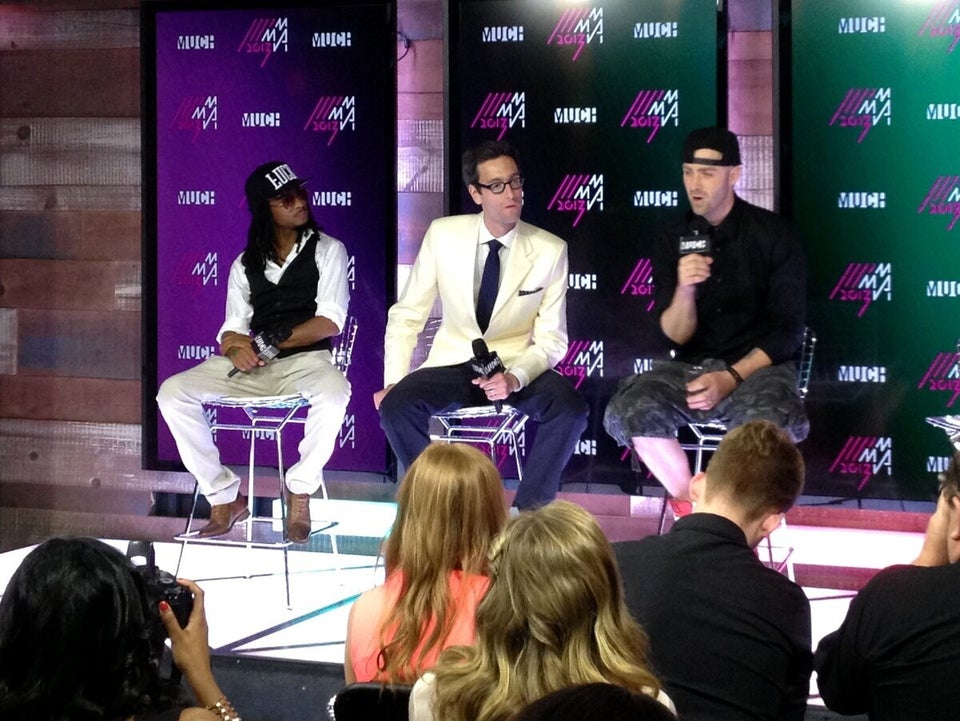 Behind The Scenes At The 2013 MMVAs