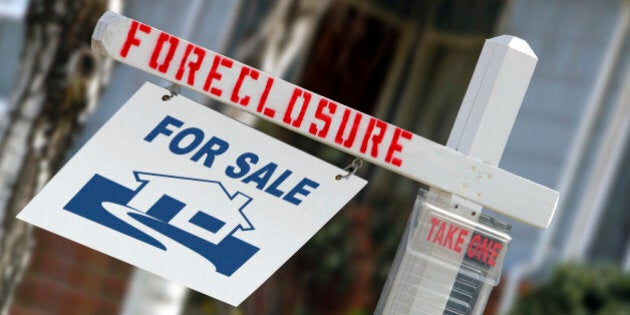 With Canadian household debt hitting record highs this fall, economists are trying to figure out who's most at risk in the event of a debt shock, like a fall in house prices or a spike in unemployment. Two new reports issued Monday aim to do that, from two different perspectives.
TD Economics looked at the issue geographically, and warned that households in British Columbia, Ontario and Alberta are most vulnerable — in that order.
Meanwhile, the Canadian Centre for Policy Alternatives looked at the issue in terms of age group, and determined young homeowners are at biggest risk.
Put it together, and that makes under-40 homeowners in British Columbia the number-one group at risk of a debt shock.
If prices fell 30 per cent — in line with the maximum by which the Bank of Canada says Canadian house prices are overvalued — there would be 294,000 underwater families under 40, or one in seven.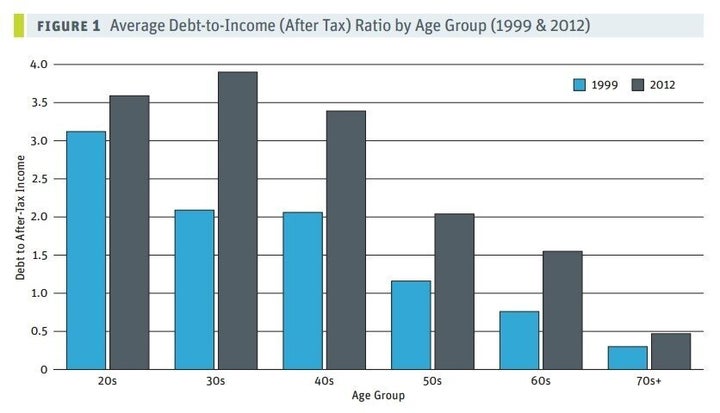 This chart from the CCPA shows people in their 20s have the highest debt loads, but people in their 30s and 40s experienced the largest increase in debt since the turn of the century.
"If, or more likely when, real estate prices fall, families in their 20s and 30s can expect to lose a substantial portion of their net worth and could find themselves owing more than their house and other assets are worth," Macdonald wrote.
Households under 40 would suffer a dollar loss of $60,000, on average, from a 20-per-cent price collapse, amounting to 39 per cent of their net worth.
By comparison, middle-aged families (in their 40s, 50s and 60s) would lose $70,000 to $80,000, but that would amount to a lower 23 per cent of their net worth.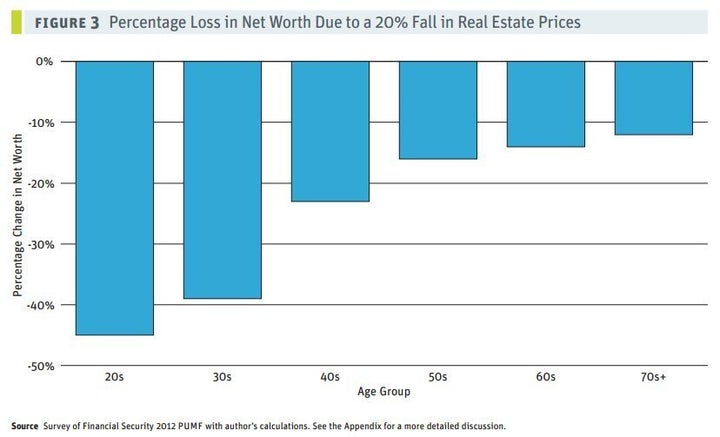 The younger the household, the more it stands to lose in a debt shock. Source: CCPA.
Meanwhile, TD Economics issued a warning to homeowners in B.C., Ontario and Alberta that they are the most vulnerable to a "negative economic shock." And it warned that Manitoba and Saskatchewan households are rising faster than others in the vulnerability rankings.
B.C., Ontario and Alberta "report having the highest debt-to-income ratios, devote the greatest share of income to making debt payments and have built up the highest degree of froth in their housing markets over the last decade," TD economist Diana Petramala wrote.
The report says there is a "medium probability" of a "severe home price correction" in B.C. and Ontario.
Interestingly, the report doesn't see much increase in overall financial vulnerability over the past few years — except in Ontario, where vulnerability hit a record high this year.
The bank publishes a household financial vulnerability index, "to flag regions where households are most exposed to an unexpected negative economic event such as a dramatic correction in house prices, a major disruption in incomes, or a rapid increase in borrowing rates."
That index shows financial vulnerability started rising rapidly about a decade ago, hitting record highs by 2010/2011. But it has leveled off in recent years — albeit at a high level.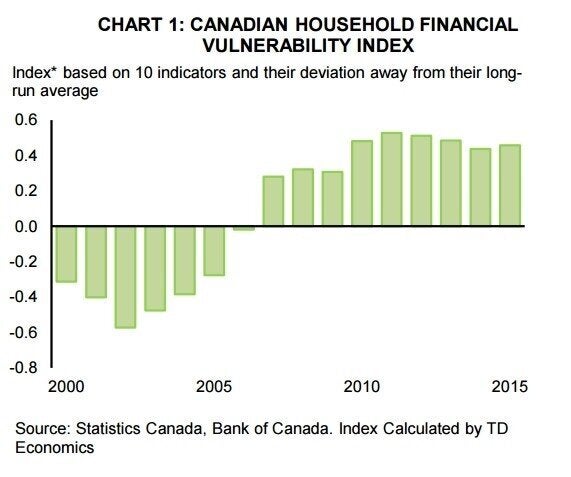 Saskatchewan has the highest percentage of vulnerable households, at 7.8 per cent, with Ontario and B.C. not far behind, TD Bank says.
The report singles out B.C. as having a particularly unaffordable housing market, noting that the average household would have to spend more than 50 per cent of income on a mortgage on an average property.
But Ontario hit a record high on the vulnerability index this year, the TD report says, spurred forward by large house-price increases in the Toronto area.
TD found that Saskatchewan has the highest percentage (7.8 per cent) of vulnerable households, meaning households with a debt ratio above 40 per cent of income. In second place was Ontario, followed by British Columbia.
At the other end was Quebec, with the lowest percentage of vulnerable households, at 3.5 per cent.
Popular in the Community