As I sunk into a snow drift this afternoon, white powder up to my knees as my arms ached from carrying the remainder of my possessions for donation, it all seemed very poetic. You see, today is my last day in Canada.
Seven years ago, I emigrated from England and headed for the Great White North with nothing but two suitcases, a dream in my heart and a fire in my belly. Tomorrow, I'll return to England exactly as I came. Call it reverse-emigrating, if you will.
Canada, thank you for shaping me into the person I am today.
Canada is an absolutely beautiful country and I'm fortunate to have spent the best part of a decade building my life here. I came here with the intention of staying forever. Sadly, the Canadian dream didn't pan out for me. (It's not you, Canada -- it's me.)
The past couple weeks marked a time of reflecting on all I've learned from this experience. And I want your time away to be met with greater success, no matter which country you settle in. Here are seven things I learned from living overseas.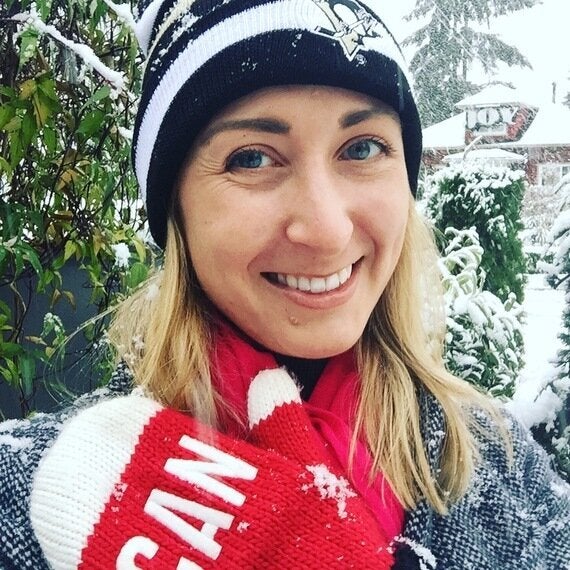 It sounds cliché, doesn't it? But community and human connection are two of the most important ingredients for a successful life overseas (and a successful life in general). Instead of striving solely for career and business success, make forging connections your number one priority. I feel sheepish to confess it's taken me almost a decade to learn this, but it's a hard-fought lesson that I simply cannot unlearn.
A beautiful country doesn't replace family
Canada is one of the most geographically stunning places on earth. But even the most beautiful place is meaningless if you're alone. Consider emigrating with family, or -- if it's in the cards for you -- start a family once you're here. Friends and neighbours are wonderful, but blood is blood, and you need family when you're in an unfamiliar land.
You can do it alone. But it's no fun.
There was a part of me that wanted to prove to myself I could do it alone. Move to a new country, build a life independently and master a successful career. And I did. But when I finally came up for air, I looked around and realized I had nobody to share it with. Take it from me -- don't do it alone.
Return home for milestones
As I sifted through my possessions ahead of the move, I found a box chockablock full of birthday and holiday cards sent to me from family and friends in England over the years. As I looked over wedding invites, baby photos and wedding keepsakes, I smiled. I'm grateful that, despite the distance, I flew back to my home country and shared these milestones with the ones I love.
It takes time to feel like a local
I have loved Canada with all my heart, and obtaining Canadian Citizenship two years ago meant the world to me. But, try as I might to blend in, nothing could ever quite mask my British accent. It's not something I should have wanted to erase, but I yearned so desperately to become a "local." I looked, acted and felt local, but the cat was out of the bag the moment I started talking.
No matter how long I called Canada home, no matter how grounded I felt in my life here, the innocent yet ubiquitous "Where's your accent from?" served as a stark reminder that I was an outsider. Embrace your accent and know your new country is a mosaic, not a melting pot. There's no need to disguise your background.
"I'm not supported" is one of the oldest stories we tell ourselves. But when you're living in a different country, it can become your reality if you don't stand guard. Seek out support groups -- whether it's through volunteering, MeetUps or, in my case, the AA fellowship. Choose a group you can call your own and find a sense of belonging. And accept help from them when it's offered (trust me on this one).
You can't replace your lifelong friends
While rich in experience, I've noticed my time here hasn't been met with an enormous amount of constants. There's nobody in my life now that I knew at the start of this journey seven years prior. Friendships I made were not anchored into deep foundations. That's one of my biggest mistakes. While I've found it difficult to forge lifelong friends here, my wish is for you to develop deep, deep friendships that last throughout your time overseas.
Oh, Canada -- thank you for the beautiful experience. I'm grateful for the time I spent here, and my heart is wide open to the new adventures England has to offer. I'm returning to the motherland a better person because of the time I spent here in the Great White North.
Canada, thank you for shaping me into the person I am today.
From the bottom of my true patriot heart, thank you.
Follow HuffPost Canada Blogs on Facebook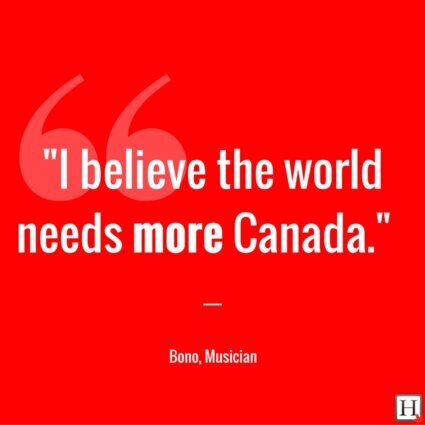 Quotes That Make You Proud To Be Canadian