Angelica Sweeting was heartbroken when she heard her 3-year-old daughter Sophie say she was unhappy with her dark skin and kinky hair. Instead, she desired the straight blond hair and white skin of Barbie or the characters in her cartoons.
After failing to find a doll that was a positive role model and looked like Sophie and her younger daughter Sydney, the 27-year-old mom from Miami, Florida decided to take matters into her own hands.
With the help of her kids, she created the "Naturally Perfect Angelica Doll." Standing at 18-inches, the toy has dark skin, a full nose, plump lips, brown eyes and natural kinky hair that can be washed and styled just like real hair.
"The Angelica doll has facial features that are true to women of colour," Sweeting said in an interview with Today.com. "She is here to expand our spectrum of beauty and to give little girls more, so they're able to see that beauty comes in different shades."
Sweeting, who left her career to focus on creating her line of dolls, took to Kickstarter to raise the funds to create the first 1,000 dolls. And with 14 days to go, the campaign has already far surpassed its original goal of $25,000.
In the Kickstarter video, Sweeting says her vision is to expand her line of Naturally Perfect Dolls to include models with a range of skin tones, hair textures and careers. Angelica, for example, is an entrepreneur; however, Sweeting plans to create dolls in journalism, software development and engineering.
Sweeting joins a growing number of individuals who are frustrated with the lack of diversity in children's toys and are taking it upon themselves to fill in the gap in the market. Taofick Okoya from Nigeria, for instance, created the Queens of Africa dolls when he couldn't find a black doll for his niece. The toys are now outselling Barbies in Nigeria. Additionally, a British toymaker created a line of custom-made dolls so that children with disabilities could have toys they could relate to.
Women and girls have already begun to embrace the Angelica Doll, posting photos of themselves alongside the toy with the hashtag #ImNaturallyBeautiful.
Sweeting told Today.com that Sophie, who is now 4, and Sydney enjoy playing with the Naturally Perfect Angelica Doll, and Sophie no longer wishes to change her appearance.
"As a mom it makes me feel proud," Sweeting said. "I love knowing my daughter loves herself and she's proud of who she is and what she looks like."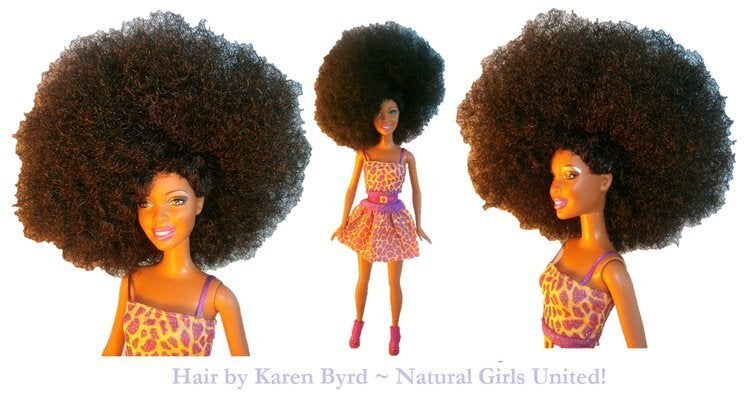 Natural Hair Dolls By Karen Byrd
Popular in the Community