TORONTO — Thomas Mulcair takes over the leadership of the federal NDP with a surprisingly weak mandate after the membership failed to show up for its own party.
Mulcair's fourth-ballot win Saturday night capped a long, drawn-out day of vote delays caused by a purported cyber attack on the NDP's online voting system.
But equally as troubling for many members at the two-day Toronto convention was the low voter turnout at what should have been a banner moment for the party.
After all, the NDP is coming off a remarkable year in which it claimed official opposition status with an historic "orange crush" of support in the May federal election and witnessed a national outpouring of support following the death of Jack Layton. What happened Saturday in Toronto could better be described as an "orange crash."
Less than half of the membership, 49.6 per cent, or 65,108 of the party's 131,152 members, voted on the first ballot. That number dropped on the second vote to 47.7 per cent, and then increased slightly on the third ballot to 47.8 per cent, after party officials realized there were online voting problems, which they tried to rectify. By the fourth ballot, only 45 per cent, or 59,210 members, cast a vote.
NDP officials, scrambling to deal with hundreds of complaints from voters across Canada who had difficulty casting ballots, insisted the votes were secure.
"I would describe it as somebody outside the system who was attempting to mess with our system," said Brad Lavigne, the principal secretary to interim party leader Nycole Turmel. "The system has not been compromised. The only thing that has taken place is that they've delayed," he insisted.
Mulcair won on the fourth ballot with 57.2 per cent of support after a tense face-off with NDP strategist Brian Topp.
Topp's campaign spent months arguing that Mulcair would abandon the NDP's social democratic roots in an attempt to bring the party closer to the centre.
In a speech Saturday evening, Mulcair saluted his follow competitors while pledging to take the "next step" in giving Canadians the change they voted for during the last federal election.
"Our greatest accomplishment on May 2nd was giving people more reason to believe that you can vote for the change that you want and actually get it," Mulcair said, citing Layton.
But the technical problems and low voter turnout cast a shadow over Mulcair's big moment.
The new leader will face legitimacy issues, said McGill University professor Antonia Maioni.
"These kind of glitches bring home the fact that the party is not one," she told The Huffington Post Canada after the party delayed voting by several hours to ensure the accuracy of its electoral system.
"This should have been a day of great rejoicing and a day where the energy from yesterday carried over … to the choice of a leader. That (did) not happen," she said. "I think the new leader will have challenges because of that."
With all the drama of 2011, NDP officials had predicted a higher voter turnout than what Layton obtained in 2003 when he won on the first ballot with 53.5 per cent support. Voter turnout for his election was 71 per cent.
The party substantially increased its membership during the seven-month race, but many of those new NDPers failed to vote.
"I don't understand it," said NDP delegate Joan Murray. "I would think that that would be their motivation for joining the party at this particular time."
Former NDP leader Alexa McDonough speculated that people who watched and voted at home may not have gotten "as excited and as engaged." Fewer than 9,000 voted online, officials said.
"It's a whole other thing than a thousand people at a delegated convention which is where I was elected leader," McDonough said.
Robin Sears, a former NDP national director, said the party's voting system "sucks."
Everyone should vote on the day of the convention, Sears said.
"The idea that you should encourage people to vote three weeks before (they)… see the culmination of the campaign is clearly nuts!"
NDP spokeswoman Sally Housser insisted that the attempted cyber-attack – an apparent "denial of service" attacked linked to two IP addresses -- had not discouraged voters. But, she acknowledged, there was no way the party could know with any certainty.
"The leadership convention that elected Stephen Harper, they had a 37 per cent turnout," Housser said about the 2004 Conservative convention.
The NDP's critics were quick to jump on the party for failing to organize a smooth and problem-free convention.
"It's been a convention full of glitches. I mean, very low voter turnout, all the technical problems on Friday night, all the technical problems today, I think this is a kind of a very unimpressive moment," said Heritage Minister James Moore, who was attending the proceedings as an observer.
"It's an embarrassment for a party that thinks it's ready for prime time when it demonstrates time and again that they are not, in the House of Commons and here at the convention," Moore added.
Liberal MP Denis Coderre expressed concerns that many of the candidates with strong British Columbia support, such as native son Nathan Cullen, might have lost votes as frustrated supporters gave up on the online system.
"People will question the process and will question the vote, I guess, but things happen," he said.
Quebec MP Matthew Dubé said if a party that's plagued by unity problems came out of the convention with only complaints about technical glitches, "then I think we are well placed."
Mulcair won the race after obtaining 30.3 per cent support on the first ballot. Ottawa MP Paul Dewar received fewer votes than expected and dropped out after the first round, leaving Toronto MP Peggy Nash, Cullen, Topp and Mulcair. Nash and Cullen dropped out after the second and third round without endorsing another candidate.
Niki Ashton, who was first to be eliminated, Dewar, Nash, and Cullen all insisted it wasn't the NDP way to throw support behind another candidate, arguing the decision should be left up to party members. Martin Singh, however, threw his support behind Mulcair after dropping out on the first ballot.
NDP MP Peter Stoffer told HuffPost the new leader will have some serious work to do to ensure the unity of the party and caucus after a divisive and lengthy race.
Mulcair must be a "unifying force" and reach out to the West, not just Quebec, Stoffer said.
Mulcair is scheduled to meet with caucus members on Sunday.
Other candidates will have to rally around their new leader, Stoffer added.
"The enemy is not within, it is across the hall," he said.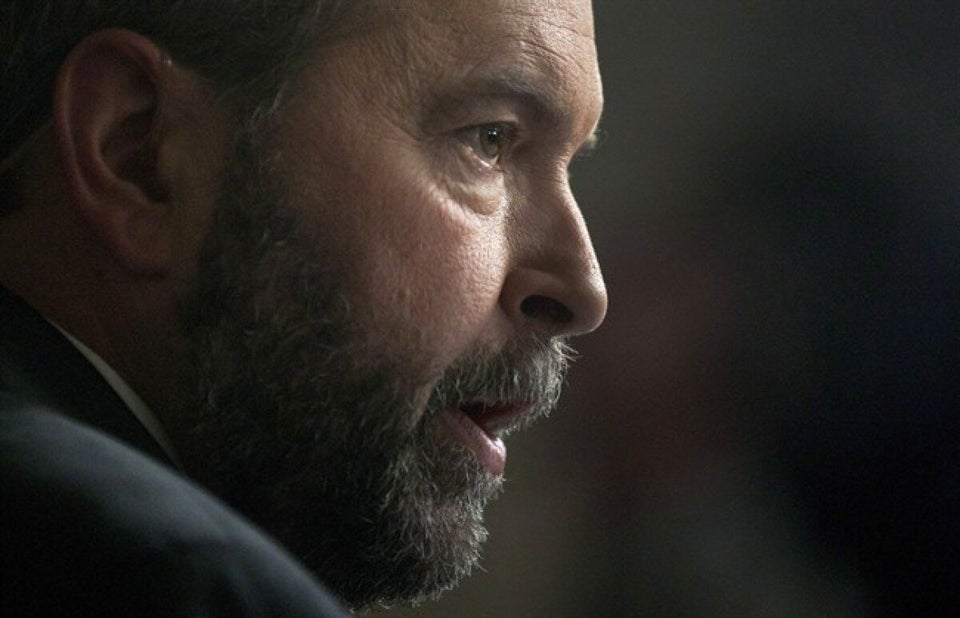 PHOTOS: BEST SHOTS FROM THE CONVENTION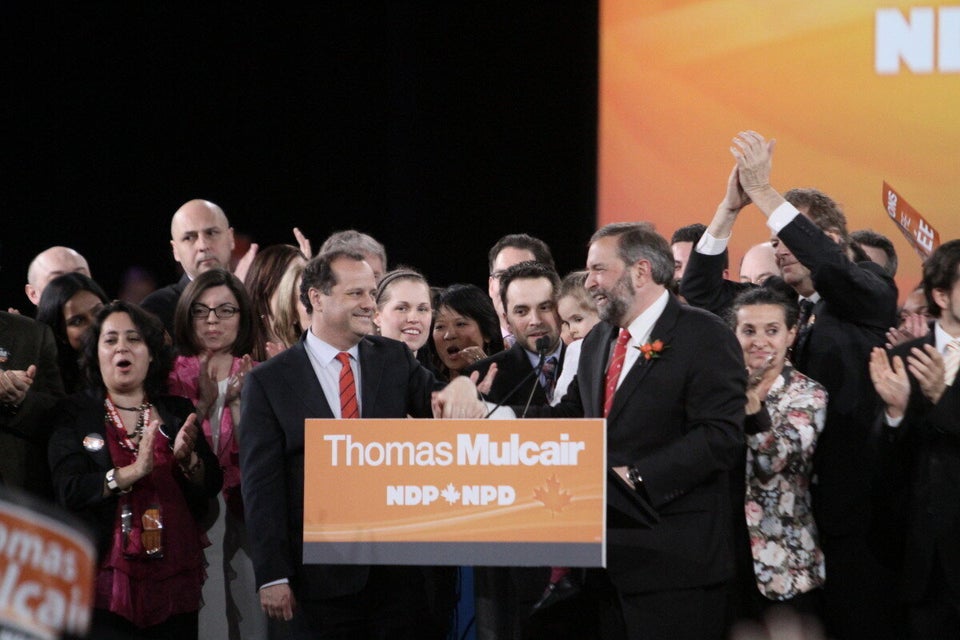 NDP Convention Sights and Sounds
LIVE FROM THE NDP CONVENTION FLOOR