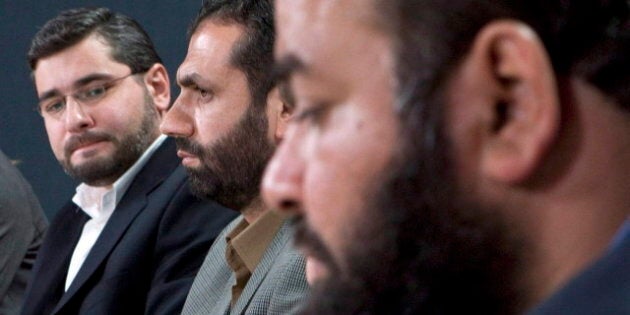 There's been a lot of hyperbole about the UN Committee Against Torture's recent report called "Concluding Observations on Canada."
To see this year's Concluding Observations Report, go to this website, scroll down to Canada and click on the "E."
Canada is one of many countries around the world that believes that torture is inhumane. Like other international citizens in 1945, Canada agreed the tortuous treatment, experiments, rapes, mutilations and beatings of human beings that were revealed to have taken place from Europe through Asia, "shocked the conscience of humankind." Canada and other States realized that when the world didn't have a properly functioning international order that included "accountability processes," it could slide back into lawlessness and atrocities -- and that international peace and security would be strengthened by committing to a legal framework that would not only guard against unjustifiable action such as State aggression (e.g. invading another country), but also guarantee the rights that individuals themselves held (i.e. the birth of contemporary international human rights law).
Several key human rights treaties followed suit, including in 1984, the UN Convention Against Torture. Canada ratified the treaty, and agreed to have an independent group of experts monitor compliance with the treaty. Such accountability ensures that States do more than pay mere lip-service to fighting torture. Like the majority of State parties, Canada accepted the competency of the UN Committee Against Torture, agreeing to appear before the Committee every five years or so -- to have a conversation (i.e. a 'constructive dialogue') about what's working, what's not working or could be better, and recommendations for improvement that could bring the State's actions into conformity with the Convention.
May 2012 was Canada's turn to appear again before the Committee. First the Committee read all the information presented to it -- including statistics, reports, legislation, reported court decisions of the Supreme Court of Canada, the Federal Court of Canada and provincial courts -- from the Canadian government and members of Canadian civil society. Then, the Committee met over two days with the Canadian Delegation -- members of the Canadian government -- to engage in a conversation about Canada's record. The Committee then made Concluding Observations, noting both the positive and negative aspects, and also recommendations -- concrete suggestions for Canada to better comply with its legal obligations regarding torture.
The Committee has the mandate to hear about Canadian issues relating to the Convention and that includes police accountability; immigration and refugee law amendments that have the possible impact of sending individuals back to torture; the treatment of persons allegedly culpable of torture who live in Canada on the "most-wanted list" published by the government; and various Supreme Court of Canada decisions including about Omar Khadr. Most of the observations by the Committee urge Canada to adopt the recommendations previously made by various public inquiries. Nothing in the observations would have surprised the government.
Indeed, it is somewhat misleading criticism to say that the Committee found Canada complicit in torture of three men, since this was the finding of Retired Supreme Court of Canada Justice, Justice Iaccobucci in the inquiry into the torture of three Canadian men in Syria and Egypt.
After a comprehensive and thorough review of the evidence, Justice Iaccobucci in his 2008 Report, found the men had been tortured, and Canadian officials had engaged in conduct which indirectly contributed to that torture. Justice Iaccobucci wrote that Canadian officials passed on "inflammatory, unqualified, and potentially inaccurate information" to foreign officials known to torture -- he continued to say that using such "loose or imprecise language," or engaging in actions that might suggest a Canadian is a "terrorist suspect," can have "serious or unintended consequences" to that Canadian detained in a foreign jail cell abroad.
Justice Iaccobucci made comprehensive observations about the legal precautions that Canadian officials must use, especially when dealing with foreign agencies. It is hard to understand why anyone would criticize the Committee since it recommended that "in light of the findings of the Iaccobucci Inquiry" Canada take steps to ensure the three tortured men "receive redress, including adequate compensation and rehabilitation," which is what is mandated by the Convention Against Torture.
Governmental responses that the UN Committee should focus on countries worse than Canada don't make sense -- should a corporation with a strong ethical record say that it no longer needs to undergo audit processes because there are other corporations out there cooking the books?
Canadians should be proud of Canada's record in fighting for accountability and international compliance with legal standards. Canada has been a leader in seeking to uphold human rights and we impressed the world with our leadership in creating the Rome Statute of the International Criminal Court and the doctrine of the Responsibility to Protect. Complying with the periodic review of UN treaty bodies including the UN Committee Against Torture is also an important step in Canada's efforts to respect and uphold the effectiveness of the international legal framework.
Accountability processes may inherently involve some uncomfortable moments but that does not require dispensing with the process itself. How Canada responds to the Committee's report sends an important signal to other countries. If a nation like Canada balks at its international legal commitments regarding torture, including the Periodic Review, what signal does it send to countries that practice torture routinely?