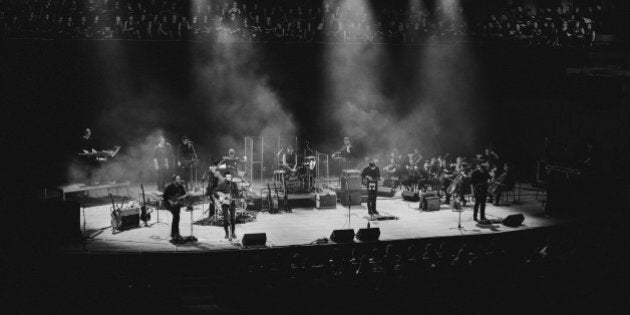 With Valentine's Day just around the corner I have a confession to make -- I love Calgary. I love the city that I got to grow up in and that I get to live in each and every day.
A few weeks ago Calgary loved me back and I wanted to take a few minutes to send out the biggest of thank yous to everyone who helped me feel so wonderful. This, Huffington Post readers, is my love letter to Calgary. To the city and the people who made it possible for me to launch my soon-to-be-released album, I Wanna Make It With You, in the best way possible. Hometown shows are always a lot of fun.
On January 30, the band and I played my favourite venue in town, the Jack Singer Concert Hall. There were 12 in the band, four techs, 130 people in the choir, 15 strings and an encore of mayhem.
We prepped the show for months while simultaneously finishing up a limited run vinyl release and an 18 track record. 2015 seemed to be the year of preparations. We started writing the record last January and couldn't be more excited for its release in March (March 11, to be exact).
The band is incredible, we've played and toured together for years, and each night seems to get better and better. I'm always thankful for the incredible people that I spend my time with. They are the kindest and most supportive group of musicians you'll ever find.
For a show like this we strive to make everyone feel welcome and included -- we want those involved to know that it is their show. Originally these big shows were all about a big sound and a big visual, but now they're about all about community. It's almost a challenge to see how many textures and currents we can incorporate into one evening. It's always rewarding to see the smiles at the end of the night.
Keeping true to the feelings of community, involvement and support, this year's show saw us collecting books for underprivileged Calgary kids through Calgary Reads. We hosted a beer and family-style taco supper for 60 in the basement of the venue (Village Brewery/Native Tongues Taqueria) to celebrate our success before the show even started.
And, as the show unfolded in front of a small group of our most favourite Calgarians, the night capped off with dancing in every aisle and a 10-person spin class (YYC Cycle) on stage. Why not? We had the venue for only one night, why not see how much we can pull off, right?
Rehearsals started Thursday (January 28) afternoon with the choir and an acoustic guitar. Our new drummer, from an old prairie rock band that I used to love, flew in from Vancouver. I spent the morning signing and numbering vinyl at the pressing plant (Canada Boy) with Brock Mitchell (Shot at the Dark/DDG), the amazing artist that we worked with on all of the visuals for this new music. That guy can really dance!
Our choir was made up of members from a local high school (Bishop Carroll) and a group of singers from the Young Canadians. Our string section was made up of Calgary community members. Throughout the rehearsal process we never saw the entire group at once. We meant to, but the schedule never seemed to allow it. I've always liked that though, it puts the show on a bit of an edge - if we're being honest, it could have gone off the rails at any point. I think living in that space makes the show exciting for the performers and audience (especially us!).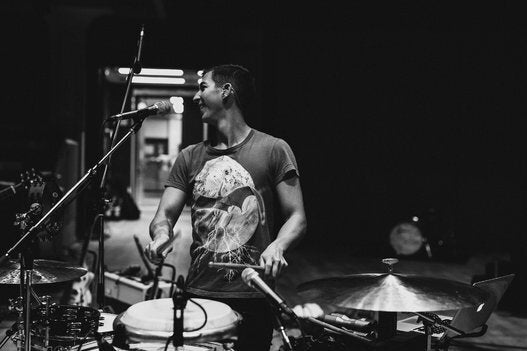 I Wanna Make It With You
For me the most incredible moment of the rehearsal process is the look on the faces of choir and orchestra members after the first song. Most have only really had classical experience with their instrument or voice.
Our show is all about singing and playing fun songs loudly. No one cares if you mess up. It's a come-as-you-are vibe, where the energy is more important than the delivery and a good smile is the only prerequisite. This is so different than so many of their every day experiences and we love creating the opportunity for that.
Despite the fun, rehearsal days are long, there is gear everywhere and we're on a very tight deadline. We try to stay carefree, reminding ourselves that a bad rehearsal usually makes for a good show. I also attempt (every time) to convince myself to sleep full nights (definitely didn't happen for this show!).
And living by the mantra "better safe than sorry," we learned a Bieber song for good measure in the event our hometown crowd didn't like the new tunes. We thought if it all goes really badly we'll just loop play that. "What Do You Mean" would be our accessibility parachute.
The truth is, January 30 saw the show go off without a hitch and we all had a great time. It has taken me a couple days to come to terms with all that went on. We played 2.5 hours (we've never played that long, even when I rant between songs!), took pictures and signed CDs at the merch table.
We then hopped on a bus out back to the after show venue to play a bar show at 1am. It felt so good. No pressure, no stress, just a bunch of people on a little stage. I wasn't sure I'd have the energy to do it, but it was the perfect way to end the night.
Calgary has treated us wonderfully as we've made this record. Everything was recorded just east of town at OCL Studios. Dan, Josh and the crew there made us feel incredibly welcome. Everyone that has been involved in this record has been part of the story over the years in some way or another.
It certainly hasn't been an easy process, but every step has ultimately been fun. Andrew and the band were there in the studio from day one, which was a new experience for me. Andrew has played percussion with me for almost a decade and he was there literally every step of the way. The songs lyrically live in more of an uncomfortable space for me, so it was nice to have the band there to collaborate and hang.
Everyone worked so hard on the show; it was a treat to see people on stage that hadn't been up there in a while. Many of our string players have a full life outside of music and not as many opportunities to perform. Everyone is busy; the upright bass player Ben opened his second café (Monogram) last Monday. I'll be there all of the time.
This record and show feel like a fresh start. I'm so thankful for the support Calgary has shown the band and I over the years. I'm always proud to be from here.
It was an exciting Saturday night. Thank you, Calgary.
Follow HuffPost Canada Blogs on Facebook
Popular in the Community