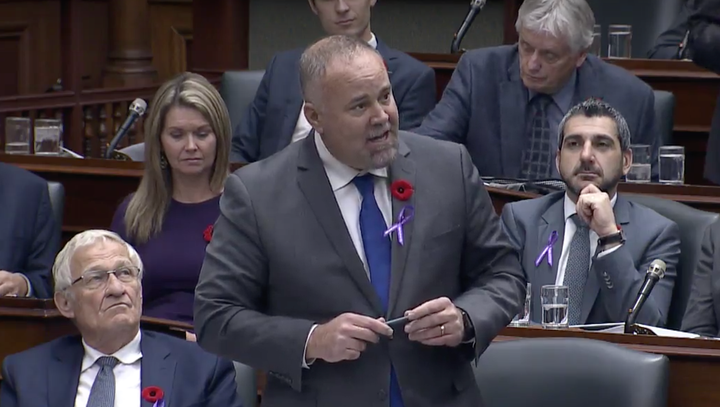 TORONTO — A new report from the Ontario government's autism advisory panel will do little to quell the fears of families waiting for treatment, one clinician said Wednesday.
"I'm surprised that there isn't a lot of detail, and I'm curious about what the implementation is going to look like," said Nancy Marchese, a board-certified behaviour analyst and psychologist who supervises programs at Breakthrough Autism in Richmond Hill, Ont.
"This lays out broad guidelines that the community's been talking about for years anyway," she told HuffPost Canada.
"Meanwhile, we have kids that are getting budgets that are suboptimal levels of what they need. And there are people that are having trouble getting on the waitlist."
Ontario's Progressive Conservative government published a report Wednesday from the panel it created after weeks of intense protest against its previous autism plan.
The report recommends that the government:
Provide funding based on an individual child's needs,

Pay for a range of services, including applied behaviour analysis (ABA), speech and language pathology, occupational therapy and mental health services,

Provide mental health and crisis support through the Ministry of Health,

Stop sending children with autism into

"seclusion rooms"

at schools,

Assign each family a "care co-ordinator" to help them navigate the government program.
Similar recommendations were given to the PC government before its announcement in February, Marchese told HuffPost, recommendations that had also been given to the previous Liberal government.
"These are all messages that parents have said and professionals have said for years," she said. "The key is going to be the implementation. ... What are these details? Are they going to follow what scientific best practices are?"
"These are all messages that parents have said and professionals have said for years."
The former minister, Lisa MacLeod, announced a plan in February that would give families a maximum of $20,000 in annual funding until their child turned six and $5,000 until their child turned 18. Professionals and parents said that fell woefully short of the $60,000 to $80,000 a year it can cost to put a child with severe autism into intensive therapy.
The minister was demoted in June and replaced with Todd Smith.
Watch: PCs say they'll reverse course on autism program. Story continues after video.
During question period Wednesday, NDP MPP Monique Taylor asked Smith when families can expect to get funding under the new program.
"I know that the community is going to want to provide input. There are a lot of great strides that have been made thanks to the work of this expert panel," Smith replied. "I know they're waiting for us to implement this as soon as we possibly can."
In the meantime, MacLeod's plan is still being rolled out.
Father worries about what's next
Tom Wadden, whose four-year-old twins have autism, said it's been hard to navigate the PCs' program.
He received the government's "childhood budgets" for both sons. But Wadden worries about whether they will continue to receive funding when the new plan is rolled out.
"Don't get me wrong. After years of waiting, it's great to finally get some support for our boys," the Stoney Creek, Ont., dad told HuffPost by email. "But I have to say the last step in the process really feels like being kicked while you're down."
After waiting months for a letter that let his family apply for funding, Wadden said it took months more to receive the cheques. Then the cheques arrived — but he didn't receive authorization to spend the money for another two weeks.
"The last step in the process really feels like being kicked while you're down."
A couple of weeks might not seem like a lot, Wadden said, but in that time his family spent $2,000 to get 12 hours of therapy in total for his sons.
"That was painful," he said.
Marchese said the longer it takes for the government to work out details, the more kids there will be who "desperately" need treatment.