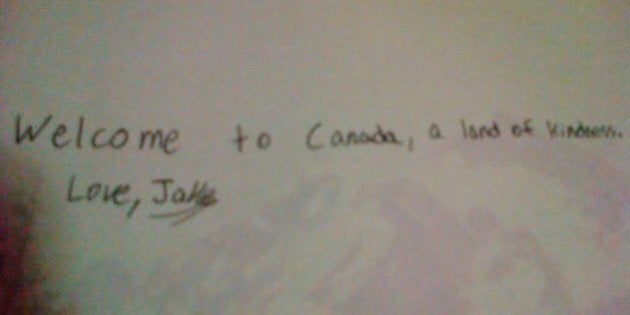 Inside dozens of donated backpacks — all stuffed with bright markers and books — is a note, some written by kids, welcoming Syrian refugee children to Surrey, B.C.
"Welcome to Canada, a land of kindness," reads one handwritten message. It's signed, "Love, Jake."
Former columnist Laila Yuile started Operation Backpack in November in response to news Syrian refugees would be resettling en masse in the Lower Mainland. She wanted to nip any negativity in the bud, and replace it with warm wishes for the newcomers.
Surrey, one of the province's biggest cities, could see about 800 Syrians resettle within its borders between now and the end of February.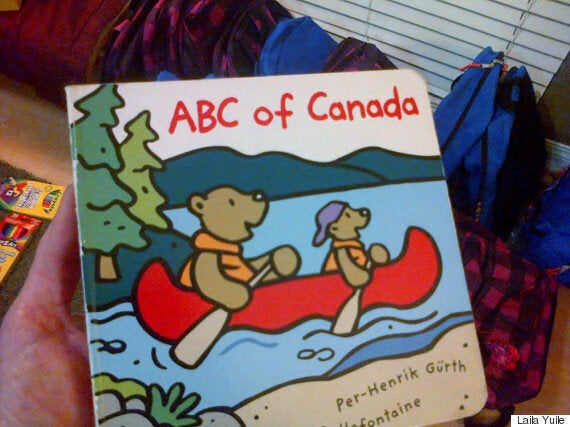 A book donated to Operation Backpack. (Photo: Laila Yuile)
Yuile said some were concerned about refugee children entering an "already crowded," underfunded school system — which the columnist said is a valid point. But bearing witness to racist comments targeting Syrian children was "appalling."
"Particularly since many of these children have had childhood experiences of war none of us could imagine," Yuile said.
Her idea to fill backpacks with school and art supplies for incoming Syrian children picked up steam on social media. She explained her motivation for the project in a blog post on Nov. 20.
"My first thought was of these children being able to feel at home, to feel like they are welcome, valued and that they have the basic tools to … well.. be kids," Yuile wrote.
"To me, that means at least having a backpack to get started. A place to carry your 'stuff.' Basic school supplies. Crayons. Pencil crayons. Pens, pencils, erasers, notebooks, drawing paper… and a stuffie to hold when new places, people, and experiences change your world forever."
The idea spread and offers of donations started coming in. Lori Dennis of Surrey-based Options Community Services reached out to Yuile to offer help in distributing the backpacks through their refugee resettlement program.
It's an example of the "exceptionally heartwarming" generosity locals have shown, Yuile said.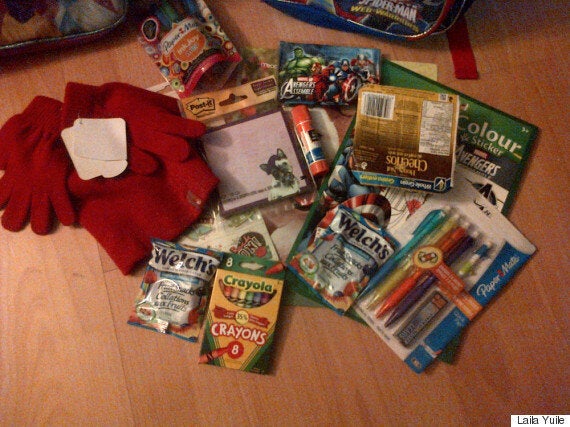 Example of donated items found inside the backpacks for Syrian refugee children. (Photo: Laila Yuile)
"Some people donated full backpacks loaded even with clothing," Yuile said, adding that some families shopped together for the brand-new items. Included in each bag is a stuffed animal donated by Cloverdale Rodeo and West Coast Amusements.
And the 57 backpacks picked up on Monday are just the beginning.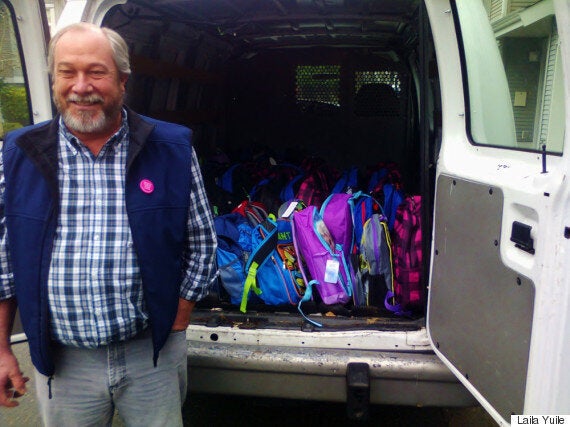 Joe Woodsworth, Options Community Services senior manager, poses with backpacks stuffed with donations for Syrian refugee children. (Photo: Laila Yuile)
Teachers at White Rock's Peace Arch Elementary will have 30 more ready for pickup in January, and a local Muslim centre and independent school are preparing another 100 backpacks on top of that.
"It was a way to welcome these children to our city, and let them [know] we care," said Yuile of why she conceived the project in the first place. She praised contributions made by local children.
"Kids are already often the most generous and caring," she said when it came to collecting warm clothing for the local homeless population. "So this was a natural extension to welcome other kids."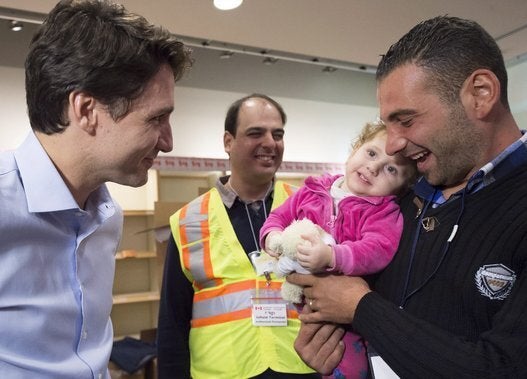 Trudeau Greets Syrian Refugees