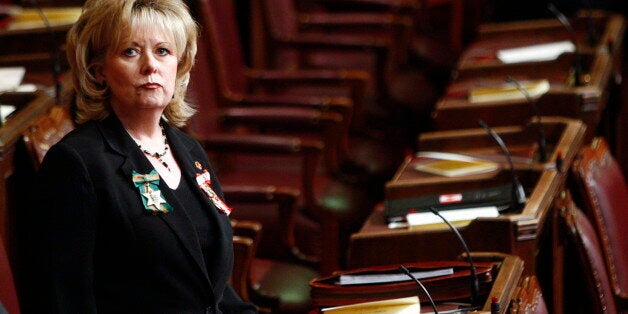 OTTAWA — While the latest chapter of the Senate expense scandal has Canadians shaking their fingers at Pamela Wallin, some observers say the upper chamber's culture is itself to blame for allowing Wallin's and her compatriots' alleged offences to continue as long as they did.
A Deloitte audit publicly released Tuesday suggests Wallin claimed more than $121,000 — and possibly as much as $142,000 — in inadmissible expenses for travel between Jan. 1, 2009, and Sept. 30, 2012.
The sheer number of claims surprised even her colleague, Conservative Senator Gerald Comeau, now the head of the Senate's committee on Internal Economy, Budgets and Administration, and the man ultimately responsible for putting the Mounties on Wallin's trail.
All of Wallin's expenses, however, were approved by the Senate's administrative staff. If there were concerns, why didn't anyone speak up?
Royce Koop, an assistant professor at the University of Manitoba's department of political studies, believes the staff should have sounded the alarm.
They should have sent questionable expense claims back to Wallin, Koop said, as well as to other senators, such as Patrick Brazeau, Mac Harb and Mike Duffy, who are under RCMP investigation after claiming living expenses for their time in Ottawa even though their primary residence seems to have been in the national capital area. If staff had communicated with the senators, they could have been informed of the rules and had their claims amended or dismissed, Koop said. Audits could have been avoided, not to mention criminal investigations, he added.
Some of the rules are unclear, and it appears some senators may not have known what they were doing, Koop said. "The Senate should have been providing them with more guidance about what should be done."
The problem, University of Moncton political scientist Donald Savoie said, is that the Senate functions as an "old boys network."
The culture that permeates Parliament Hill does not allow employees to challenge senators and members of Parliament, he said.
Clerks and the people processing claims must have known what was happening, Savoie said, but they "probably held their noses and saw it through."
"You assume that the member of Parliament is honourable, and you certainly don't go around questioning him or her."
Employees' hands were tied, Conservative Senator Carolyn Stewart Olsen said, because Wallin, for example, filed claims stating that she was on Senate business.
"If I put 'Senate business' on there, they have no recourse."
Staff can question a senator, Stewart Olsen said, but if the senator comes back and says they were on Senate business, "that's it. That's what they could do."
Wallin followed the proper procedures, Liberal Senator George Furey told reporters.
"She sent in expense claims that said she was on Senate business," he said. "When they were reviewed, we found that, in fact, some of them were not Senate business."
Although Wallin acknowledges that she filed 26 inappropriate claims related to her private interests and has paid back $38,369, her lawyer, Terrence O'Sullivan, says several other expenses have been mischaracterized by Deloitte auditors. He said he believes the definition of what constitutes Senate business and private business is not clear enough.
He pointed to one travel claim — out of 79 that were deemed not to be legitimate "Senate business" — in which the auditors determined a flight from Saskatchewan to attend a reception at the prime minister's residence was not related to her job but rather a "personal interest" trip. So they suggested she refund taxpayers, even though the trip was related to an upcoming Saskatchewan arts and culture showcase at the National Arts Centre.
O'Sullivan told HuffPost Deloitte had no comparable examples against which Wallin's expenses could be judged.
"This nebulous standard was developed by them without the benefit of interviewing a large group of senators, or a number of senators similarly situated, and collecting a body of evidence against which the standard could be met," O'Sullivan said.
Still, in most cases under dispute, Wallin's office provided little or no evidence to support her assertion that she was travelling on Senate business. In fact, she broke the rules banning election campaign expenses twice by filing claims for travel to and from a Saskatoon Conservative Party rally during the last federal election and travel to Toronto to discuss the election results. She also expensed travel to Toronto to speak to a fundraiser for a Progressive Conservative candidate during the last Ontario election.
Deloitte notes several times in its report that Wallin is the only senator whose travel expenses have been reviewed, and therefore auditors were not in a position to know whether other senators are making similar claims and receiving reimbursements from the Senate.
The Senate's travel policy defines a parliamentary function as all the duties and activities of a senator, wherever performed, including official business and work of a partisan matter as long it does not include activities related to the election of a member of Parliament during the writ period or furthering a senator's private business interest or one of his or her family members.
With a definition like that, it is not difficult to see why Wallin might have thought she could be reimbursed for travel to speak at convocation at the University of Guelph about civic engagement and public life in 2011 — even though she was chancellor of the school — or why she might have thought it was permissible to file for travel to a $100-per-plate Conservative fundraiser in 2009 that was not held during the writ period.
Comeau, her former Conservative colleague (Wallin was turfed from the Tory caucus this spring), said fundraisers are not eligible expenses, and neither are university convocations unless the senator is receiving a degree related to work in the Senate. It appears, however, that those rules were made in 2012 — when the Senate started asking senators to describe the purpose of their trips — and were applied retroactively to Wallin.
If senators have any questions about their claims, Comeau suggested, they should ask Senate staff.
"We don't write everything that you can do and you can't do," he told HuffPost. "Maybe that is the way to go, have dos and don'ts and 'here, read this book and carry it around with you.' It might be the way to go. We have not done that. Senators are supposed to be aware of those activities they are allowed to do and what they are not allowed to do."
This spring, the Senate changed the rules again, deleting a section that said senators act on their personal honour and are presumed to have acted honourably in carrying out their administrative functions, unless, and until, the Senate or the Internal Economy Committee determines otherwise.
The Senate has not adopted recommendations from a 2010 Ernst & Young report that called on the upper chamber to adopt a second level of approval so that senators don't sign off on their own expenses.
Despite the Senate's current legitimacy crisis, Conservative senator and former police chief Vern White told HuffPost that Senate staff trusted senators in the past and they should still.
"If I signed a document right now that said I lived in Brockville … How would they know I don't live in Brockville? They are not following me to my house in Kanata. They could, but they don't. The reality is we trust people, but when they do something wrong we hold them to account," White said. "If I'm lying, it's a fraud."
"In 31 years of policing, I have fired people because they did something wrong. But up until then, I trusted them."
Popular in the Community