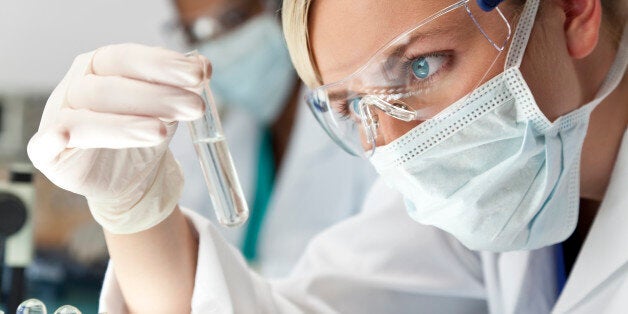 When cancer strikes, it can change your future forever. I was a teenager when my grandmother was diagnosed with breast cancer. At first the news was shocking. Fortunately the type of breast cancer she had was treatable with targeted therapy against a hormone receptor. She went on to play bridge five days a week, travel and work at the bank in the job she loved until she was 81 years old. My grandmother was one of the lucky ones. For many women, the story is very different.
I was very close to my grandmother and she inspired me to follow my dreams. From the time I was a teenager, I knew I wanted to do research. It was watching my grandmother silently go through her treatment that gave me such determination. She used to always say: "An education is something that no one can ever take away from you." So I got the best education I could.
I went to Hiram College, a small liberal arts school with a great reputation for research. It was there that I grew to love research. Some would call it an obsession. It was all consuming. I worked right through holidays and summer breaks. I literally just could not get enough of it. Later I moved to the Research Triangle Park, North Carolina where I did my MSc, PhD and post-doctoral fellowship, again always finding myself fully enamoured.
Fondly, I recall being the youngest person in the room reviewing grants for the United States Government. It was there that I began reading proposals and deciding which projects received funding. During my time in this position, I was able to directly impact the direction of future research and saw some of the amazing work that was being done in this field. About that time, I was also invited to participate in Project Lead -- a breast cancer advocacy program designed to educate survivors. Over the past 24 years, I have worked in industry, the government and in academia pushing the forefront of breast cancer research.
Through my research and advocacy, I became passionate about finding a cure for triple-negative breast cancer (TNBC). Each year 400,000 women get diagnosed with TNBC. TNBC, the most aggressive form of breast cancer, is characterized by low survival and increased relapse rates where tumours do not respond to typical hormonal treatments used in other types of breast cancer. As a result, there is currently no magic bullet for this heartbreaking disease. Sadly, TNBC also affects younger women, who are in the prime of their lives.
A few years ago, a father of a girl suffering from TNBC contacted me. His daughter was only 26 years old when she got the diagnosis and they were desperate for any kind of advice on how to help her. She was in the prime of her life and, just like that, she faced losing everything. They didn't know if she would make it and she had already been through many rounds of breast cancer treatment.
The many courses of her treatment had impacted her ability to concentrate and partake in daily activities we often take for granted. It had affected her memory, her ability to focus and her energy to just carry on with life. She was desperate for new safer, more effective treatments that would help her get past the disease, and to just have her life back. This is just one story out of millions and this is what motivates me to keep going.
With no targeted treatments, TNBC is a major clinical problem. The solution to this problem rests in understanding the molecular underpinnings of the disease. At the molecular level, TNBC cells grow out of control because they have too many triggers or proteins that provide growth signals without the brakes to slow the runaway train.
Scientists have dissected the proteins that are the culprit and have narrowed them down to a class of proteins called kinases. Kinases are the master switch. When the switch is ON, the cancer cells grow and when it is OFF, they die. There are 518 kinases for the cancer cells to choose from. The art of developing a great therapy for TNBC is figuring out which kinase is essential to the survival of the cells.
We narrowed it down to one kinase called RSK. All bets were on RSK because we found that blocking it not only killed TNBC but also eradicated the cancer stem cells, which are thought to be responsible for the cancer returning. The therapy we are developing is very novel because it is specifically designed to prevent the cancer from coming back, hence our name Phoenix.
In 2012, I started my own company, Phoenix Molecular Designs, to finally find a cure for TNBC by designing highly potent RSK inhibitors. Since we began we have expanded operations in Montreal, Boston, North Carolina and San Diego. We also have collaborations at several medical centres throughout the USA, Italy and Japan.
There has been tremendous support for us as we raised $1 million in funding to prove that our treatment is effective against TNBC in mice and safe. We are moving to clinical trials next year and are set to raise upwards of $10 million as we come closer to developing a cure for TNBC. We hope to give women the opportunity to get past the diagnosis of TNBC and to find themselves enjoying their lives again, whether it be playing bridge or working until the bank changes the locks on the doors.
Follow HuffPost Canada Blogs on Facebook