Justin Trudeau became the first prime minister in a decade to crack jokes at the Press Gallery dinner — but it was his wife who ran away with his part of the show.
The annual event is a good-natured mingling of journalists who cover Parliament, and politicians and government officials. Self-effacing speeches by party leaders are usually the highlight of the evening. And the Trudeaus went beyond all expectations on Saturday night.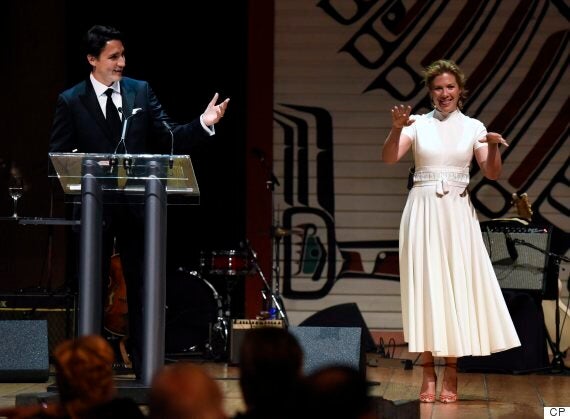 Prime Minister Justin Trudeau and his wife joke around at the press gallery dinner on Saturday. (Photo: Justin Tang/Canadian Press)
After a few jokes, the prime minister brought Sophie Gregoire Trudeau to the stage at the Canadian Museum of History: "I want to ask you to join me to welcome the mother of my oh-so-convenient and effective props, my children."
The prime minister than asked, "What are you wearing tonight, Sophie? We all want to know."
"Oh thank you so much for asking," Gregoire Trudeau gushed in jest, and then listed the Canadian designers she was wearing.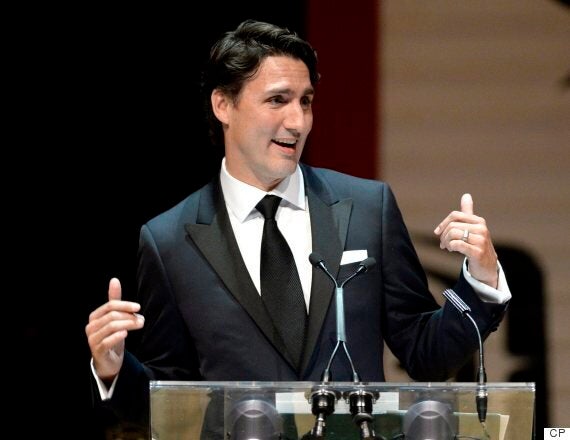 Prime Minister Justin Trudeau speaks at the annual Press Gallery Dinner on Saturday night. (Photo: Justin Tang/Canadian Press)
"When I thought of the opportunity that I was going to have here on stage in front of all of you tonight, I thought, it's the best chance I have to express myself in song. And you were so kind to me the last time I sang," she said, referring to the public scrutiny after she burst into song at a news conference in January.
"In order to do this, I need a pianist, a cellist, a violinist, because I need a team. I need to feel supported," Gregoire Trudeau declared to laughter.
That reference was to the backlash she faced after saying she needed more staff to handle the flood of requests for her to speak at public events and support various charities and organizations.
"Forget about his selfies," sang Gregoire Trudeau, as her husband provided musical accompaniment. "It's all about me!"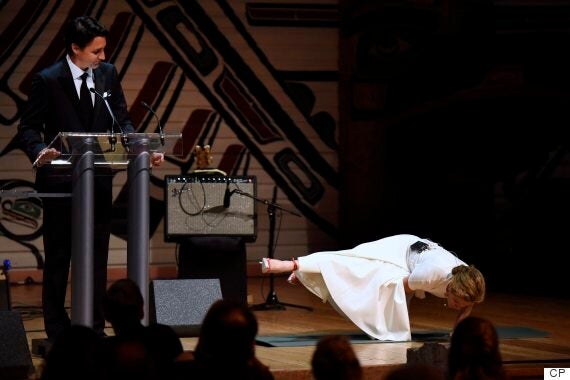 Prime Minister Justin Trudeau watches his wife in a yoga pose on stage at the Press Gallery dinner. (Photo: Justin Tang/Canadian Press)
"You should be doing more of this, then you'd be hitting less people, right?" she said to her husband, fresh off Elbowgate.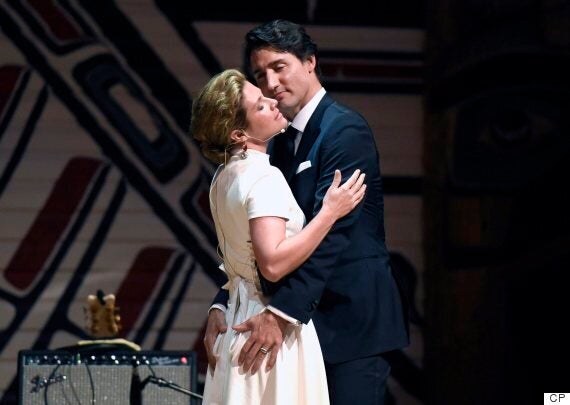 (Photo: Justin Tang/Canadian Press)
The event, referred to some insiders as "nerd prom," also celebrated the press gallery's 150th anniversary.
Stephen Harper gave memorable roasts at the dinner during his time as Opposition leader but he stopped appearing at the functions when he became prime minister.
Here is Trudeau's full address at the dinner: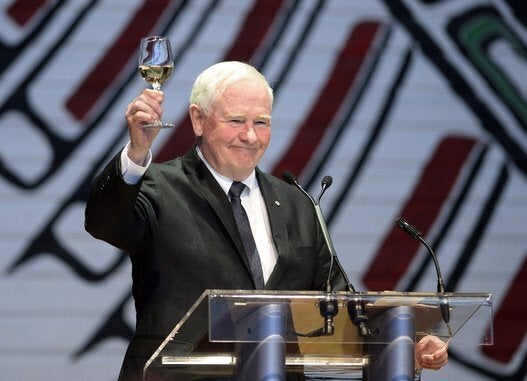 Press Gallery Dinner 2016