Quebec City police are under fire after a HuffPost Quebec video showed an officer shooting part of a tear gas canister in a protester's face.
A video shot at the protest by HuffPost Quebec shows an officer firing tear gas in Trudeau-Tremblay's direction at close range, hitting her in the face.
A picture of her injury circulated on social media.
Neither she nor her mother identified the officer, but they say they have his badge number.
François Moisan, a spokesman for Quebec City's police service, told HuffPost Quebec that it's too soon to say whether the officer in question would be disciplined, but he said police will try to obtain all the facts about the incident through internal meetings.
Police tried to contain protesters to an area outside the assembly building, but the situation escalated. The protest was declared illegal since protesters did not submit an itinerary for the demonstration, as is required under a municipal bylaw.
The rally happened two days after another, where 274 people were sanctioned for taking part in an illegal demonstration, Radio-Canada reported.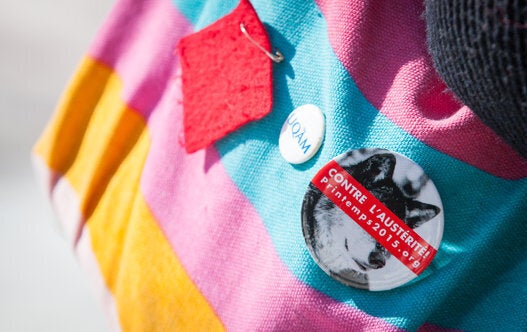 Manifestation étudiante du 23 mars à Montréal